I may get
paid
for ads or purchases made through links in this post.
You've just stumbled across a fabulous tutorial for how to make a DIY 4th of July wreath!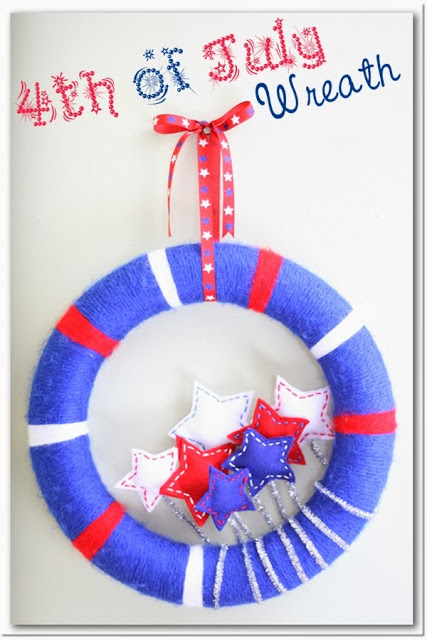 Following is a fun patriotic DIY 4th of July Wreath and guest post by
KC at The Real Thing with The Coake Family… enjoy!!
DIY 4th of July Wreath Tutorial
4th of July is quickly approaching! Does this year just seem like it is flying by or is that just me?
When I realized how quickly the holiday was approaching, I decided to make a 4th of July wreath to add to my kitchen. I have a small wall space near our kitchen table for which I have had fun making small wreaths.
Here is what I came up with for 4th of July. Of course I have a tutorial to show you how to make your own as well.
Related: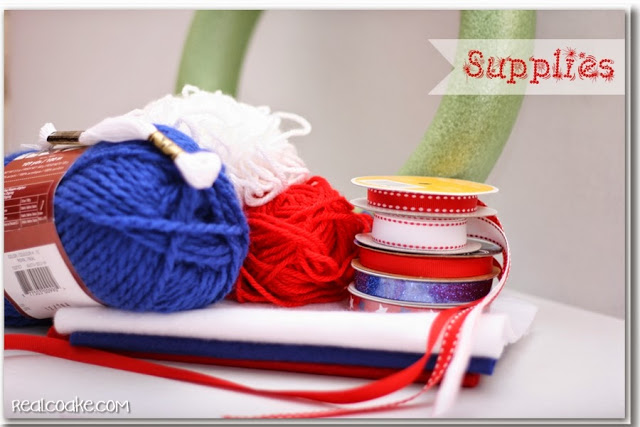 Supplies:
Wreath Form
Yarn (3 colors blue, red, and white)
Felt (3 colors blue, red, and white)
Embroidery thread (Red, white and blue)
Silver pipe cleaners
Stuffing (Polyfill or whatever brand you like)
Fabric Glue
Silver Pipe Cleaners
Ribbon (You won't need nearly as much as is pictured. I was thinking of using much more ribbon in a different way, but I went in a different direction as I made the wreath)
What You'll Do:
Start by wrapping your wreath form in yarn. You can go with a solid color or a pattern like I did.  If you do a pattern like I did.
I found it easiest to keep the blue yarn going versus tying it off each time I added one of the stripes.
For example, if I was wrapping white yarn I would wrap the blue around the white in the back of the wreath form and leave it behind the white yarn as I wrapped.
Then once the white yarn was tied off, the blue yarn was ready to continue being wrapped.   After you have wrapped your wreath form, you will want to make the felt stars for your wreath.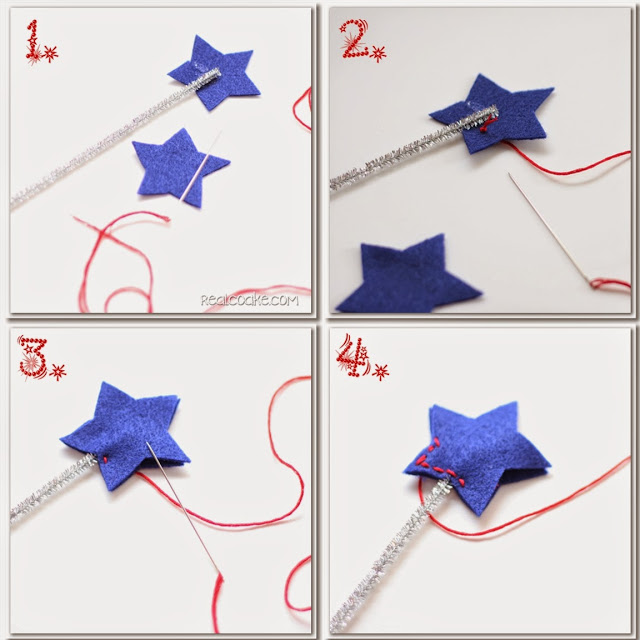 Use your fabric glue to adhere the silver pipe cleaner to the felt star. Give it plenty of time to completley dry.
Knot your embroidery thread and pull it through the bottom star so that the knot will be well hidden.
Match up the top star and start stitching around the edge of your star. I found it best to start to the right of the pipe cleaner and make sure I had a stitch that went directly over the stem to make it additionally secure.
Continue stitching around your star.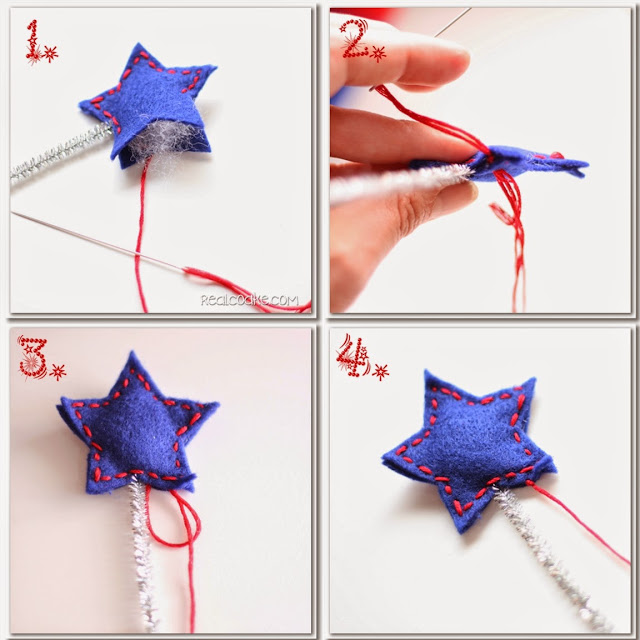 Once you get to about 2/3 of the way around the star, add a small amount of your filling.
Continue sewing until you have reached your starting point. After your final stitch go from the top to the bottom, come back up through your star near a stitch, but do not go through the top.
Using your needle, wrap around the stitch and make a knot by pulling your needle through the loop. Pull this tight right up to the stitch.
To make your knot more secure, double knot it. Then clip right next to the knot. Use your needle to push the knot up into the star where it will not be visible.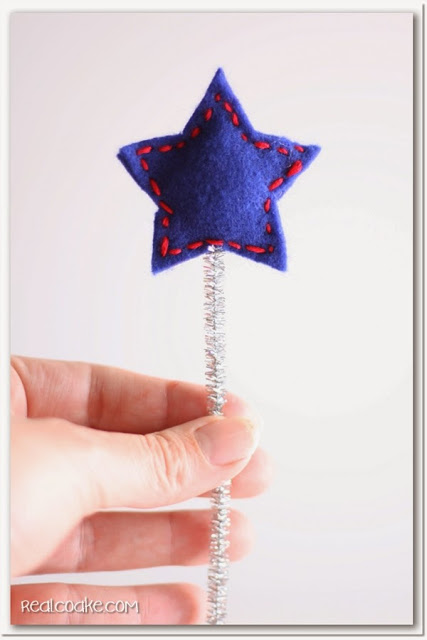 One cute little star, ready for your wreath. Make as many of these as you would like, varying the sizes and colors for additional interest.
I made 3 white, 2 red and 2 blue in 3 or 4 different sizes (I used my Cricut to cut out templates because I am bad at free handing).
Then I used red, white and blue embroidery thread and varied those for each star.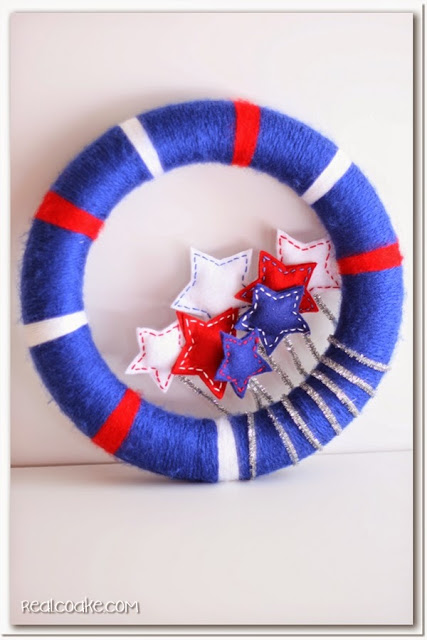 Originally, I was going to hang the stars off the bottom of the wreath like I did with my Valentine wreath or my Easter/Spring Wreath.
But I had extra silver pipe cleaner and got the idea of trying to make the stars more three dimensional.
Almost as though they were fireworks shooting off in the night. I thought the silver pipe cleaners would work well to affix the stars to the wreath and add a little sparkle.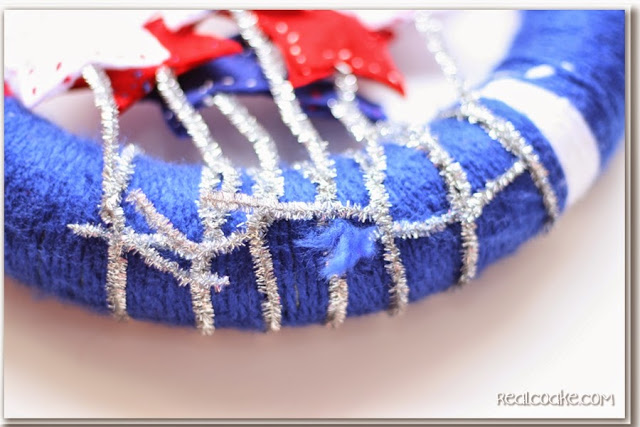 The back of the wreath looks like a hot mess…but no one will see it (except all of you reading this…oops). Once you get the star where you want it on the wreath, wrap your pipe cleaner around the wreath form.
Start with your pipe cleaner behind the wreath form and wrap it under, around the front and to the back again. Then slip it under and around the stem on the back of the wreath from to twist it together and hold the star in place.
At this point, if you want the back of your wreath neatened up a bit, you could trip the stems down, but as the back really won't be seen, it isn't necessary.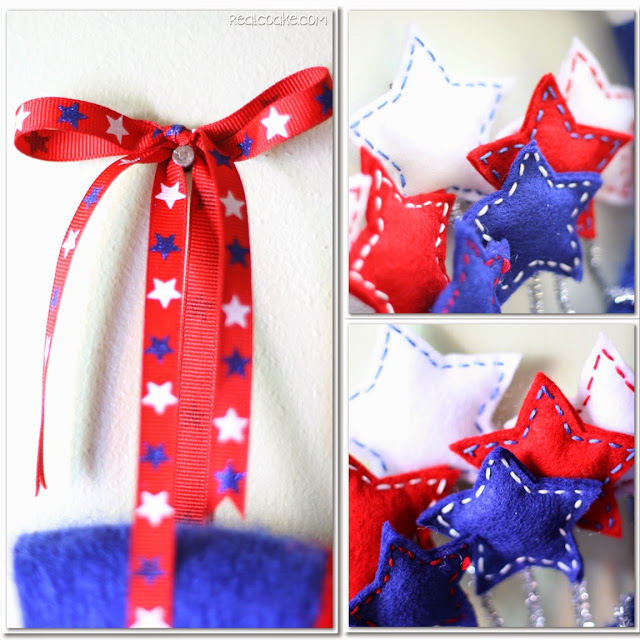 Initially, I was just going to hang the wreath with no ribbon as I wasn't sure if the ribbon would be adding too much with the pattern of the yarn and the stars.
I ended up trying the ribbon. I think it looks cute and adds some more fun to the wreath.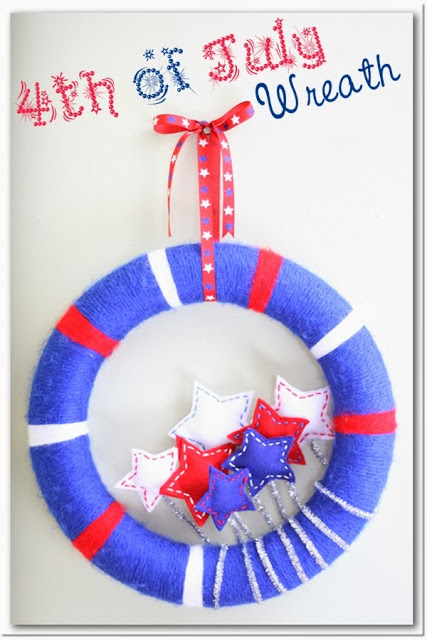 One Fourth of July wreath all done and festive on my wall. I only wish I have paid more attention when I put the star on the wreath.
They were meant to be centered in the space between the stripes. Oh well, right? I still think it looks cute and festive and it brightens up the wall in my kitchen.   How do you like to decorate for 4th of July? Do you do a lot of decorating?
KC is a 41 year old stay at home mom of two cuties who are 11 and 6. She loves running, reading, scrapbooking, Starbucks, hiking, cooking, picnics, pretending to be crafty, and having fun with her family.
She blogs at The Real Thing with the Coake Family about crafts, organizing, family fun, American Girl ideas, cooking, and all manner of fun things, while keeping it real, not magazine glossy. You can follow along at on Twitter, Facebook, or Pinterest.
So are you on the hunt for more Fun Crafts and Home Decor Ideas?
Have fun exploring these creative ideas…
Make your 4th of July memorable when you make some fun 4th of July Crafts!!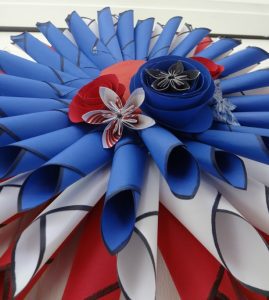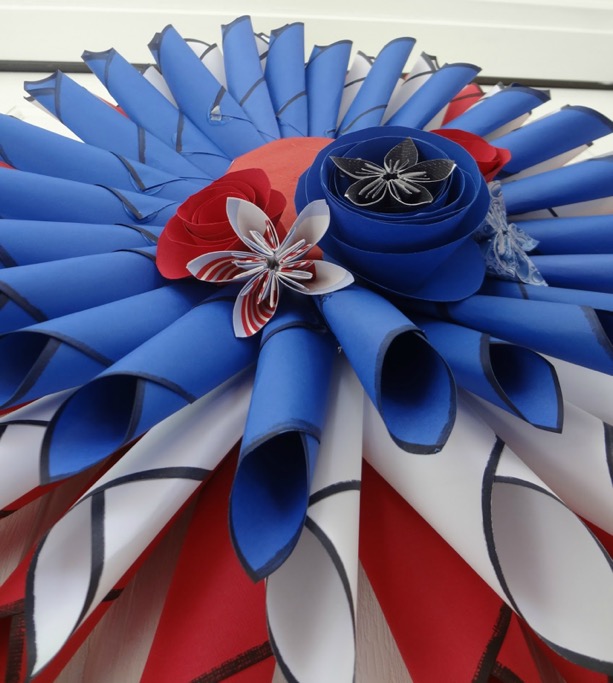 Feeling crafty??  It's time to get your Craft on and get inspired to do some fun crafts!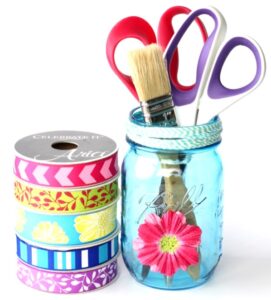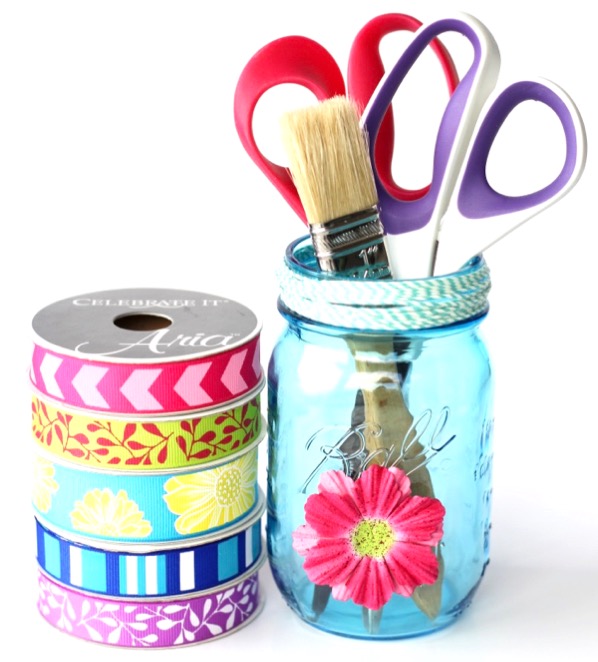 Give your home a gorgeous makeover with these Easy Designer Home Decor Tips and Tricks!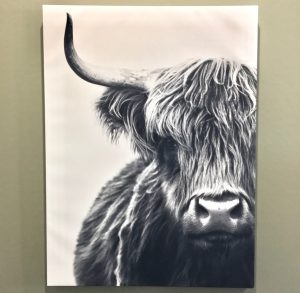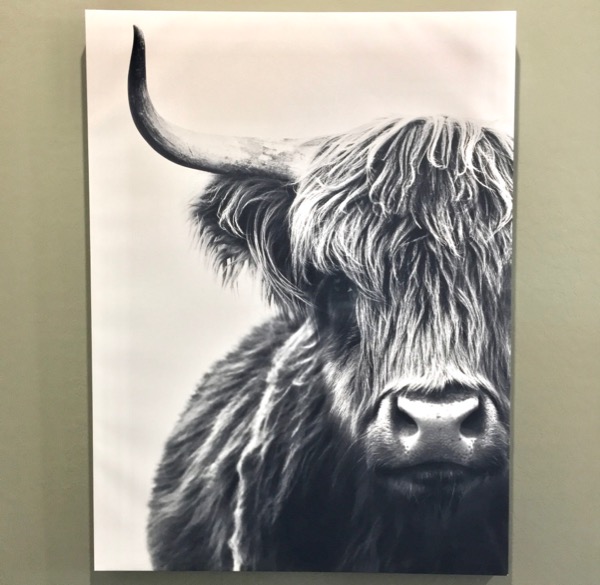 Planning your patriotic party?  Check out this HUGE list of Fun 4th of July Recipes and Party Food Ideas!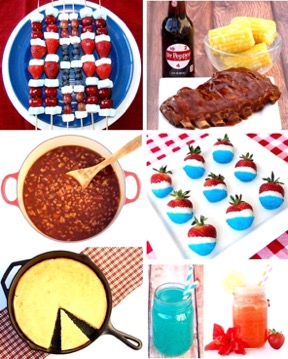 So have you tried making this DIY 4th of July Wreath or a similar stye of wreath?
Leave a comment and share…