I may get
paid
for ads or purchases made through links in this post.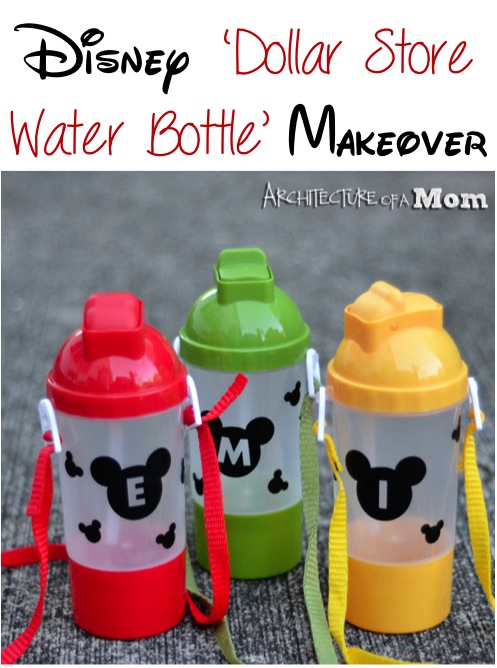 Following is a fun Disney Water Bottle Crafts and guest post
by Rachel at Architecture of a Mom… enjoy!!
Hello! I'm Rachel from Architecture of a Mom.
I'm a mom to a five year old and two year old twins. In my blog, I share my crafts, DIY projects, recipes, frugal ideas, and parenting thoughts…all while juggling my full-time career as an architect! Yes, I am busy…and I wouldn't trade a minute of it!
Today, I'd like to share with you how to convert and personalize a dollar store water bottle with vinyl to make your own Disney Water Bottle Crafts. You could do almost any form of personalizing, but since this summer my family is going to Walt Disney World, we decided to go all Mickey on our water bottles!!
Disney Water Bottle Crafts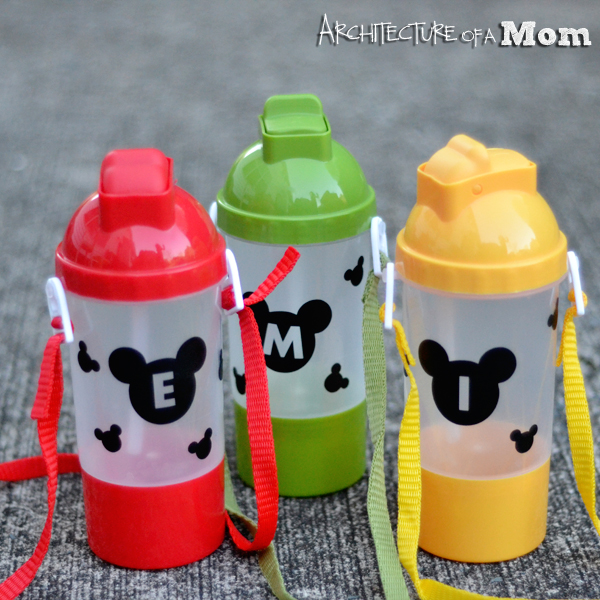 I am the only person of the 5 of us who has been there. And I've realized that it's been over 20 years since I've been there. My husband can hardly stand the wait. He's worse than the kids!
These water bottles are my first project in getting ready for Disney. They are a super simple project, especially if you have a silhouette or other craft cutter…but don't worry if you don't have a craft cutter, because I have some ideas so you can get your Disney on (your water bottle, that is!).
Here's what you need:
Water bottle from the dollar store
Premium black vinyl
Digital craft cutter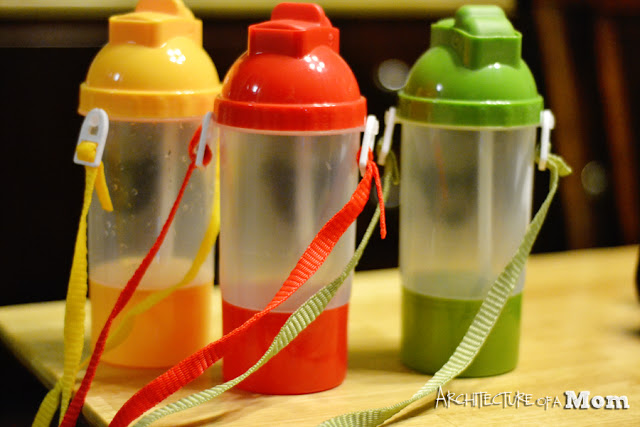 Here's what you do:
Remove any price tags, bar codes, etc from the bottles and wash them and dry them well.
Create mickey mouse shapes with your cutting software. I have a Silhouette Portrait, but with a shape this simple you could use anything–even doing it by hand! Basically, I took a larger circle and two smaller circles and arranged them in a "mouse" head. Then I used the weld tool (see arrow) to merge the three shapes together.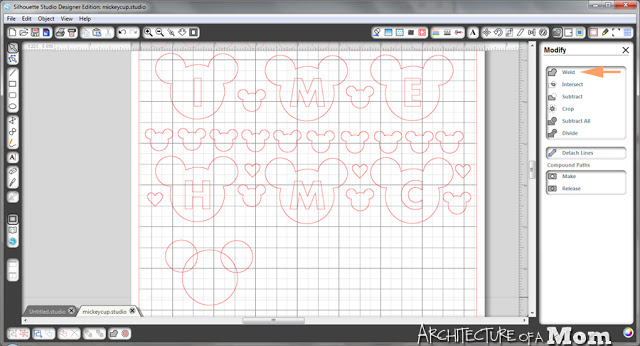 I then selected the initials of the kiddos that are going with us (my sisters' family is coming, too!) and placed the initial inside the Mickey head. The font I used is Aharoni.
And then I just fed the vinyl into my Silhouette (I have a Portrait and I love it!), and I hit cut
All of the sudden I had some wonderful vinyl Mickeys to put all over these cups. And I've had to hid the water bottles because all of the kids want to use them all. the. time.  I think that if I let them, they'd sleep with these water bottles!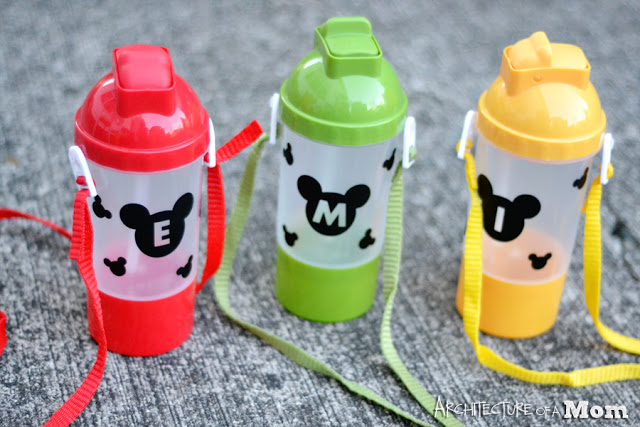 Now, if you don't have a digital cutter, you can still do this project…with a little bit of adjustments. At your local craft store or home improvement store, you can find Disney vinyl wall decals…and many of them are small enough to put on a water bottle!
You could do the whole family with one pack of vinyl decals. You can also find vinyl wall decals that are letters, so you can personalize it.
So, have you made Disney items for the kids?  Or do you have a Mickey water bottle?
I would love it if you came by and visit me at Architecture of a Mom or at these social media locations:
And thanks, Heidi, for letting me join your blog today!
Heading to Disneyland or Disney World?  Be sure to check out these fun crafts and Disneyland and Disney World Travel Tips!

Let your Disney dreams go wild with these Disneyland Travel Tips and Advice and Disney World Tricks!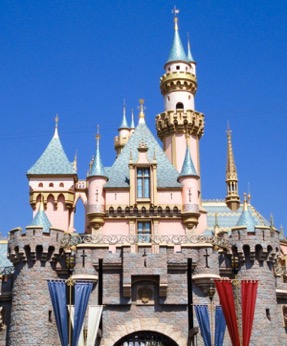 Feeling crafty??  It's time to get your Craft on and get inspired to do some fun crafts!