Get ready for your trip to Zion with these Zion National Park Travel Tips You Never Thought Of!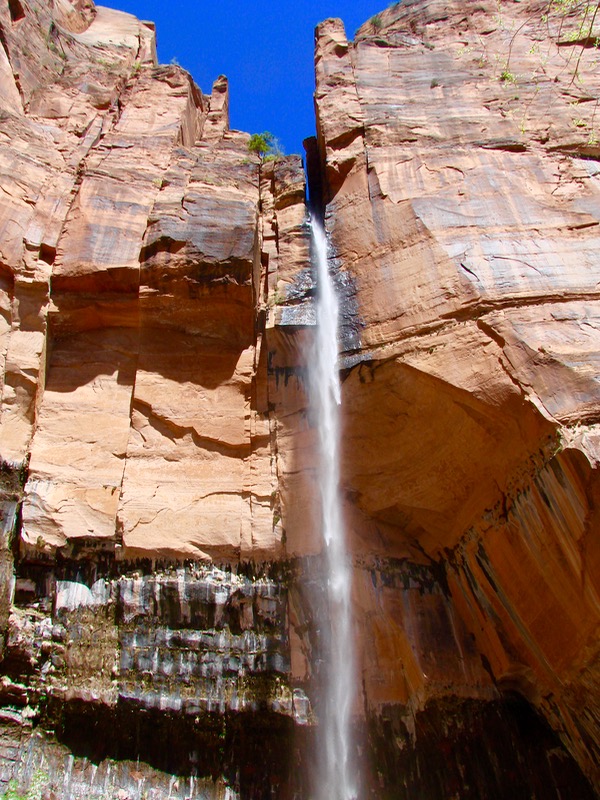 If you love wildlife, red rocks, and massive canyon walls, then it's time to plan a trip to Zion National Park!
Whether you brave Angel's Landing, hike through the chilly water in the Narrows, or just want to enjoy the epic viewpoints that will take your breath away, here's what you need to know before you go!
Check out the Utah Zion National Park Travel Tips and guide to fun below so you don't miss out on anything this gorgeous park has to offer…
Related:
Zion National Park Travel Tips

Zion National Park is one of my families favorite places to visit.  We will drive up from Phoenix, and usually stay somewhere inexpensive, like the Comfort Inn in Kanab, Utah.  This way we can visit Zion, Bryce Canyon National Park, the north rim of the Grand Canyon, and explore different slot canyons.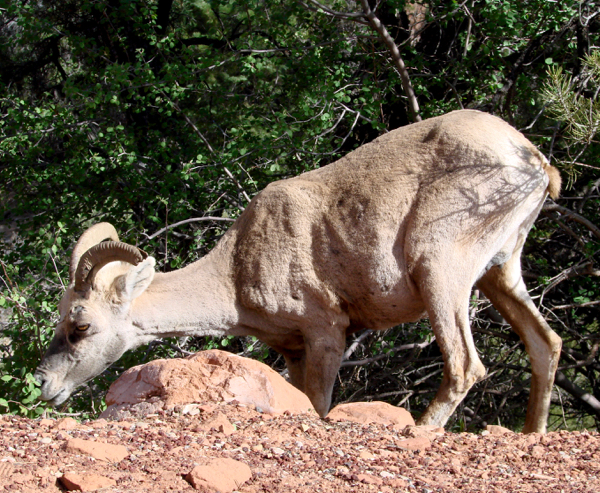 When visiting Zion, you will ride a park shuttle that will drive you up through the canyon to different shuttle stops.  If visiting the park in the late spring or summer, be sure to bring plenty of water, sunscreen and water shoes so you can easily get wet and cool off!
Here are some of our top Zion National Park travel tips and favorite spots you won't want to miss:
The Narrows:  This is my family's favorite part of Zion.  We have walked up through the Narrows in late summer and also in October.  You start by walking a mile long paved trail that begins at the final park shuttle stop: Temple of Sinawava.
If you are feeling adventurous, in late summer and fall you can continue beyond the paved trail.  By this time, the Virgin River levels will usually be low enough to walk in and along.  Be sure to check the weather for water levels, and flash flood warning.
Don't forget to take some sturdy water shoes and a walking stick!  You will be walking in and through the water, but if you can bring a camera, the views are absolutely breathtaking!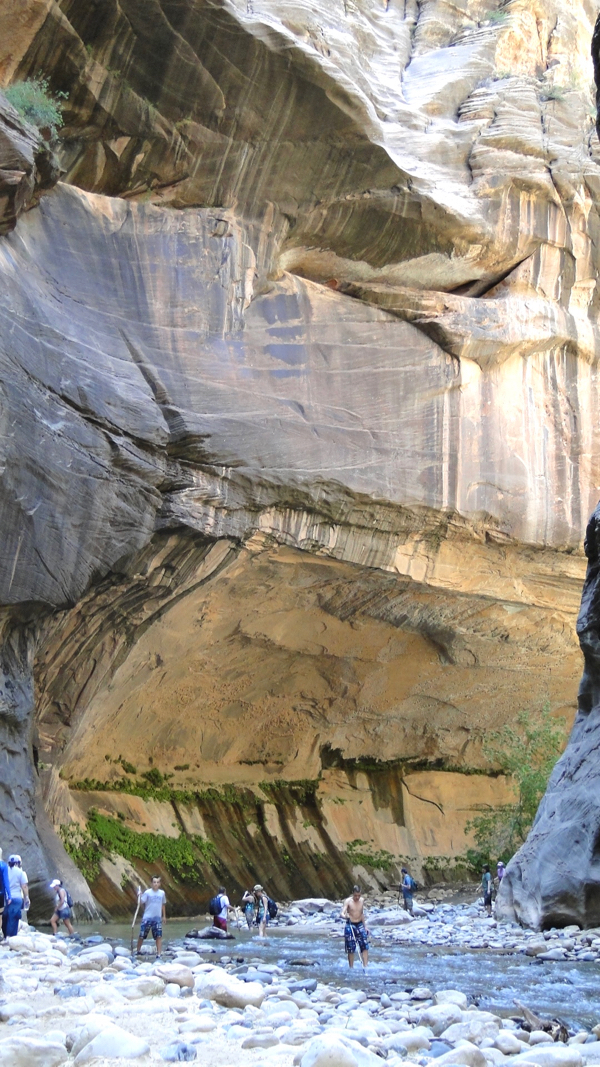 Checkerboard Mesa:  Driving on the East park road, all you need to do to enjoy this view is… Stop The Car!!
You won't be playing any checkers here, but the unusual 900 foot tall white rock that looks like a checkerboard makes for a fun stop!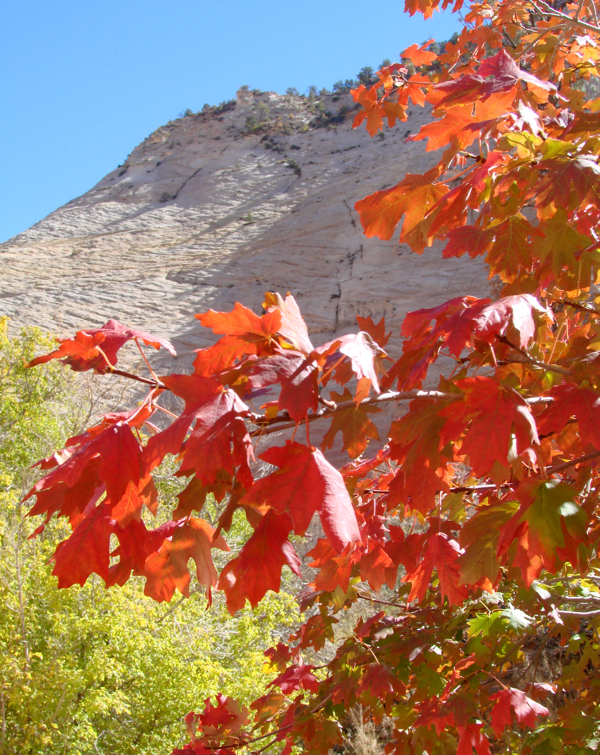 Canyon Overlook:
  If you want a view overlooking the canyon without climbing to the top of Angels' Landing, this is for you!  This winding little 1 mile trail will take you through a large open cave and right to the tip top cliff edge of the canyon.
Hang on to that rail!!!  The trail starts right at the East entrance to the Zion-Mt. Carmel Tunnel, which is always a highlight of driving through the park!  Don't forget to bring sturdy shoes!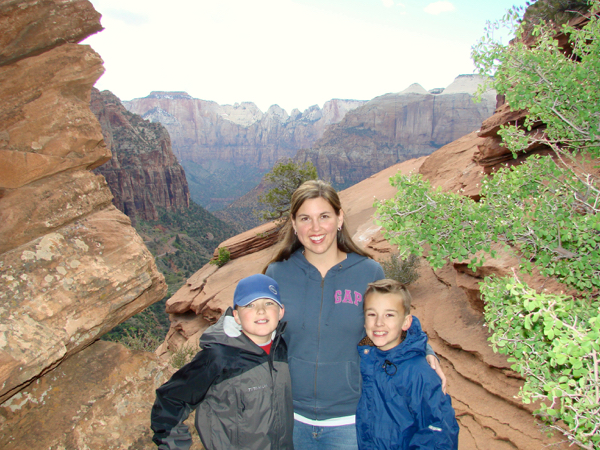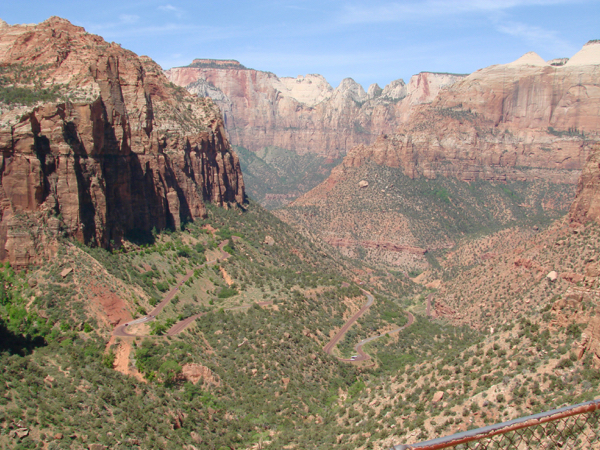 Weeping Rock: Look up and you will have water dripping on you that took over 1,000 years to filter through rocks.  If you go in the summer and its hot outside, you might just want some of that water to drip down on you!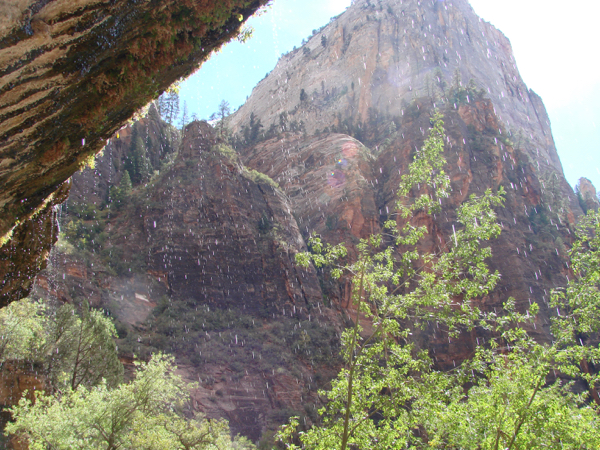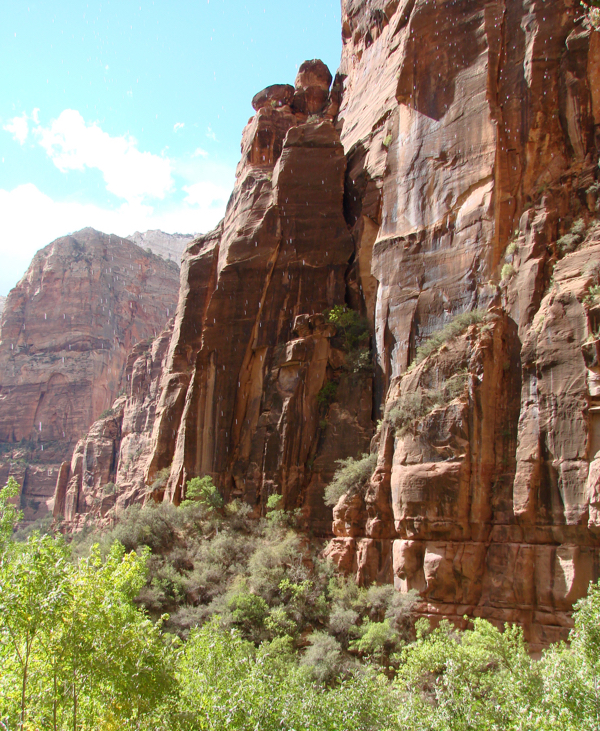 Lower and Upper Emerald Pools:  There is something special about the combination of thousand foot tall cliffs, waterfalls, pools of cool water, and lush green vegetation.
The Emerald Pools are a refreshing place to stop and relax for awhile.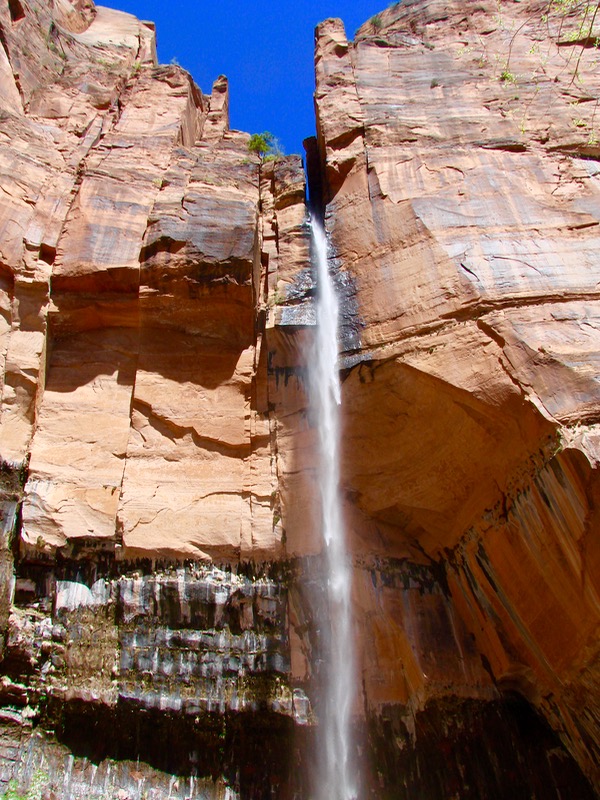 Angels Landing:  If you are a thrill seeker and don't mind a bit of a climb (Walter's Wiggles), this is probably one of the most thrilling hikes you can imagine!  Did I mention holding onto chains while walking along a narrow trail with thousand foot drop offs?
This is the place to get the best views, both up and down the canyon… or just straight down!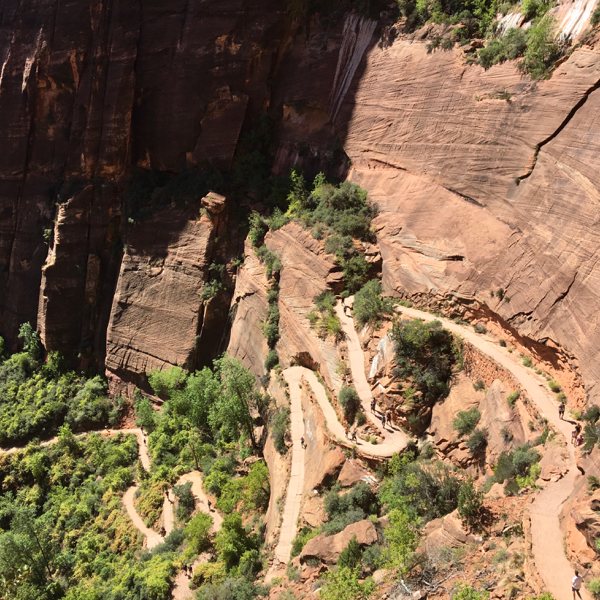 Walters Wiggles on the way to Angel's Landing.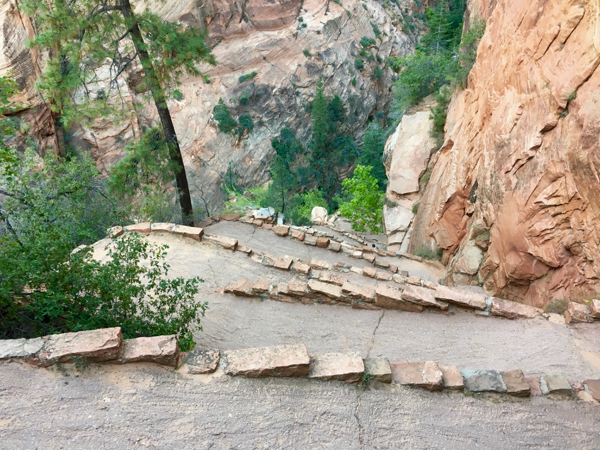 Chains for your walk out to Angel's Landing – hold on!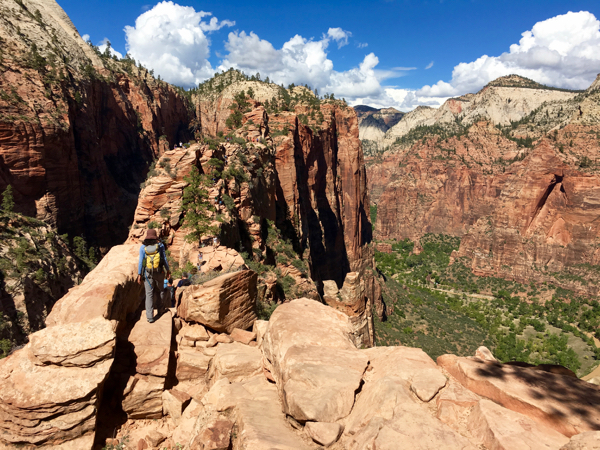 Angel's Landing view looking up the canyon.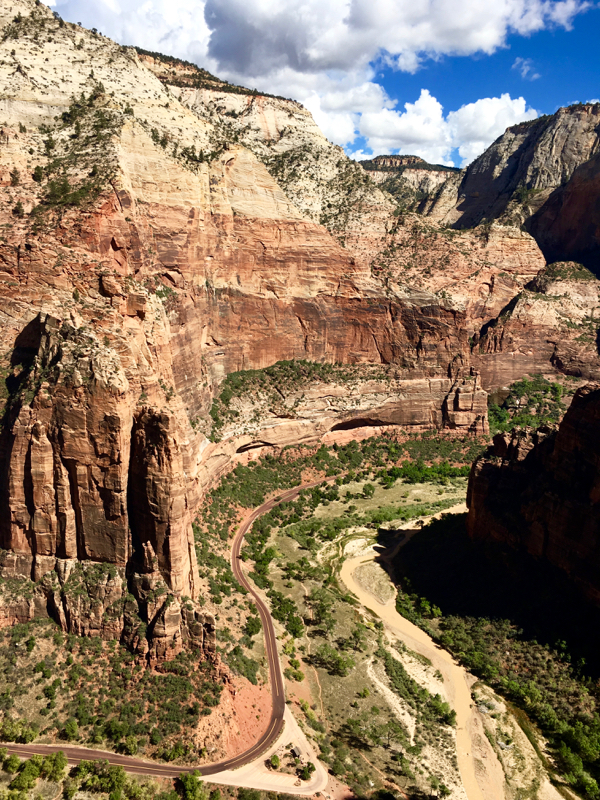 View straight down to the park road and Virgin river from Angel's Landing.
Angel's Landing looking to the South and the park entrance.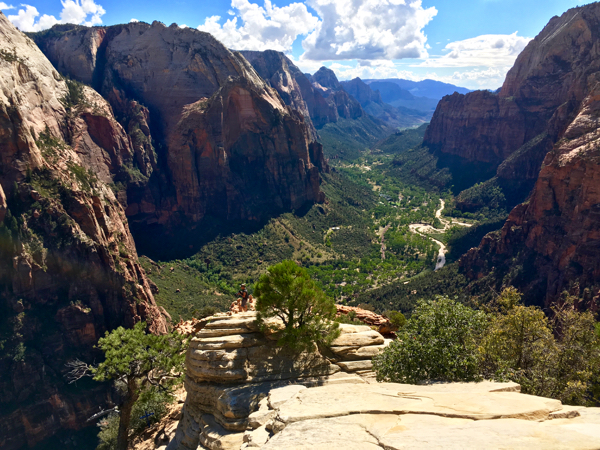 Hidden Canyon:  If you like the description of Angels Landing, this is more of the same.  A slot canyon at the top of the canyon, and so worth the climb!  The trail head for Hidden Canyon is even at the same bus stop as Angel's Landing.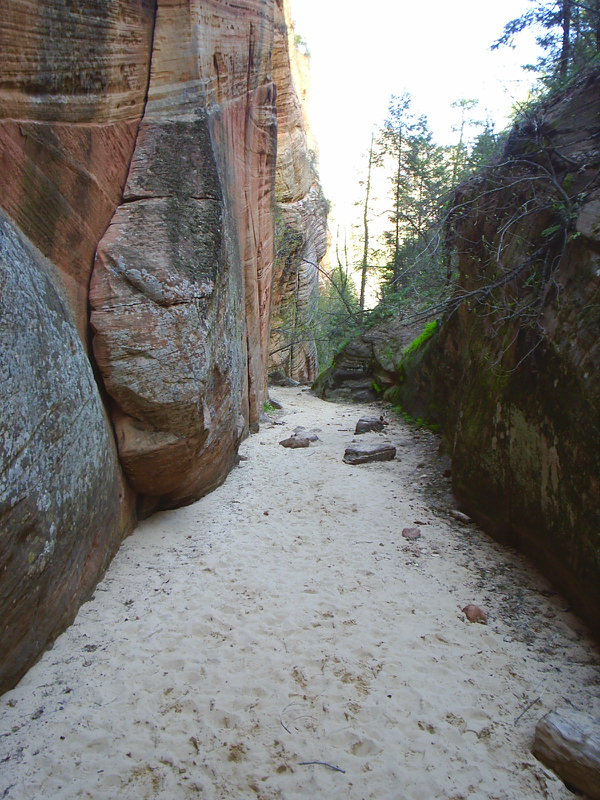 Red Cliffs Campground: If you like to camp, try driving West from Zion to the Red Cliffs Campground.  We love it there, so beautiful and you have never seen so many stars at night!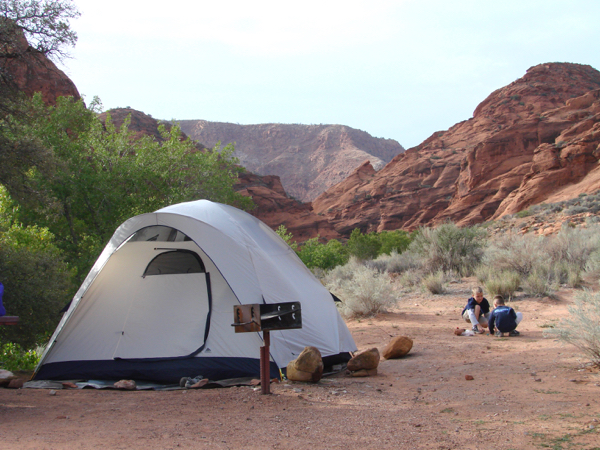 Frugal Zion National Park Travel Tips: Don't forget to cash in your Swagbucks for Free Gas Cards, Free Hotels, and Free Airfare, too!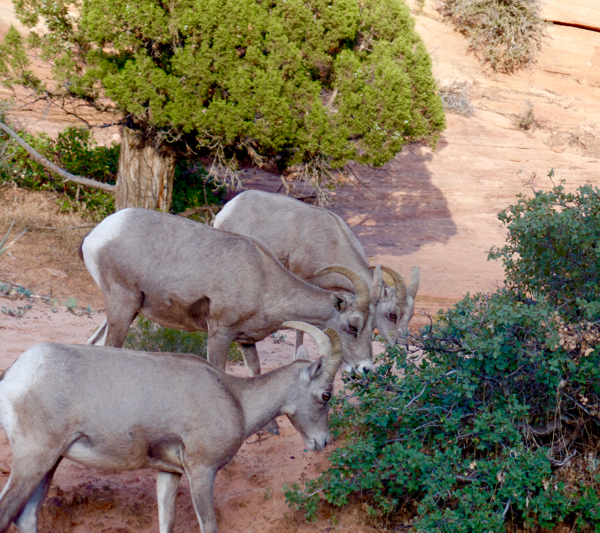 Hotel Tip: I use my Choice Hotels points to score Free Hotel Nights the Comfort Inn and Suites in Kanab, Utah!

Road Trip Tips: Before you head out on the road, don't leave home without these 11 Road Trip Must Haves and 34 creative Kid Road Trip Activities!  Save money on your rental with these Rental Car Savings Tips.
RV Recipes: Heading to Zion in your RV?  You'll love these 100+ RV Recipes for some easy RV Meal Planning!  After a big day exploring Zion, you'll be hungry hungry hungry!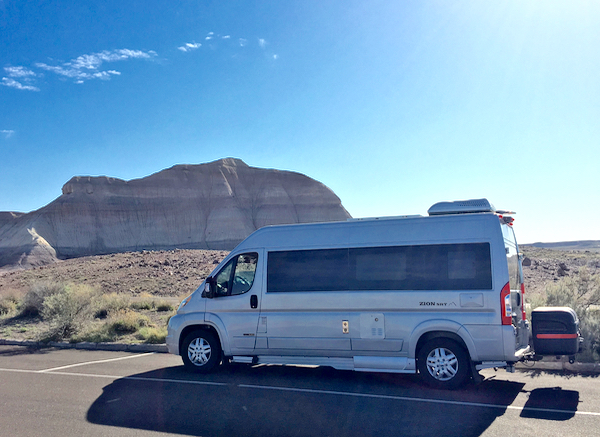 Camping Food: If you're planning on camping on your trip to Zion, load up with tasty campout ideas with these 59 Easy Camping Menu Tips!  Enjoying a good old fashioned S'mores in Red Rock country tastes amazing!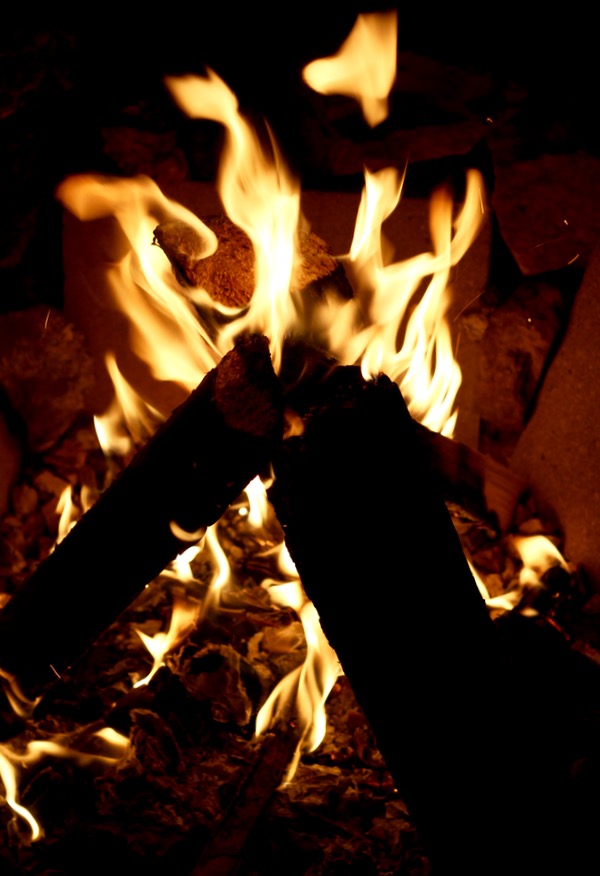 Zion Packing List
–> Fun Hiking T-shirt.  Hit the trails looking super cute with a fun T-shirt!


–> Hiking Shoes for all the different trails, including Angel's Landing!  Having a sturdy pair of hiking shoes is a necessity if you want to enjoy all the amazing trails running up, down and throughout Zion National Park.

–> Superfeet Insoles for extra support and comfort.  I remove all of my insoles and replace with superfeet.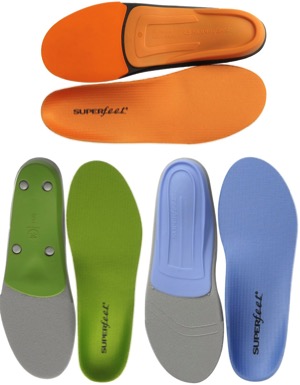 –> Water Shoes for your epic walk up through The Narrows.  This hike is really bucket list material, and pictures simply cannot fully capture the beauty of The Narrows.  To truly enjoy this hike, you need a pair of comfortable shoes that can handle walking alongside, then up through the shallow Virgin River, slippery rocks included.

–> Trekking Poles for walking up The Narrows through the Virgin River.  These walking sticks are going to come in handy, helping you keep your balance while you walk up through the shallow river over slippery rocks!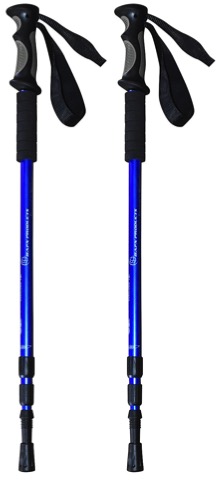 –> Hiking Backpack for food and extra layers.  Once you leave the parking lot at the Zion Visitors Center and head up into the canyon on a park shuttle, it will take some time before you will be back to your car or food or civilization.  I recommend you take a backpack for the day loaded with lunch, plenty of drinks, and extra layers in case the weather changes.

–> Fleece to stay warm when the weather changes.  After spending years visiting Zion, the one thing I can tell you is that this national park experiences all kinds of weather.  Sometimes all in the very same day!  Although I usually visit in the Spring and Fall when the weather is the most mild, I still have experienced snow, hail, rain, wind and very cold weather.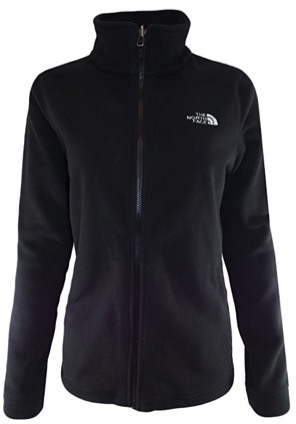 –> Waterproof Shell to repel the wet stuff.  These are good to keep in your daypack in case the weather is something different than what the weather forecast predicted.  They are also fun to put on if you want to stand under Weeping Rock and get dripped on for awhile!  I always take my Columbia waterproof jacket when I head to Zion, I love how it hardly takes any space in my pack.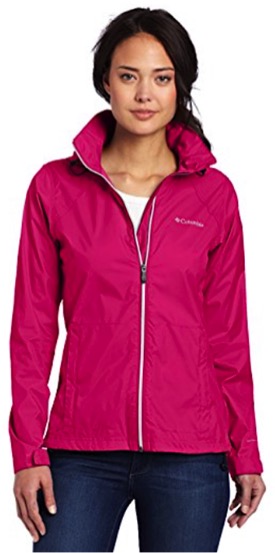 –> Visor to keep the sun out of your face.  In the Southwest, we get lots of sunshine, so be sure to remember your SPF Makeup and to wear a cute visor!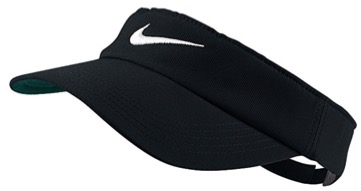 –> Bug Repellent to keep all those bugs away.  Be extra frugal when you try one of these 17 DIY Bug Repellent Tricks.  Having some repellent handy is a must when you stop to have a snack on the trail.  You really don't want your food to make you too popular with the flying insect world!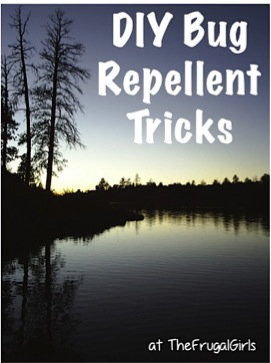 Want to make the most of your trip to Zion National Park?  Then try visiting some of the other amazing locations nearby.  Read these Fun Travel Tips and these tips for the Most Spectacular National Parks…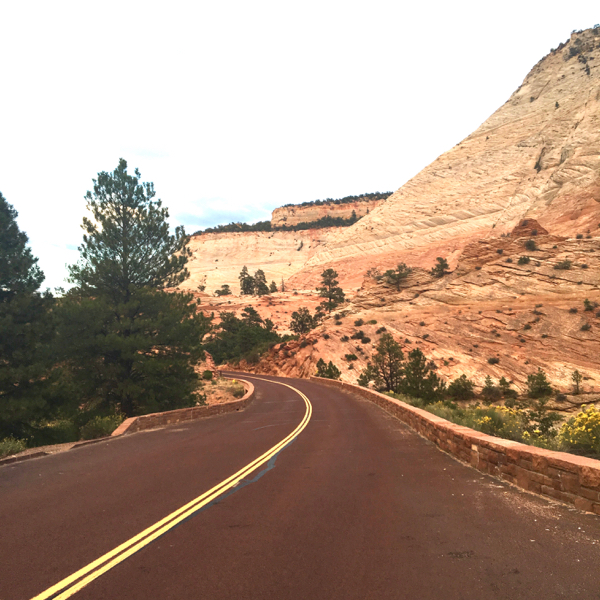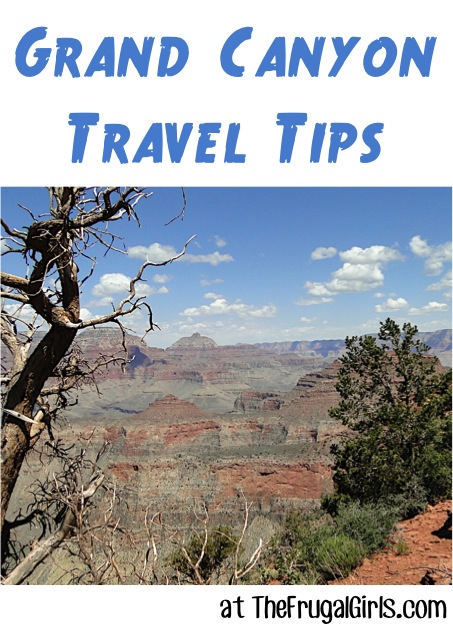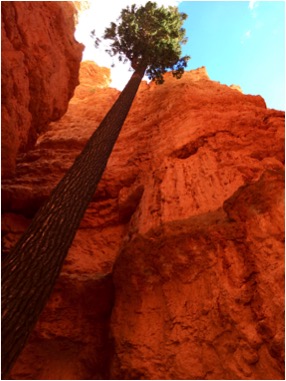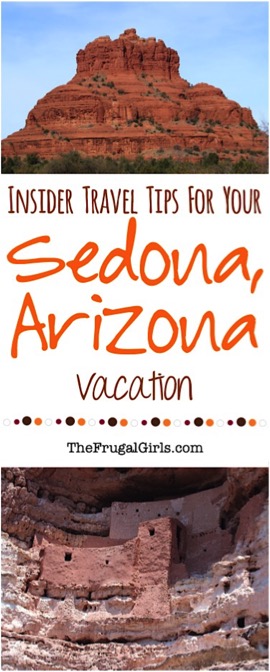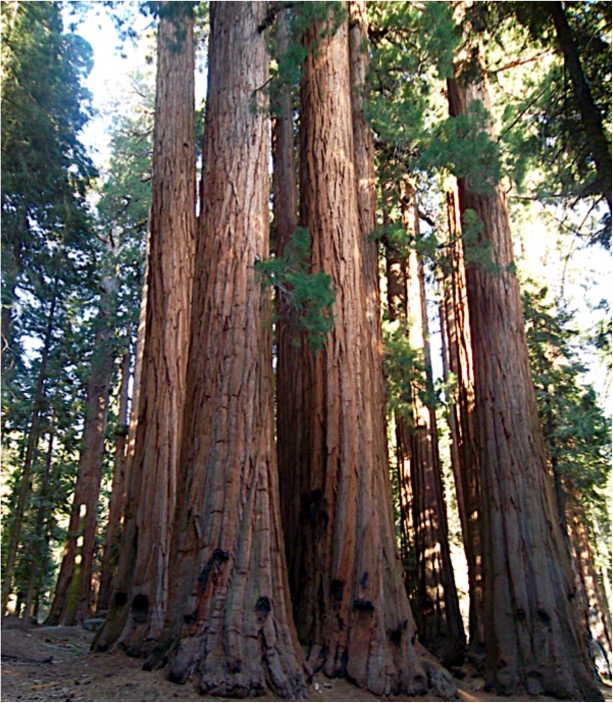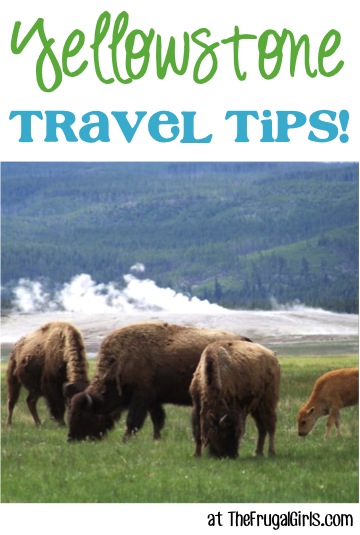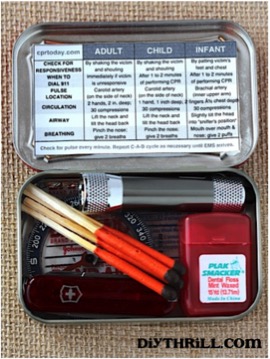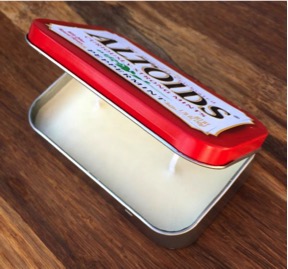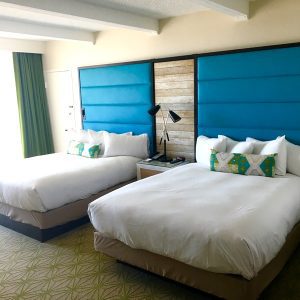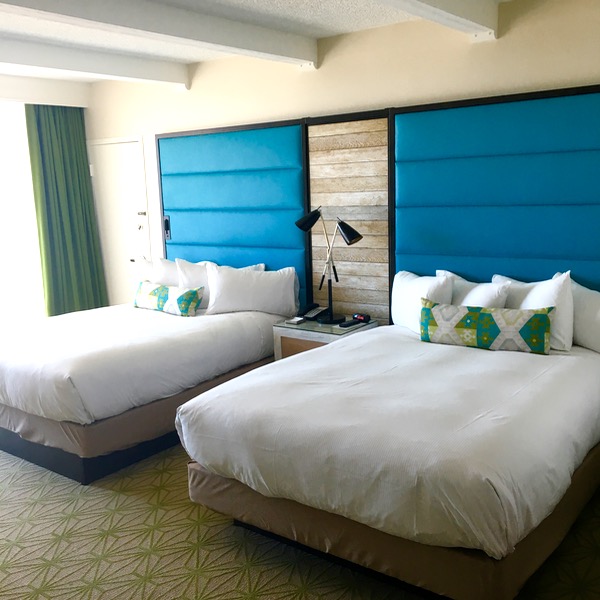 Now that you've scored all of these fun Zion National Park Travel Tips, don't miss out!  Catch all the latest fun Frugal Girls Tips, Recipes + more right here…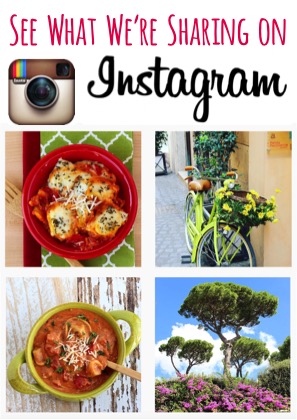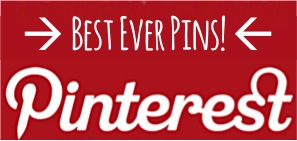 So… do you have some Zion National Park Travel Tips to share?
What are some of your favorite places to see, things to do, etc?  Leave a comment & share!