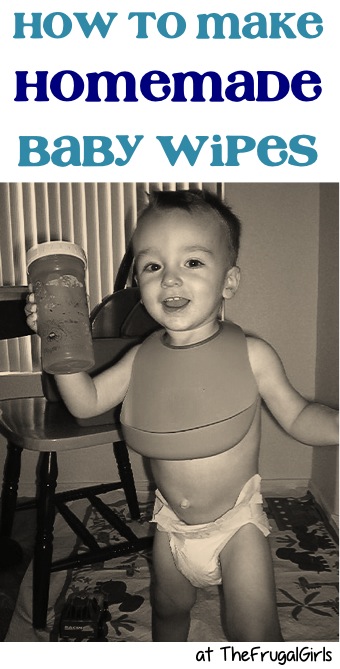 I received the following question from frugal friend Jenny…
"I am looking for a good, easy recipe to make homemade baby wipes. There are many variations out there, so what works best for you??"
I shared this question right here.  Here are just a few of the great ideas for How To Make Homemade Baby Wipes that were shared…
Susie said: "When my kids were little, I used the Tupperware recipe, I just Googled it for you:  Ingredients are 2 1/2 cup Distilled Water, 2 tsp Baby Shampoo or Baby Bath, 1 tsp. Baby Oil, and 1/2 Roll Paper Towels (Bounty).
Directions; Mix water, shampoo and oil in Tupperware container.  Place paper towels in Saltine Saver or other long tall Tupperware Container.  Pour mixture over paper towels until soaked.  Remove inner cardboard and pull wipes from center for use."
Laura said: "My now 7 year old had a chlorine and dioxin allergy. We started using using flannel squares that my mom and I zig-zagged around to keep them from fraying. I put them in an used wipes container with enough water to make them moist, a drop or two of baby shampoo and a drop of tea tree oil. I think I had enough for a two day supply and would wash every other day."
Allyson said: "Add a few drops of Tea Tree Oil.  It is an awesome anti bacterial, and anti fungal.  The smell is distinct and great.  I also add a few drops of jojoba Oil instead of the Baby oil.  It is also anti fungal, doesn't clog pores and is used for people with skin allergies!"
Caralee said: "I totally use coconut oil in my baby wipes.  I also use lavender essential oil too.  Lavender has many of the same properties as tea tree oil, but it is even more gentle on babies little bums and I love the smell.  I use about 2-3 cups distilled water, a few teaspoons of baby soap, a few teaspoons of coconut oil and then about 5-10 drops of lavender oil (or more I really just add it until it smells good)."
Sterling said: "You can also cut the paper towel roll in half with a good serated knife. It saved a lot of money & worked great!"
Christina said: "I had a friend who used a solution similar to the "tupperware" recipe, but didn't put paper towels in the solution.  She simply kept several washcloths in the solution and then washed them in the laundry after use (rotating out used ones for clean).  I recommend either picking a color that won't show the stains (brown…) or picking a light color that can hold up to bleaching!  And my personal opinion is I'd rather wash it separate from the rest of my laundry…"
Candy said: "I do something similar to the "Tupperware" recipe.  1/2 roll Bounty paper towels (electric knife is wonderful for this – got mine free of course).  Place paper towels in rubbermaid container #6 size, or something similar (tupperware, folgers plastic coffee can, etc).  Microwave 2 1/2 cups distilled water for 4 minutes.  Add to hot water; 1 tablespoon baby oil, 1 tablespoon baby wash, and a couple drops tea tree oil.  Stir mixture, then pour over paper towels.  Put lid on and place something heavy on top (iron skillet, gallon of vinegar, whatever)  After 45 minutes or so, remove lid, pull out cardboard core, and pull wipes from center.
I have used a modified version of this recipe using the baby washcloths when I did cloth diaper, and I just tossed them with the diapers in the wash."
Heather said: "You can use flannel, obv (organic bamboo velour), or sherpa.  Those all work very nicely when cut into squares and serged or zig zag stitched.  You can also buy some baby wash clothes and use those.
For the solution, I use Dr. Bronner's castile soap in the baby formula and distilled water. I put it in a peri bottle and add a few drops of the soap and warm water.  When I am ready to use a wipe I squirt some solution on it and use it!?"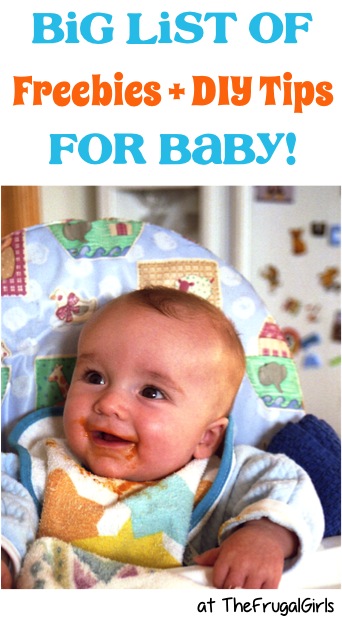 Bree said: "I have found that cutting up receiving blankets into wipe sized squares works amazing!  You just surge or zig zag stitch the edges!  You can find receiving blankets super cheap at thrift stores or consignment shops, and it makes a lot of them!  They are softer  on the little bottoms than wash cloths!"
Katy said: "I used old flannel receiving blankets cut to 8×8. I just sewed a zigzag stitch around the edge or serged the edges.  For wipe solution I use a recipe I found online at Zany Zebra Designs.  The 8×8 size of wipe is nice because it fits well into an old regular wipes container (Huggies, etc.) You can even fold them so they pop up each time."
Amber said: "I use my husbands old t-shirts and just cut them up.

  They are soft from being washed so many times."
Megan said: "I use baby washcloths for my cloth wipes.  For the solution, I found a simple recipe online somewhere; 2Tbsp baby wash, 2Tbsp olive oil, 2Cups distilled water.
I sometimes will include a few drops of tea tree oil, especially if baby has a rash. But you can also do a couple of drops of lavender oil to give it a yummy smell.  I put this solution in a spray bottle.  Then at diaper changing time, I can squirt baby's bum, wipe and toss all of the dirty stuff in the diaper pail."
Kristi said: "We do cloth diapers and use cheap baby washcloths as our "wipes" (just throw them in the wash with the dirty diapers).  For the wipe solution, we have a 2 gallon water jug with a spigot – just add a bottle of baby wash, a bottle of baby oil, and fill the rest of the jug with distilled water.  The solution lasts 1-2 months and allows us to "make" wipes as needed."
Melissa said: "I use baby wash cloths.  All I do is keep a spray bottle with distilled water at the changing table and spray the wash cloth.  I only wipe the area if my son has a poopy diaper or has really soaked his pre-fold.  I wipe him off with the wash cloth, fold it and set it aside. Then I use California Baby's Diaper Area Wash and spray it once directly on his skin before using the wet wash cloth to wipe him off.  The bottle of Baby Wash lasts a really long time."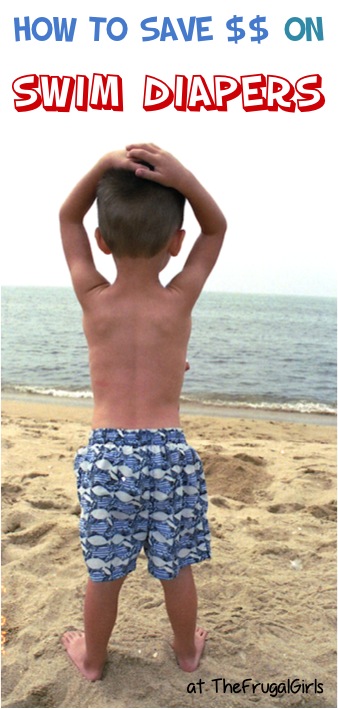 Heather said: "I use cloth wipes with my cloth diapers. I make my solution up in a batch so I can make wipes whenever I need them. My solution is: 7 cups warm distilled water and 4 oz. baby wash.  Shake well to dissolve the baby wash.  You can add baby oil, but I found that it always left oily residue and I didn't like that."
Deb said: "I mix about 2 tablespoons of Dr. Bronners, 2 tablespoons olive oil, a few drops of tea tree oil, and 2 cups of distilled water in a small spray bottle.  Spray a little or a lot on a wash cloth.  When finished using, wash with the diapers."
Dea said: "I give them as a gift at baby showers and it's usually a hit.  My recipe: 1/2 roll of Bounty, 2 cups warm distilled water, 2 Tbsp Baby Shampoo, 2 Tbsp Witch Hazel, 2 Tbsp Baby Oil.  And that seems to do the trick."
Maggi said: "The wipes will last much longer if you used boiling water (kills anything in the water), and a drop or two of pure lavender oil.  The lavender is antiseptic enough to prevent mildew."
Stephanie said: "I've been making & using my own baby wipes for 18 months now.  I started out with a solution but now we just grab a couple of dry wipes.  We run the wipes under warm water and wipe butt clean.  We don't cloth diaper, so I used an empty ice cream bucket as a wet pail for the wipes.  Just launder as usual.  Never had a problem with rashes at ALL with this baby.  I think she's only had one bad rash since she was born, and it was because I wasn't home and everyone decided baby didn't need to be changed all day. >:(  They waited for me to get home to change her poopy diaper.  Other than that, rash free!"
Bethany said: "I now have an excuse to buy a tub of ice cream!! Hubby can't say no to saving money on wipes!!"
So… have you ever made Homemade Baby Wipes?
Do you have a baby wipe 'recipe' or tip to share??

Leave a comment, and let us know!
See Also:
How to Make Foaming Baby Wash
Potty Training Tips + Tricks!