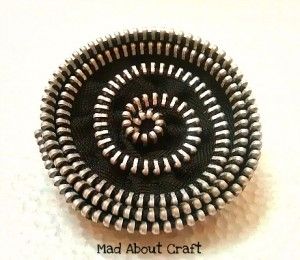 Following is a guest post by Pooja at Mad About Craft… enjoy!!
If you want to pep up any of your old and boring clothes or shoes, and if you are a flower fan like me, (I hope you know I
like
 loveeeeee flowers), then you have come to the right place.
It's all about accessorizing your old things and giving them a new look with this tutorial on How to Make a Zipper Rose. It is fun and easy to make and the best part is, you can make two roses from one zipper and the roses will be ready in less than 10 minutes. 🙂
Materials required:
Metal Zipper
Felt paper
Safety pin or brooch pin
Glue gun
Instructions:
Take the zipper and separate the sides by removing the bottom stopper. I just pulled it apart. Just make sure to not rip anything. Now start twisting it in a circular motion as you have to make a rose. The center portion will act as bud of the flower. Keep adding glue at the bottom edge of the zip and then wrap around the center, keeping the shape round.
Once you are done with the rose, cut a small black piece of black felt paper and paste it on the back of the flower. Glue the Brooch pin or safety pin to the felt paper and you are good to go!
You can accessorize anything that you wish. Like give a new look to your old ballerinas.
Or change your dull top to "a cute top".
The uses are unlimited – Add it to your bag or glue it to your hairband. Isn't this fabulous!!
You can find more fun projects from Pooja when you join her on Facebook and Pinterest!
 See Also:
More Fun Craft Projects!