Following is a fun Craft and guest post by frugal friend Debbie… enjoy!!
Paper Ball Craft Making

Hi Frugal Girls! I'm Debbie!  Heidi made my day when she asked me to do a guest post on her wonderful blog. I'm so thrilled to be here. I love saving money! But I also love DIY projects and crafts! So, why not be creative by making something frugal but still beautiful!
I am excited to share one of latest DIY Paper Ball Craft projects with you all! This is an easy and thrifty way to make paper circles into decorative balls. You can place them in bowls or jars or string them together to make a garland. There's flexibility because you can make them various sizes.
I made mine small (2 inch diameter) to fit my Apothecary jar. You can also use different patterned paper for each ball or the same pattern. I only needed a few supplies for this project. I used scrap book paper, glue, ribbon, and a circle punch.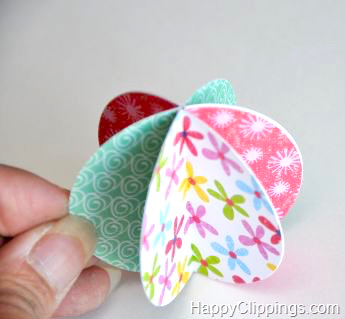 Here's my Decorative Paper Balls Tutorial: I first cut some circles. You will need six (6) circles for each paper ball. I used a 2 inch circle punch. I then folded each circle in half. I took two folded circles and glued them together back to back. I then glued another folded circle onto it so there were 3 folded circles glued together. I repeated again with the rest of the 3 circles. I now have 2 sets of glued-together circles. I then glued those two sets together. See pictures for better visual.


To make into a Garland: Glue ribbon on one set of glued-together circles. And then glue the second set on top. Continue gluing more paper balls along ribbon spacing them as you like.

I do have to warn you that cutting the circles and gluing can be time-consuming and monotonous if you plan to make many of them. Just turn on some good music or your favorite TV show and have fun getting crafty. As I stated earlier, you can use these paper balls for different purposes. String them together to make a beautiful garland or place in a jar or bowl.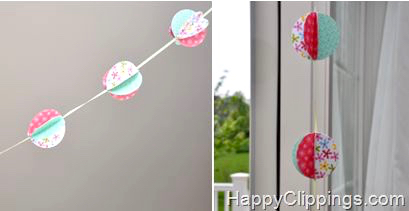 I did a little of both. I strung some together and placed in a Apothecary jar. Most are in the jar but for fun I also decided to leave some on the outside. See how a few are hanging from the jar and some are casually lying around it.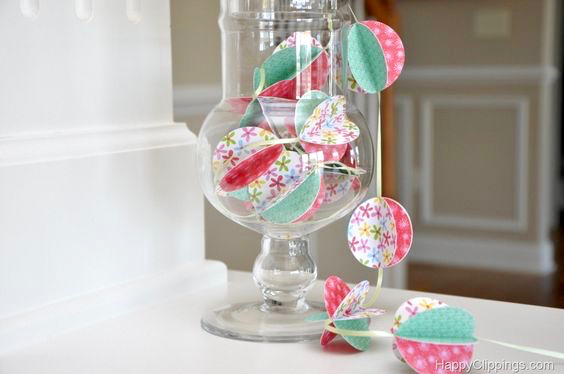 Debbie is a wife to an amazing husband and a mom to 3 adorable kids. She's a money saver, coupon clipper, coffee drinker, baker, home decorator wannabe, and a big Disney fan. She lives in Central Pennsylvania and previously blogged at Happy Clippings, where she helped others save money so they can enjoy family, home and all the sweet things in life. You can also find her on Twitter.