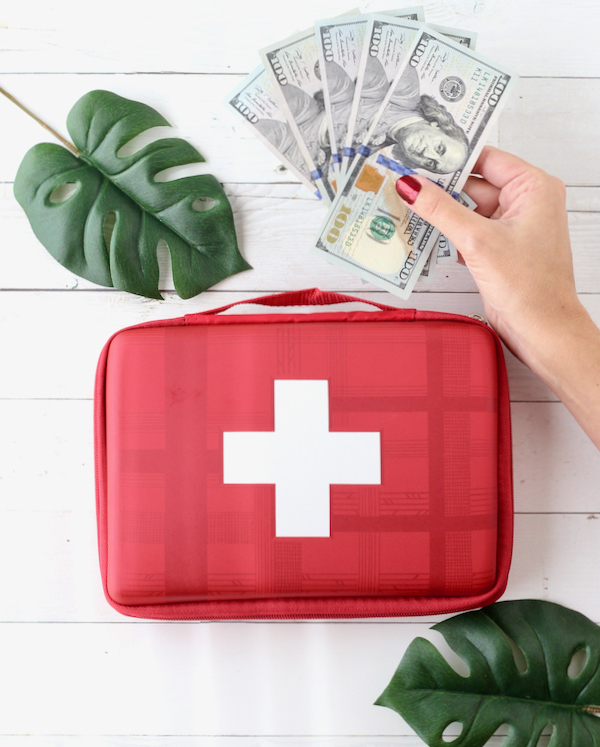 A BIG Thank You to CreditRepair.com for sponsoring today's post: Why You Should Start an Emergency Fund.

Have you been thinking about starting your emergency fund?  Or have you been wondering why you should start an emergency fund?  Having cash on hand to cover unexpected expenses is a really smart move!  You never know what financial surprises may come up, but you can rest easy when you have a nice stash of cash set aside in your emergency fund!
So are you prepared for the next curveball life might throw your way?  There really are so many reasons why you should start an emergency fund.  We've all had those pesky expenses come up.  You know the ones… like a broken cell phone, major car repair, unexpected medical bills, unplanned pet health expenses, surprise home expenses, an abrupt job loss, and on and on.
Financial surprises are never fun, but planning ahead will help you skip the stress!  While an emergency fund might not cover every expense thrown your way, you sure won't mind having that nice cushion in the bank for when you need it.
Are you ready to start building your own emergency fund?  You'll be so glad you did!
Why You Should Start an Emergency Fund…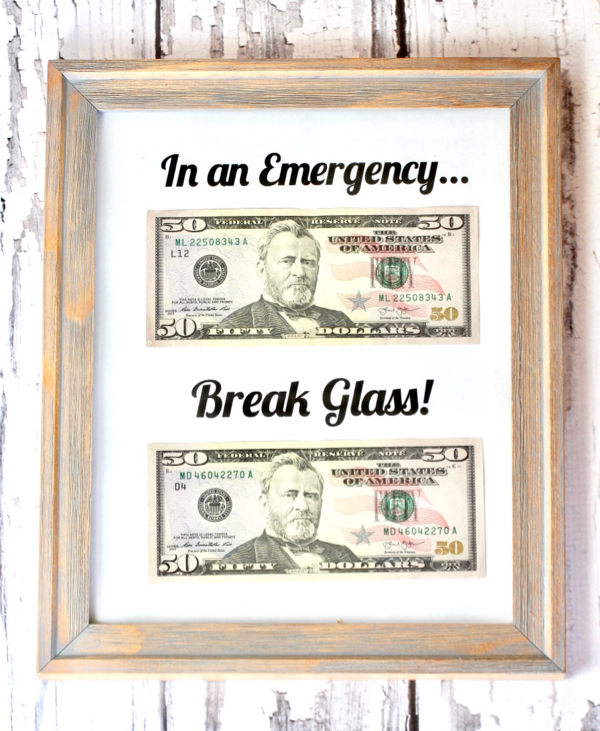 #1: You'll Have Less Stress
Less stress?  Yes, please!  By simply planning ahead and creating an emergency fund, we can eliminate some of the most common causes of stress in our life.  We all know that the unexpected has a way of stressing us out.  However, knowing you have a way to easily cover expenses related to those events is a sure-fire way to equip yourself to navigate life's challenging days!
What we really want is peace of mind, right?
#2: You'll Have More Peace of Mind
Peace of mind means you can sleep better at night.  That's why the goal of our finances is to have financial peace!  We can all rest so much better when we're not worried about money or how to pay our bills!
When you create an emergency fund, an added bonus is having peace of mind.  If you do lose your job, you'll have saved enough to cover your paycheck until you get a new job.  If your A/C decides to break in the middle of a summer heat wave (don't ask me how I know), you'll have money in the bank to cover the cost of repairs or a new unit.  When the dentist tells you that a crown needs to be replaced, you'll have no problem paying the bill… with cash from your savings account.
Creating an emergency fund won't solve all of your problems, but it sure will help you deal with the unexpected in a positive way.  You'll have the security of knowing you can cover unexpected expenses.  And that, my friend, will give you some serious peace of mind!
#3: You'll Protect Your Credit
Did you know that creating an emergency fun will help protect your credit, too?  When you create an emergency fund to cover unexpected expenses, you'll also be taking positive steps to protect your credit long into the future.  That's because your credit can take some of the hardest hits during a major money crunch.  When unexpected bills start piling up, it's far too easy for bills to get paid late.  Yikes!
Now, if you have experienced a financial crisis and aren't sure what your credit looks like, now is a great time to take a peek at your credit.  It's so important to know how healthy your credit actually is.  Start by requesting a free copy of your credit report every year from the three major credit reporting agencies: Experian, TransUnion, and Equifax.
A free credit report won't provide your actual credit score, but you can review your report to see if there are any negative items being reported.  Negative items can include late payments or delinquent accounts.  You can also review your credit report to identify if there are possible errors in your personal information or credit history.  Finally, reviewing your credit reports may help you spot any fraudulent activity on your credit report.
To access your free credit report, simply visit AnnualCreditReport.com.
Did you find any problems or incorrect information on your credit report?  Don't worry, this is common and there are some really helpful tools available from CreditRepair.com to help clean up your credit score!
They will help make sure items in your credit report are substantiated, relevant, accurate and reported fairly.  If items in your credit history are incorrect, they will work hard to get them corrected and to defend your financial reputation!  To learn more, go check out CreditRepair.com.  Just remember… when you take positive steps to protect your credit now, you'll also be protecting your future dreams.
#4: You'll Protect Your Dreams!
Are you saving for a down payment to buy your first home… or forever home?  Or are you saving for college, or a dreamy vacation?  We work hard to achieve our financial goals for one simple reason.  We have dreams that are just waiting to become a reality!  So don't let a financial surprise add one bit of a delay to your dreams.  A hefty emergency fund will help protect your dreams when those surprises comes knocking!
#5: You'll Build a Strong Financial Foundation
Having a strong emergency fund truly is essential to your family's financial health.  With a well funded emergency fund, you'll also avoid having to borrow money during a crisis.  An emergency fund will give you a strong foundation for all of your finances, and will help you handle the financial surprises of life.  So before you start aggressively paying off your student loans or credit card debt, make sure to first fund your emergency savings fund.  Remember, financial surprises are going to happen, so the more money you can save now, the better!
How to Start an Emergency Fund:
So are you ready to start stockpiling some cash away for those rainy days?  To start your emergency fund, plan on initially setting aside 2 to 3 months of your average total monthly expenses.  Then, once your emergency savings is well funded, it's okay to start aggressively tackling your debt again.  However, I recommend that you keep building your emergency savings fund when you are able.  Ideally you should save enough to cover 6 to 12 months of expenses.  The bigger your emergency savings fund, the more likely your savings will be able to cover an unexpected expense.
To start your emergency fund, consider following these steps:
Keep your emergency fund in a dedicated savings account.
After your monthly expenses are paid, pay the minimum payments on your loans and credit cards, then add all remaining funds to your emergency savings account.  You won't believe how fast your fund will start growing!
Consider reducing your expenses or doing a side hustle to increase your savings rate.
Only use your emergency fund to pay for actual financial emergencies, like medical bills or large car repairs.
So let's do this… it's time to start building your emergency fund today!  You'll be so glad you did!
Related Articles: