I may get
paid
for ads or purchases made through links in this post.
Get your play room or game room organized in a jiffy with these creative tips and tricks for DIY Playroom Storage Ideas!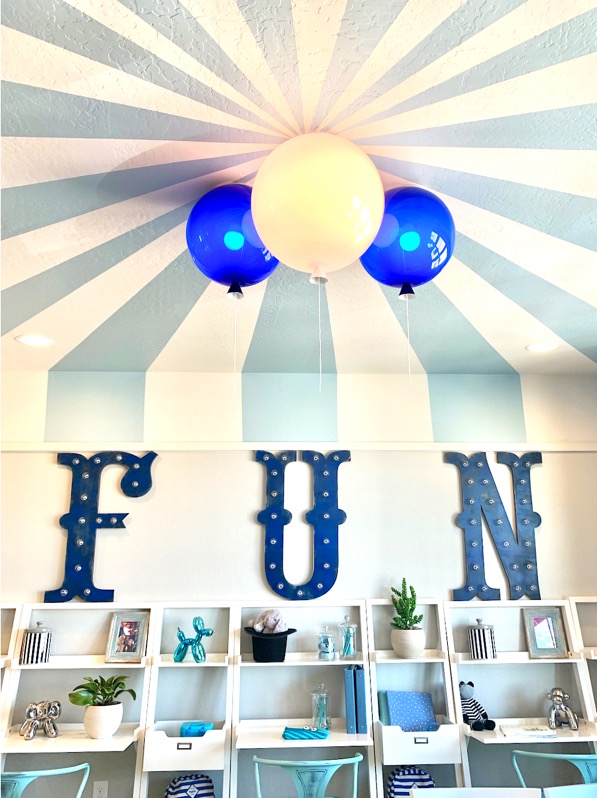 Are you searching for some simple DIY Playroom Storage Ideas? Play Rooms have a way of getting messier then messy and crazy cluttered, don't they? With the daily hustle and bustle of all of those toys coming out to play, it's easy to understand how this fun room get a little disorganized.
Well… don't worry, these easy Playroom Storage Ideas will help you keep your space tidy without much effort at all! So are you ready to organize that playroom or game room?
Here's what you need to do…
Playroom Storage Ideas
Related: 21 Home Depot Shopping Hacks for Your DIY Projects!
#1: Use Pocket Organizers to Keep Toys Tidy
If your playroom doesn't have a door, opt for a pocket wall organizer. It's the perfect solution for organizing small things like walkie talkies, small handheld toys, etc.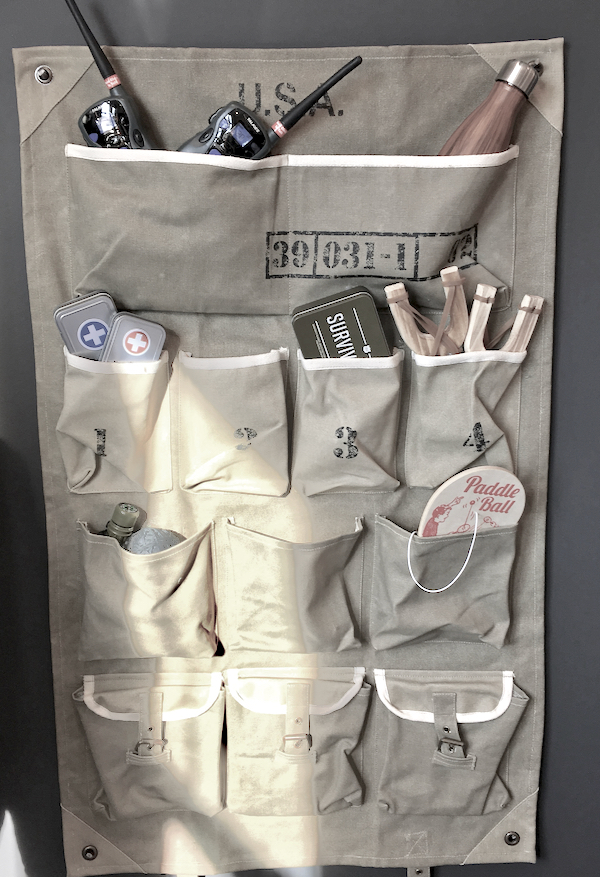 If your playroom has a door, add an Over-the-Door Pocket Shoe Organizer with clear plastic or see-through mesh pockets to the back of the door! These provide so many additional spots to store things like Barbies, Action Figures, Kids Craft Supplies, and more!

#2: Hang Buckets Down Low for Easy Pick-Up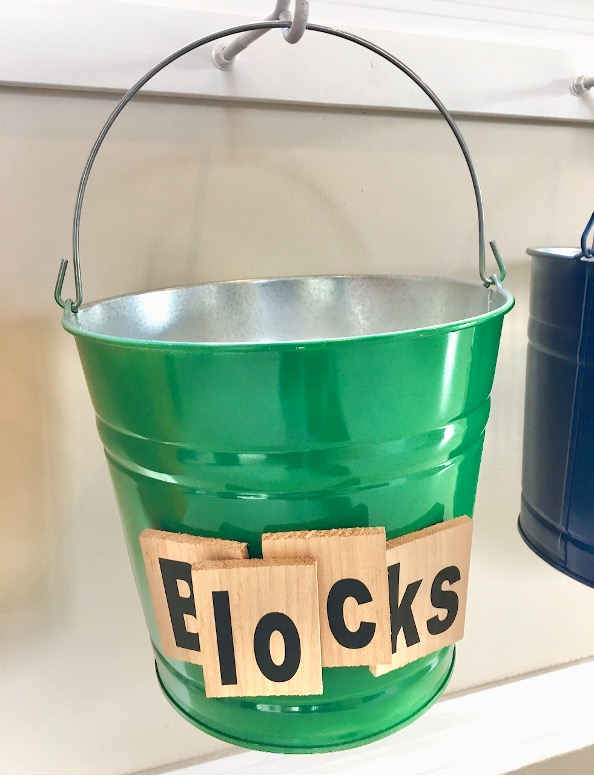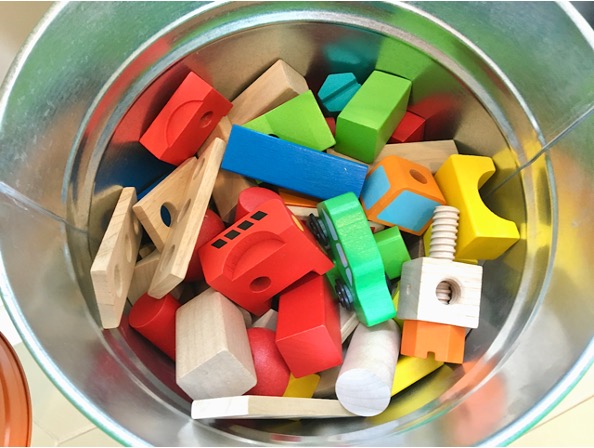 If blocks, trains, and little toys are taking over, a simple solution is to hang several labeled buckets or pails lower along the wall. This way your kids will have an easy way to pick up and organize when they're done playing!
Jen writes: "I used to teach preschool. We had bins for each type of toys (cars, alphabet blocks, musical instruments, etc) with a picture of the toy taped to the front of the bin it belonged in, (a picture of the cars grouped together, for instance). It was perfect because picking up became another game and everything made it back into the correct bin."
#3: Store Books on Floating Shelves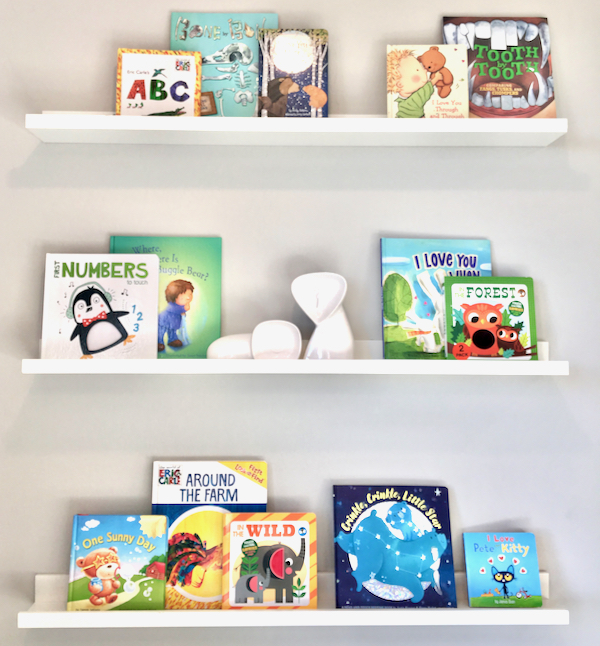 Are you wondering about playroom wall storage ideas? Floating shelves are a great way to add extra storage space in the room! You can purchase pre-made floating shelves from Home Depot or Lowe's, or just make your own, and paint them any color you'd like. Then use them to hold small toys and books!
#4: Hang Vintage Crates for Extra Storage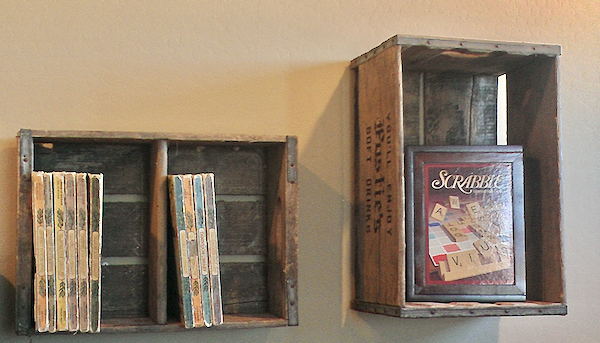 In addition to floating shelves, another fun idea is to hang up some old vintage crates on the wall! This easy DIY hack will not only add some fun flair to your playroom or game room, but it will help to maximize your wall storage space even more!
#5: Purge, Purge, Purge!
Don't forget to purge your playroom regularly. Toys that were once loved can quickly become has beens, so take time to sort through toys and donate the ones that are no longer played a few times throughout the year.
Patricia writes: "Every holiday birthday, Christmas Purge. Get rid of stuff they haven't played with in a few months. Teach children the importance of sharing and caring. Donate unused unplayed with toys to local charities and churches, to the children who are less fortunate."
Holli writes: "Bring in new toy… get rid of an old one."
Megan writes: "Just give them a box and markers. It will keep them busy for hours, teach them creativity, and it's disposal at the end of the day when they are done playing. My kids just throw toys around their room. So I've just been minimizing. The less you have the easier to keep it up."
Jennifer writes: "Only keep what they play with, and let go of the rest! With 4 kids, it's easy to buy a bunch of toys to help entertain them. But I learned pretty quick that they were just as happy with a few toys that were easy to put away, than a mess of toys we all trip over and that they dump out just to find their favorite toy."
#6: Rotate & Swap Your Toys Out Every Few Months!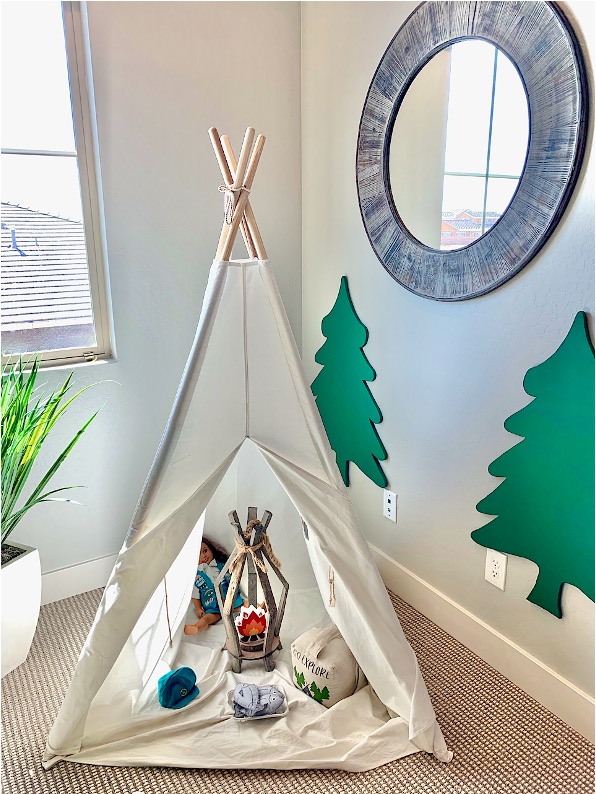 Do you remember the excitement as a child of finding a toy you hadn't seen in so long? Once you were reunited, it was magical… and you instantly became inseparable again! You can actually recreate that excitement for your kids, while keeping your home tidy! Instead of having ALL toys out ALL the time, you can create batches of toys to rotate in and out.
My sister-in-law introduced me to this concept several years ago, and my nephews were ecstatic each time old toys came back to play! It was also the perfect way to keep their tiny home tidy!
Frankie writes: "Store half their toys and rotate them every few months."
Cheryl writes: "My mother used to have us pack our toys up in medium sized boxes, then, on a rainy day, we unpacked a box. It was like having a whole new load of toys to play with."
Donna writes: "Less is best! The fewer the toys the more they enjoy what they have. If they already have an abundance, take half away and in 6 months, swap them out!"
Cynthia writes: "When mine was little, I kept his toys in 3 different boxes, and rotated them out every month or so… fewer toys to keep up with, and he never got bored with the ones he had."
#7: Keep Toys Neat With Laundry Baskets
Whether you pick up some extra laundry baskets from the Dollar Tree or Target, or just put some to use that you already have, they're a fantastic way to corral those toys! You can even create a DIY Hanging laundry basket solution for levels of organization!
Julie writes: "Use clothes baskets! Toys are gonna get dumped out again anyway!"
Gail writes: "I found small colorful laundry baskets to store things like blocks or toy cars. "
#8: Still Need More Storage? Add a Wall of Cubbies!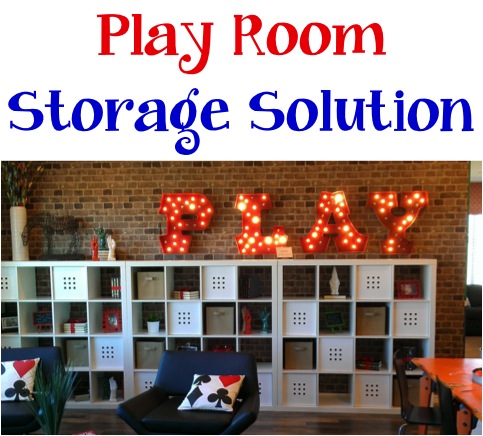 Simple cubicle storage units lined along the wall are the perfect Play Room Storage Solution to hide that clutter!
Use baskets and bins to organize toys and games in each little cubby for a quick method and clean look! Some ridiculously cute brick-styled wall paper along the wall will add some playful flair, too!
Hannah writes: "Have age appropriate storage the kid(s) can use with minimal adult help. We like cube storage with bins to organize toy types."
Vicky writes: "Store like with like in bins that are easy for them to manage."
Gail writes: "I bought 2 sets of 6 foot steel shelving and fastened to the wall to prevent tipping. Put a board between the two to use as desk or play top. Games and puzzles can go up high."
Donna writes: "Get bins you can label and limit toys to 10 and swap out every 3 months"
Heather writes: "Boxes! Bins! Shelves! Once a bin or box is filled, then that's all the toys they get in that category (eg. Kitchen toys/play food, Barbies). My only exception is Legos. 🙂 "
#9: Always Clean Up As You Go!
Jill writes: "Teach kids to pick up as they go… it's hard but doable."
Nancy writes: "Clean up everyday!"
Martha writes: "We have our 4 year old granddaughters organized in various boxes. She must put one box away before placing with another."
Donna writes: "TEACH your children to want a clean and organized space, because it helps when you're busy."
Sande writes: "Beginning at 2 a child can handle putting all toys back in the box with you as a before bedtime routine."
Stacey writes: "Teach kids to pick toys up and put them away when they're done playing with them. It will serve them well throughout their lives."
So wasn't that easy? Now that you've got your playroom organized, it's time to transform some more rooms of your home! Find even more fun Home Decor and Organizing Ideas for your home below…
Give your home a gorgeous makeover with these Easy Designer Home Decor Tips and Tricks!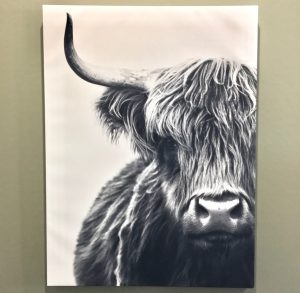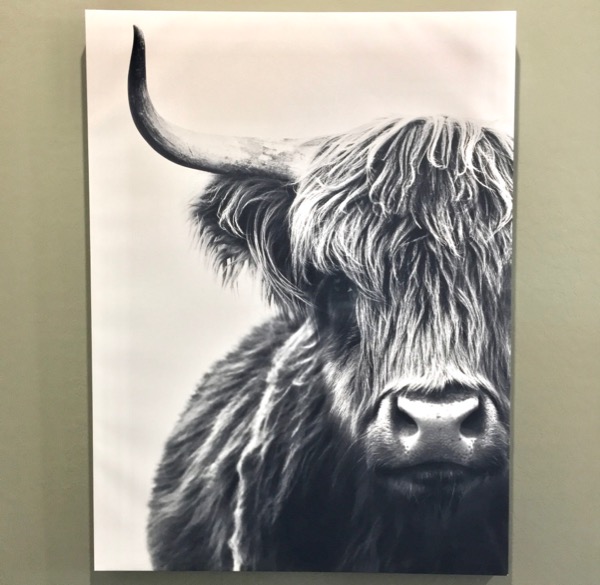 Nothing beats coming home to an organized home! Put these Home Organizing Tips and Tricks to use and you'll love the results!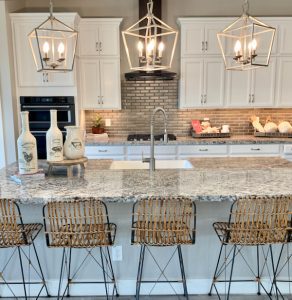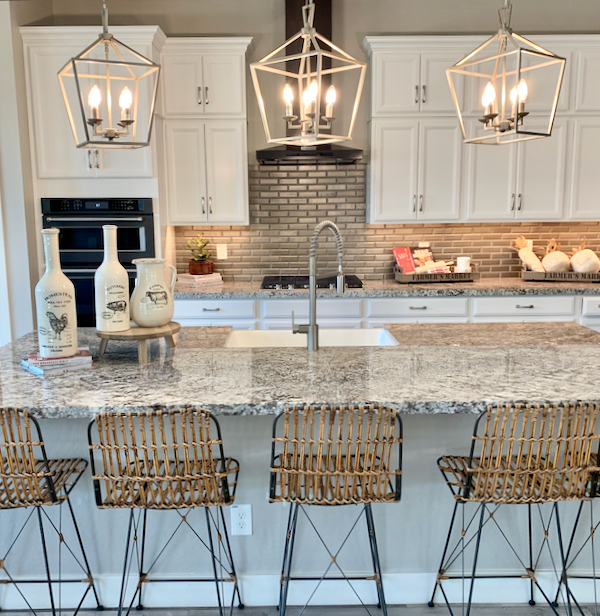 It's true… you can LOVE your house and save BIG all at the same time! Are you ready to start saving? Check out these affordable ideas and frugal hacks for your home.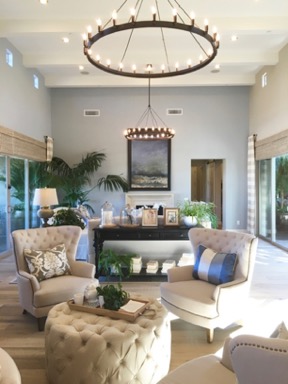 Score the best deals and enjoy some frugal shopping when you use these shopping hacks!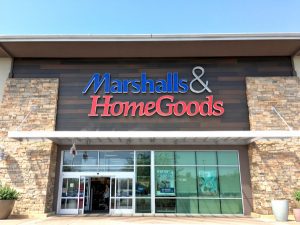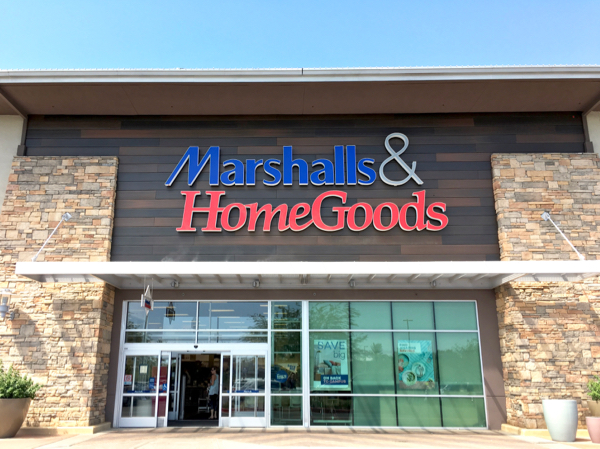 Use these little known shopping hacks to enjoy some fun and frugal shopping at Lowe's!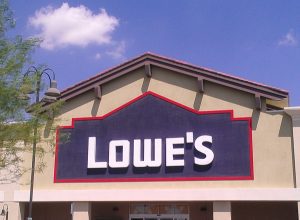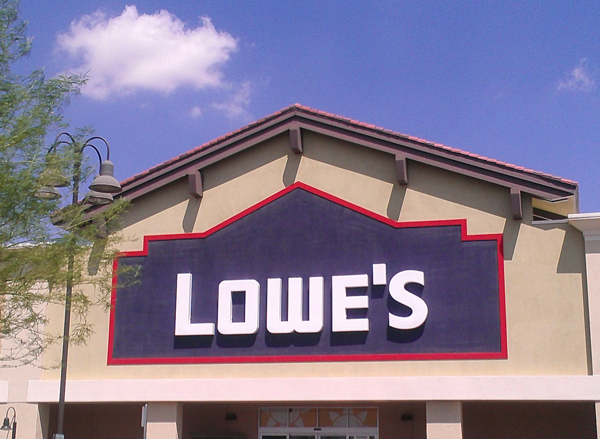 Today I want to show you my favorite tricks to save even more money at the Home Depot. Are you ready? Let's do this!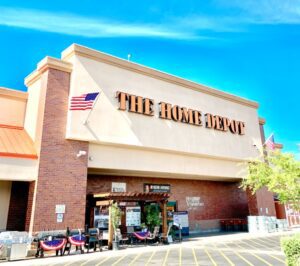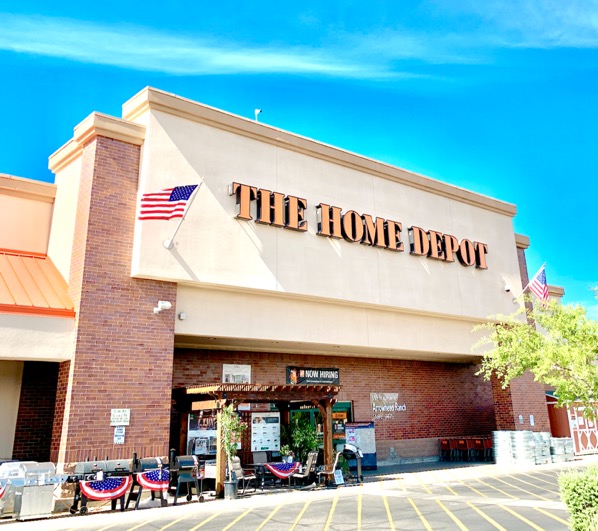 Frugal Girls LOVE great deals! Before you shop, check out these Insider Tips + Shopping Hacks that will save you so much money at your favorite stores!!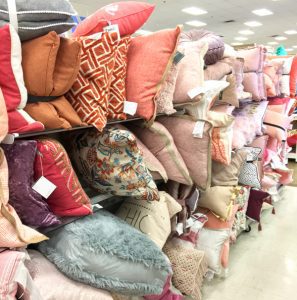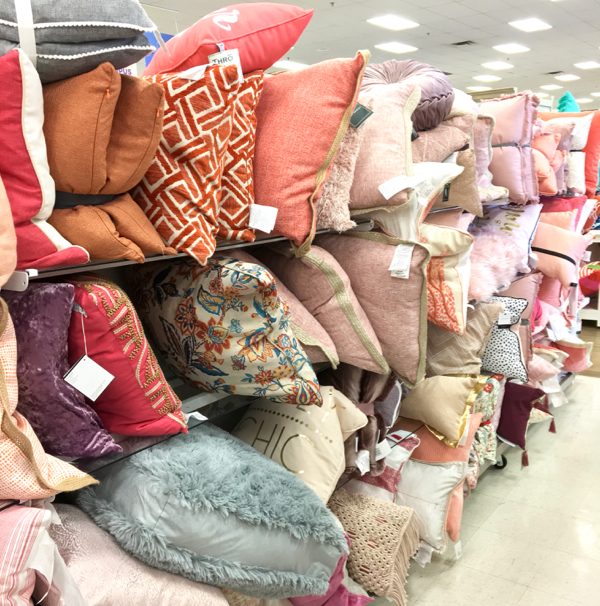 So don't miss out! Come join us for even more fun tips and ideas here…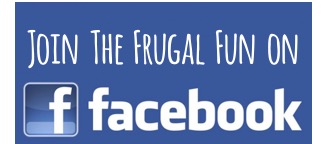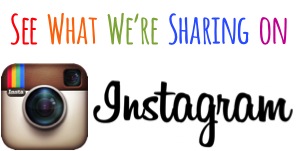 So do you have any more Playroom Storage Ideas or Tips to Keep Toys Organized?
Leave a comment & share!