I may get
paid
for ads or purchases made through links in this post.
Brighten up your home with this Pretty Spring Flower Wreath Tutorial!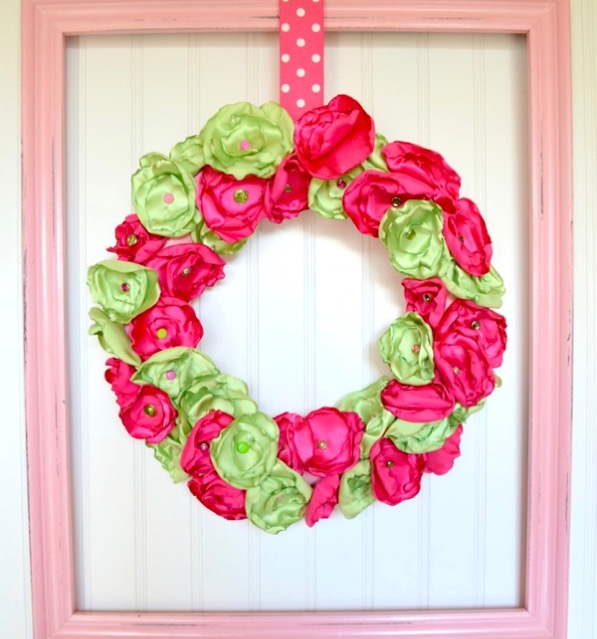 Following is another beautiful Wreath Tutorial and guest
post by frugal friend Lina… enjoy!!
Pretty Spring Flower Wreath Tutorial
Related:
Hi I'm Lina. I'm a mom with a love of decorating, thrift store shopping, DIY projects, food, and photography. My goal is to create a beautiful life and stylish home on a dime.
I am so excited to be here today because Heidi and The Frugal Girls website are just plain fabulous and right up my alley!
The Pretty Spring Flower Wreath Tutorial I am sharing today is one made a couple years ago and goes perfect with spring and Easter decor!
These sweet little satin flowers can be used as hair accessories, but also make a fun easy wreath.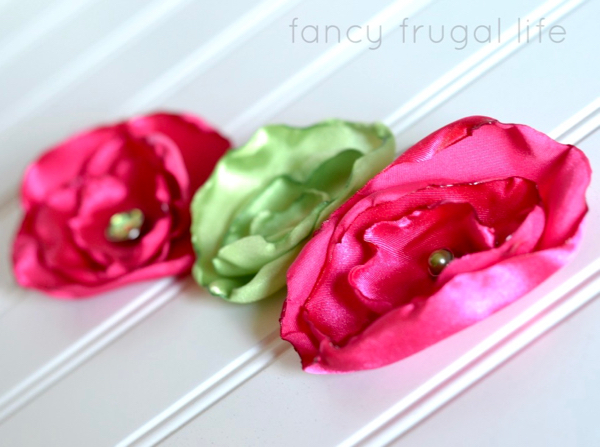 All you need for this project is a blank Styrofoam wreath, straight pins, lighter or candle, paper brads and satin fabric in the colors you choose.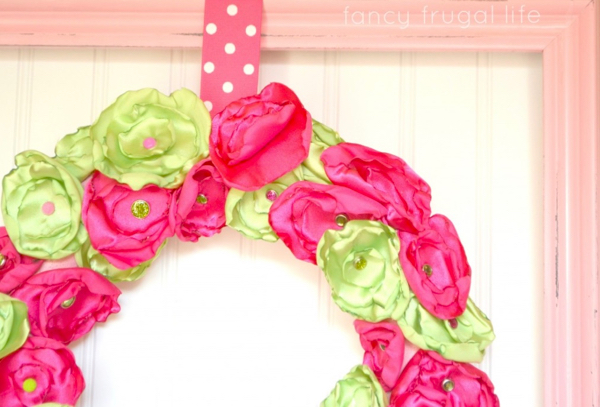 Cut three circles in sizes small, medium, and large from satin fabric. Then burn the edges carefully with a lighter or candle to make them curl. They magically turn into flower petals. Then secure all three petals with a paper brad. That's it!!!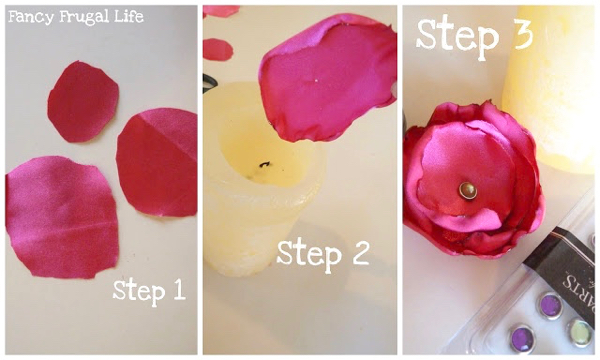 Attach all the flowers with straight pins to the wreath form. Make sure to pin under the first flower layer so your pins don't show. I decided to hang mine inside a frame I painted pink and distressed.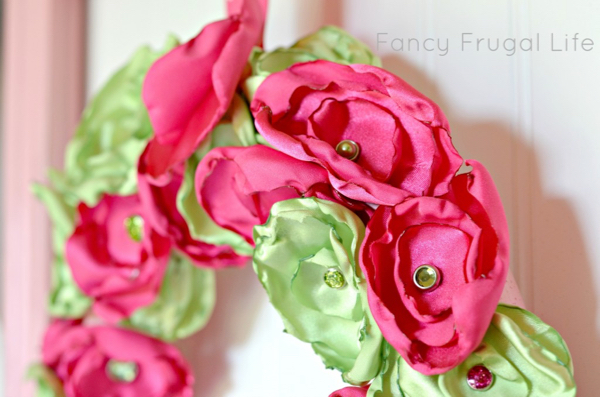 That's it… easy, right? Happy spring decorating!
Want to see even more projects and diy tips?  Check out these creative ideas…
Need to freshen up your front door for Spring? You can make this DIY Hydrangea Wreath for Front Door in just 5 minutes!!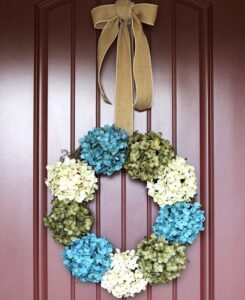 Give your front door a makeover with this Natural Fall Twig Wreath Tutorial!  It's such an easy Budget DIY Decor project!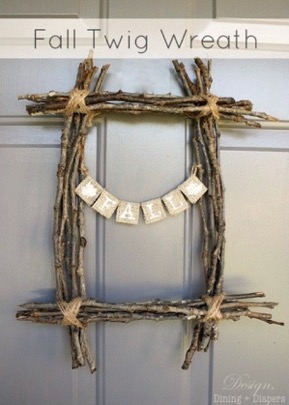 Pretty up any door or wall with these beautiful DIY Felt Wreath Ideas and an easy step-by-step tutorial for how to make a pretty ruffle wreath!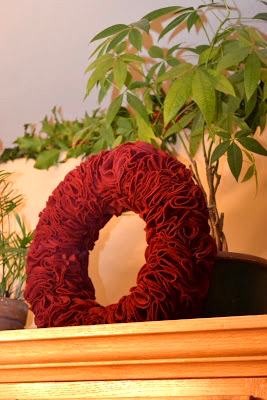 There are Crafts for every season, holiday, and occasion ~ perfect for both kids and adults!  So many of these ideas make great homemade gifts, too!  So are you ready to get crafting?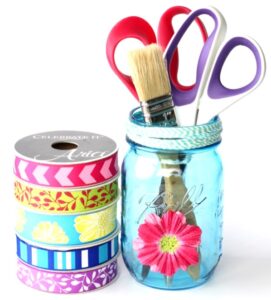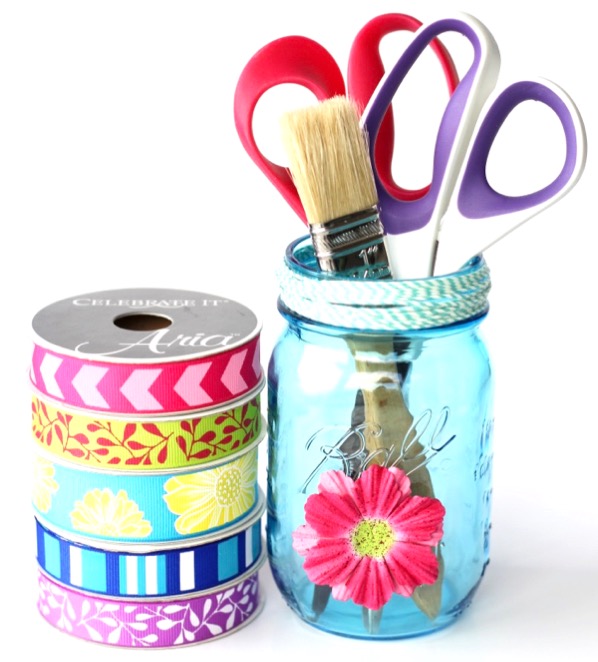 Give your home a gorgeous makeover with these easy Farmhouse Home Decor Tips and Ideas on a Budget!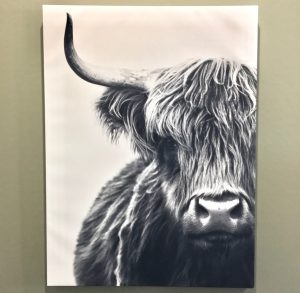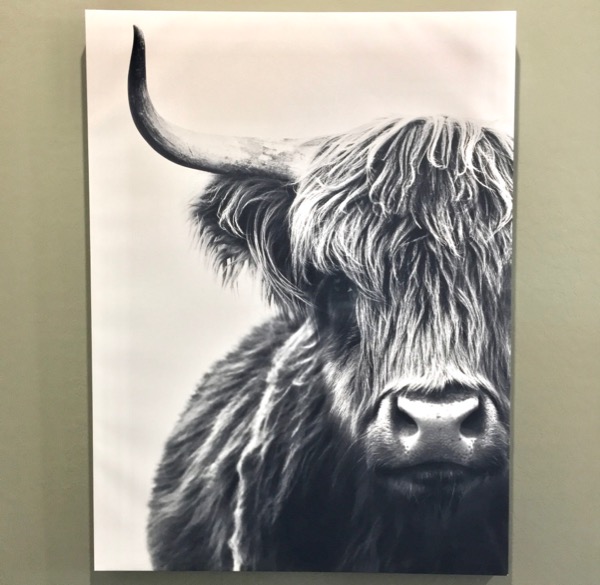 Make your dollars count with these tips for Creating Curb Appeal on a Budget!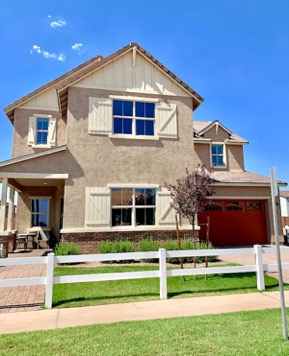 I've got some proven Home Staging Tips to share with you, that are going to make selling your home so much easier!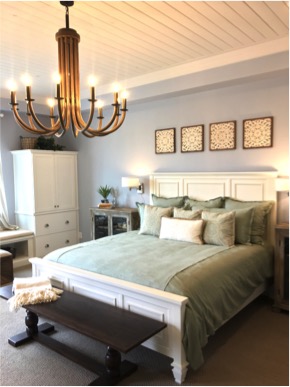 These affordable ideas and frugal hacks for your home can make saving so much easier.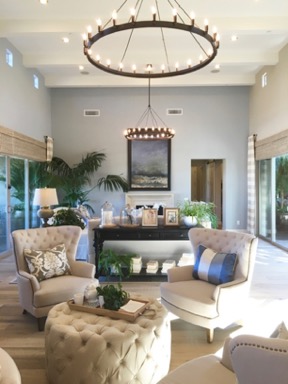 So have you tried this Pretty Spring Flower Wreath Tutorial yet?
Leave a comment and share…