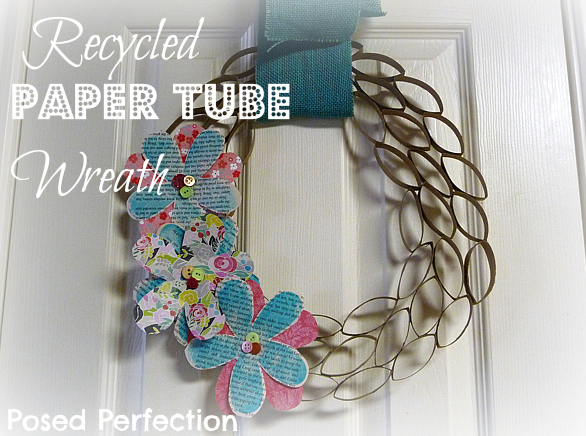 Following is a guest post by Nici at Posed Perfection… enjoy!!
Related:
Hi there, sweet readers of The Frugal Girls! I am so excited to be guest posting today.
I just love coming over here to see all of Heidi's great tips and the bargains she finds for us and I am so grateful for the opportunity to share a little something with you today.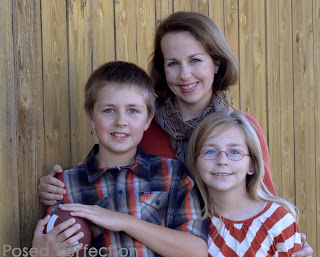 My name is Nici and you can find me over at Posed Perfection. I'm married to Mr. Perfect for Me and I am a homeschooling mom to two great kids.
At Posed Perfection, I share simple, delicious recipes, easy-to-duplicate craft projects and whatever is on my heart for the day. I hope you'll stop by for a visit real soon!
So…are you ready for a spring craft?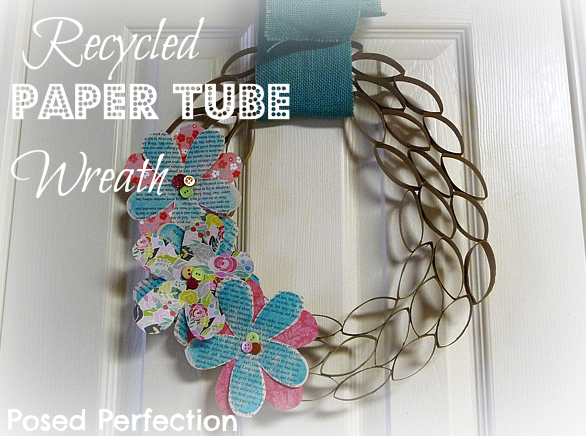 I'm going to show you how I made this Springy Recycled Paper Tube Wreath. I am all about using things around the house to craft with.
I've made pumpkins out of TP tubes, and treat boxes too. No household is without these wonderful 'craft supplies', and I have made full use of them. In this case, I used paper towel tubes that I had on hand.
What you'll need:
Paper towel or toilet paper tubes
ruler
scissors
hot glue gun
round template (I traced a dinner plate onto a paper bag)
book pages
scrapbook paper rubber stamps and ink
buttons
burlap ribbon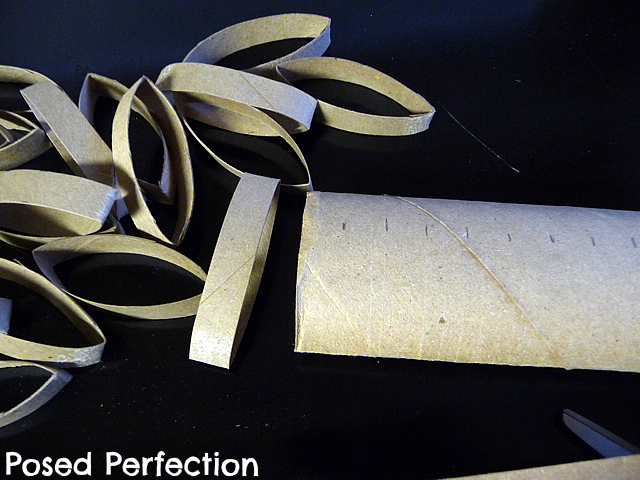 First, you'll need to flatten your paper tube (this makes the cutting easier and creates the nice "leaf" shapes).
Using a ruler, mark off 1/2 inch increments along the paper tube.
Cut the tube on the marks to create the paper ring leaves.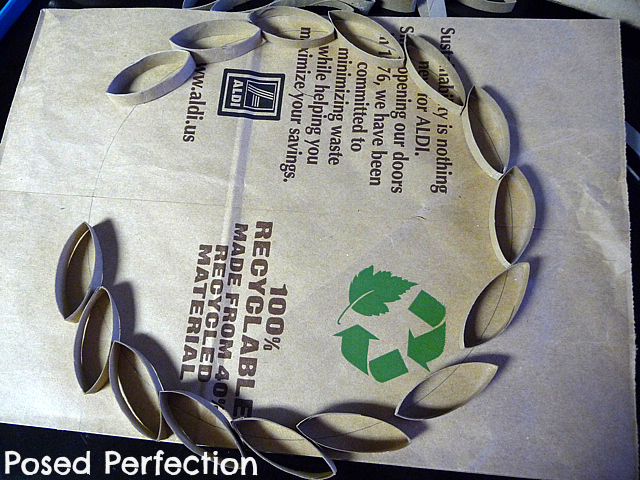 Using a large plate, trace a circle as a guide for your leaves.
Once you've laid out the leaves for spacing, begin gluing the leaves to one another using the hot glue gun.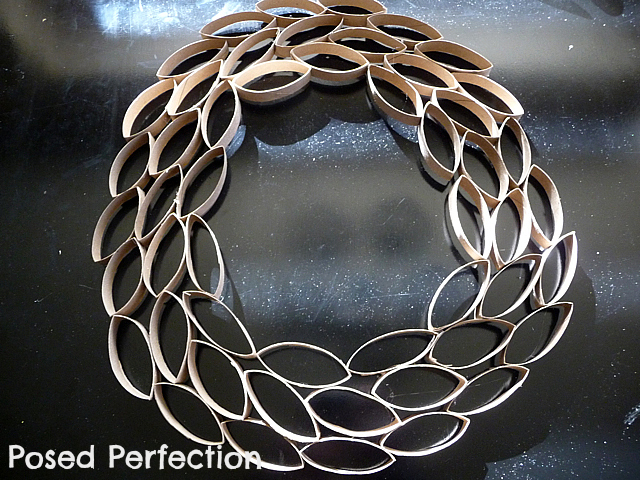 After you've made the first "ring" of leaves, begin filling in on the next layer, all the while adhering the flat sides of the leaves to one another.
I decided on three rings of "leaves" for my finished product, but you could easily add a fourth or even fifth for a really full wreath.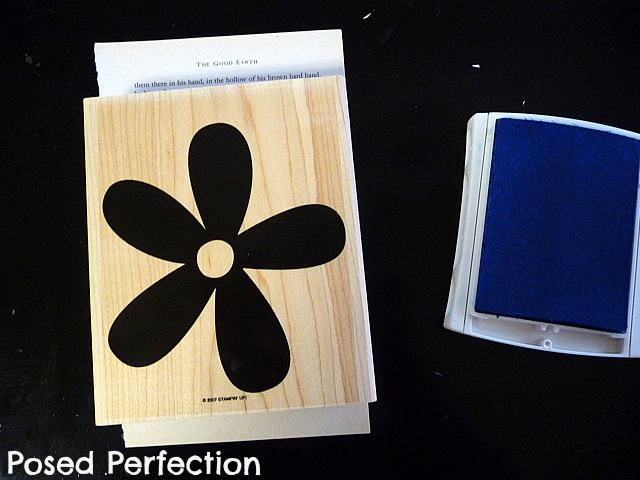 Feeling it was a bit plain as is, I thought adding some paper flowers to the wreath would be fun and perk it up a little. So, since I'm on a bit of a book page kick lately (Book Page Butterfly Garland and Book Page Decoupage Eggs), I incorporated some book pages to the mix.
I happen to have a large flower stamp that I used on the book page, but you could just as easily make a flower template, cut it out of the book pages and sponge on some ink for some color.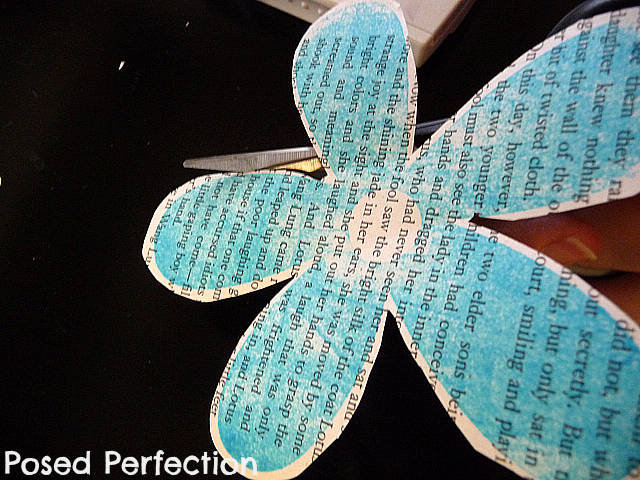 Once I stamped the book page, I cut out the design and repeated this two more times.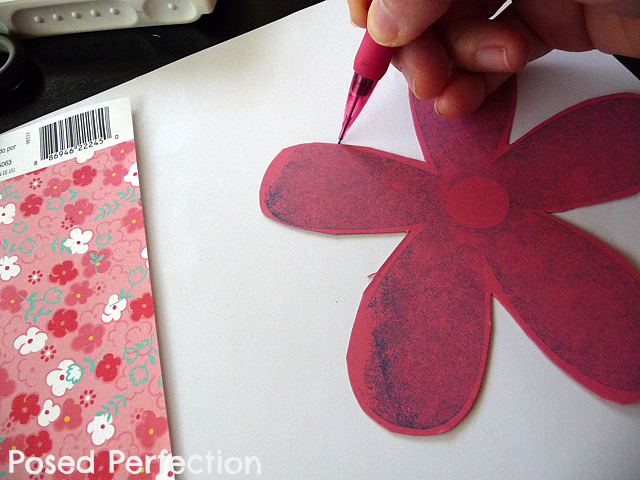 Next, I stamped the image on card stock and made a template to trace onto some colorful scrapbook paper. I used three different pieces of patterned scrapbook paper.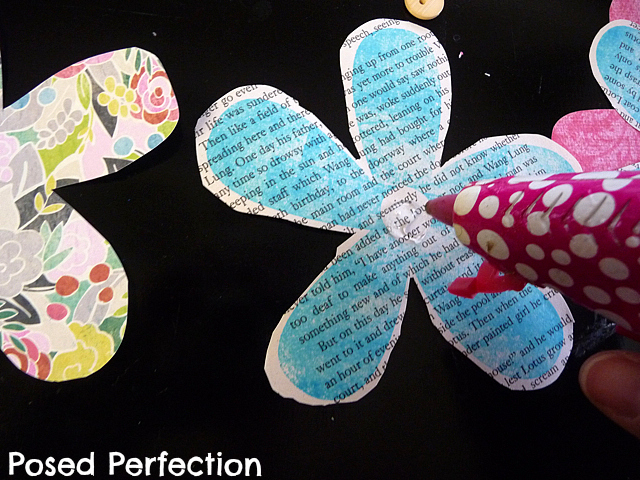 Utilizing my glue gun, I layered the book page flowers with the scrapbook flowers.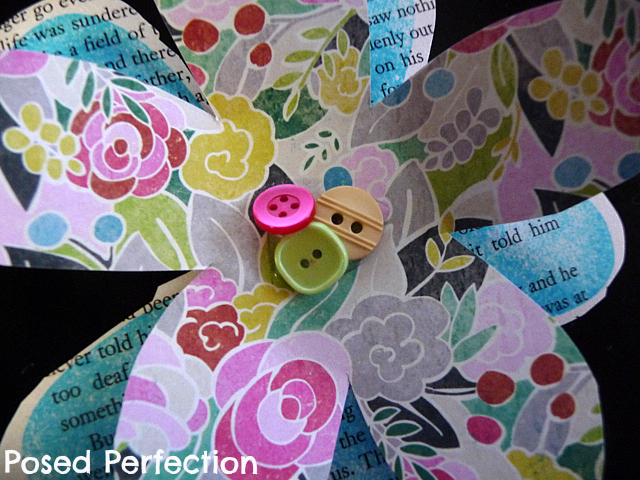 I finished the flowers off with a grouping of buttons from my "collection".
Next, I put a dollop of hot glue on the back of the flower duo and adhered it to the wreath and repeated a couple more times.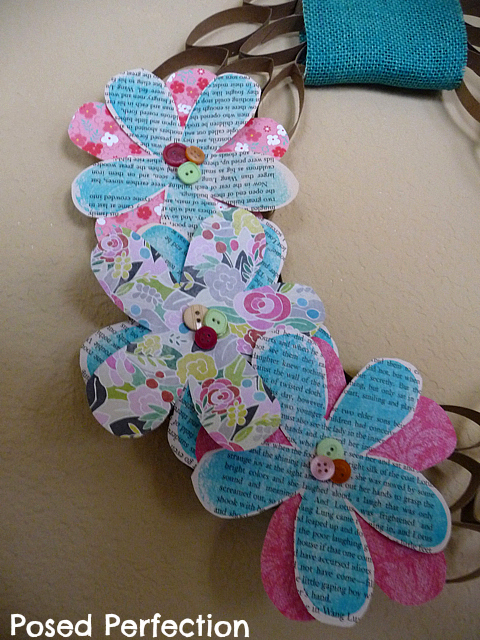 Don't the flowers add a nice punch of color to the otherwise drab wreath? To finish off the wreath, a blue burlap ribbon serves as the wreath hanger. So, is this something you think you could make?
I would bet that most of you have all the materials already at home. (All I bought for this craft was the ribbon and scrapbook paper. I probably could have found something at home to use, but I couldn't help myself…I had a gift card to Michael's that was burning a hole in my pocket).
So, here was a craft that was both easy and "earth" friendly. Not only that, but you could easily get your kids to help out, so long as you are using a "low temp" glue gun.
Thanks so much, Heidi, for letting me share with your wonderful readers.
For more easy crafts or some family-friendly recipes, come on over and check out my little spot in the blogosphere. I'd be delighted if you visited me :  Posed Perfection , Twitter, Facebook, and Pinterest.
On the hunt for more home decor inspiration and fun craft ideas?  Check out these creative projects…
Feeling crafty??  It's time to get your Craft on and get inspired to do some fun crafts!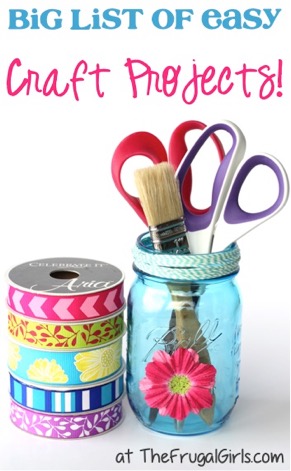 Give your home a gorgeous makeover with these Easy Designer Home Decor Tips and Tricks!