This Peppermint Brownie Bites Recipe is the ultimate bite sized holiday dessert!  Your guests will go crazy over these sweet treats!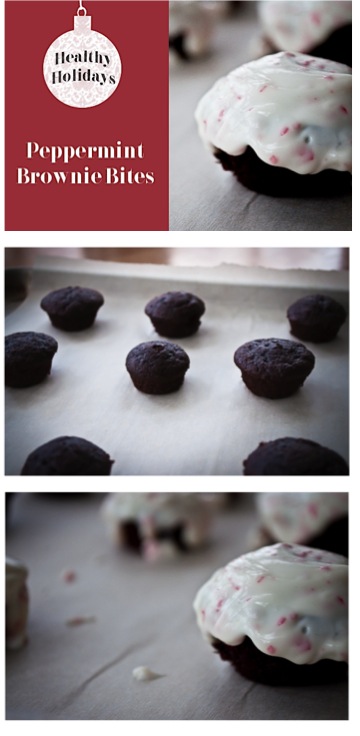 Following is a delicious Peppermint Brownie Bites Recipe
and guest post by Carly at Createlive ~ enjoy!!

Here come the holidays! This year, I challenge you – yes, you – to be a little more careful in order to be a little more happy and survive the holiday season guilt-free. A delicious holiday feast – complete with appetizers, stuffing, and even dessert – can be had on a "calorie" budget.
Today: Dessert! Peppermint and chocolate. Oh, sweet gosh, what a wonderful combination. So naturally my thought was… can we make it healthier? Now they're bitesize. Okay, maybe two bites. Three if you're careful!
Size-wise, these compare to  truffles and cake pops. There's no addition of cream cheese or frosting, so the caloric value is much lower and, because they were baked in mini cupcake tins, there is no need for balling and rolling dough (which is the most tedious part of cake pops and truffles, if you ask me).
Whereas the Peanut Butter Brownie Bites were reminiscent of Reese's Cup Cupcakes, these babies are a similar taste to the York Peppermint Patty Cupcakes I whipped up a month or so ago. So refreshing.
Peppermint Brownie Bites Recipe
This Peppermint Brownie Bites Recipe is the ultimate bite sized holiday dessert! Your guests will go crazy over these sweet treats!
Ingredients
1 box Devil's Food Cake Mix
1 can La Croix, Sparkling Water, or Diet Coke
1½ cups Peppermint Melting Candy
1 teaspoon Canola Oil
Instructions
Combine cake mix and can of La Croix/Sparkling Water/Diet Coke in a large bowl and mix well.**Do not add butter, oil, or eggs if using this method. The carbonation in the water/soda will substitute for those ingredients and cause the batter to rise. If you would prefer the traditional route, feel free to bake as directed on the back of the box, and ignore the carbonated beverage addition**
Use an ice cream scooper (great size!) to spoon into a mini-muffin tin and bake as directed.
Once done baking, melt peppermint candy coating in the microwave for 90 seconds and stir. The coating should be easily stirred, and most if the chunks will dissolve upon a minute or two of stirring.
Add Canola Oil and continue stirring. If numerous hard chunks remain, nuke it for another 15 seconds and stir again.
Place mini muffins on a sheet of parchment paper and spoon peppermint coating on top of each muffin, using the back end of the spoon to move the coating around so that it just begins to drip down the sides.
Refrigerate for 30 minutes and serve!
What You'll Need:

Carly loves mason jars, healthy cupcakes, oxymorons, and workout music! Check her out on Facebook and Pinterest!
Craving more delicious Peppermint Treats??  Get inspired below…