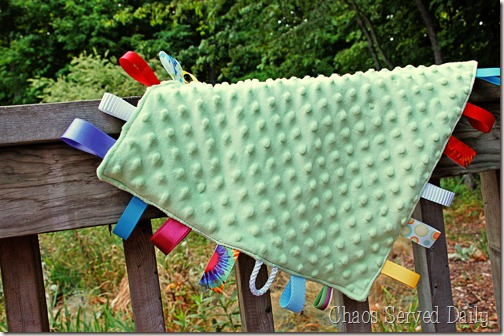 Following is a guest post by Megan at Chaos Served Daily… enjoy!!
I'm Megan from Chaos Served Daily, and I'm so excited that I get to share this fun craft with you!
It seems I need small baby gifts frequently, for soldiers, coworkers, or friends.  And they seem to come in waves, so I needed something I can mass produce and be set for six months or so. Of course, I read there's a Fifty Shades of Gray baby boom going on, with babies due in February, so who knows how many blankies I'll need then!
I like to give these tag blankies for babies to use as teethers or tactile learners, along with a copy of one of our favorite books.  It makes a thoughtful, yet affordable, gift.
About ten years ago, "tag" things were all the rage…books, blankets, teething cloths, you name it.  I'm not sure if they're still so prevalent, but I figured out how I could make them for next to nothing.  (In this case, next to nothing adds up to about $3, if I have to buy ribbons and can't just pull from my stash.)
To make these, you'll need some soft chenille-type microfleece.  One and a half yards of 60" wide fleece will make 6 blankets.  I always buy it on sale or with a 40% off coupon at Joann's.  You'll also need 10 or 12 different, closely wovan, fabric ribbons.  You'll need two pieces of each, 4" long.
Cut two pieces of fleece 14"x14" for each blankie.  On the right side of one piece, fold each ribbon in half and pin he cut edges along the sides of the fleece.
I do this assembly line fashion, cutting everything then pinning all the squares.
Next, place another square of fleece right sides together with the ribbon pinned one.
Stitch around the edges, leaving a space about 3 inches or so not sewn.  Clip the corners, as shown above, then turn the blankie right side out, pulling the fabric through the unsewn part. Remove the pins, tuck the raw edges from the unsewn part inside, and topstitch around the entire square.
See?  I told you it was easy!  I try to make mine pretty unisex in color, since I make them to stock my gift trunk. You can make several of these in an afternoon (or an evening while watching mindless televsion) and when a baby is born, you're ready to give a fabulous present!
I'm a SAHM to three little hooligans and have been an Army wife for almost 19 years.  After several deployments and so many cross-country moves I've lost count, I started my blog to have a creative outlet everyday. I had my own personal chef and catering business before going on permanent maternity leave (with a family of five, I spend enough time cooking already!).  My blog is filled with crafts, cooking, photography, and of course, the daily chaos of family life. I hope you'll check it out sometime!  Chaos Served Daily
Got a Guest Post you'd like featured on TheFrugalGirls.com?? Go here to Submit a Guest Post!