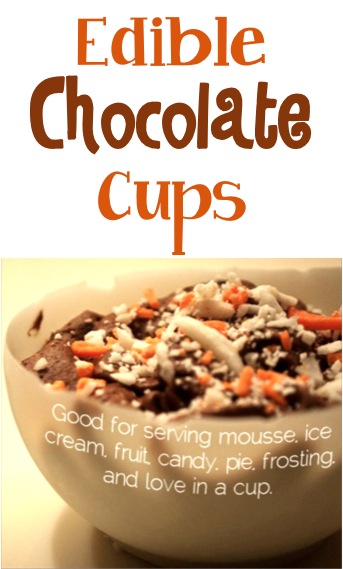 Following is a fun Chocolate Bowls with Balloons Recipe and guest post
by Carly at CreateliveBlog.com ~ enjoy!!

Chocolate Bowls with Balloons Recipe
They had edible chocolate bowls at my High School prom.  I remember my mind being blown.  It seemed so gourmet.  So fancy.  So… difficult to make.
Go figure… it's not all that difficult.  It takes about 15 minutes and a package of balloons! But don't tell your friends how easy it was. 🙂
For this recipe, I filled the edible white chocolate cups with dark chocolate mousse.  Don't let that box you in!  Get creative with this one!
Are you ready for this easy Chocolate Bowls with Balloons Recipe?
Chocolate Bowls Recipe
Ingredients
1 pack Almond Bark (white) or White Chocolate
1 pack Balloons
1 box Jello Chocolate Mousse Mix
1 cup Skim Milk
Instructions
Blow up small balloons and set aside.
Heat almond bark or white chocolate in the microwave for 90 seconds. Stir, then continue to heat in 15 second intervals, stirring in between, until the chocolate seems almost melted. Take it out and stir until it is smooth.
Carefully, dip balloons in chocolate and slowly move around to get a clean line of chocolate. Remove and set on a sheet of parchment paper. Continue until chocolate has been used up.
Set chocolate covered balloons aside.
Combine chocolate mousse mix with 1 cup of skim milk and mix, using an electric mixer, on low for 30 seconds, then on high for 4 minutes.
Set mousse in the fridge to cool for 2 hours.
Using a fork or toothpick, pop the balloons. This is the fun part, people! Stab those things! Most of the balloons will lift right out after being popped, but some need a bit more finesse. Be gentle with them!
Spoon or pipe chocolate mousse into edible chocolate cups.
Carly is a young blogger living in Chicago who loves mason jars, healthy cupcakes, oxymorons, and workout music! Check her out on Facebook, Pinterest, or visit her website!