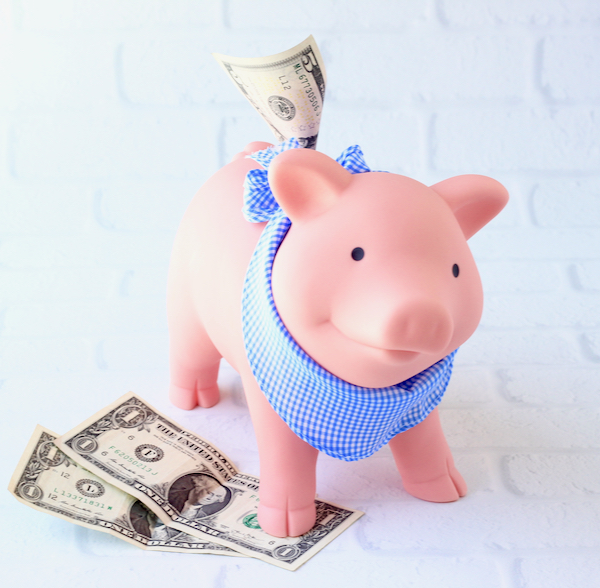 A BIG Thank You to CreditRepair.com for sponsoring today's post.

We all want our kids to manage their money well and to have good credit when they're older.  But don't you wish you knew how to help your kids understand credit and how it works?
Teaching your kids about money and credit is actually a lot easier than you might think!  It can be as simple as taking them to the bank with you.  Or letting them help you pay for food at the grocery store using your credit card, and then watch you pay off your balance at the end of each month.  Your kids are already paying attention to how you talk about and spend money.  So take advantage of their natural curiosity to teach them some positive money lessons!
Get started today with these tips to creatively teach your kids about personal finance…
How to Help Your Kids Understand Credit
#1: Start Teaching Your Kids About Money Early On
Your kids will learn so much when you turn your personal purchases into teaching moments.  You can show them how different things cost money.  You can also talk about what you are buying and why you are buying it.  Then share how you like to save money by buying things on sale and using coupons.
When you have time, consider letting your kids take their own money to the store to make their own small purchases.  You can make the whole experience even more fun by getting them a cute purse or wallet to carry their cash.
One of the very best things you can do for your kids is to teach them how to save.  Help your kids start saving money today by helping them open their own savings account.  Then have them save part of their allowance every month.  You can keep them excited about saving by showing them their bank account statement and how much interest they're earning every month!
#2: Help Your Kids Create a Budget
A great way to teach your child financial discipline is by helping them create and use a simple budget for their monthly allowance.  This tool will help them learn how to save money and earn interest using their own savings account.  Plus, you can also use the budget to teach them how to be generous by giving gifts to their family for holidays, or giving to those in need.  By helping your child set spending and saving boundaries early on, it will help them wisely manage larger amounts of money as they get older.  So don't underestimate the impact of what you are teaching your kids.  These lessons about money will truly benefit them for the rest of their lives.
You can start your child out with something as simple as this budget example for a $50 monthly allowance:
Savings Account: $20
Charitable Giving: $5
Gifts for Others: $5
Fun Money: $20
#3: Encourage Your Kids to Earn Their Own Money
One of the easiest ways to teach your child the value of money is by giving them opportunities to earn some of their own money.  Likewise, if our kids are always given money and never earn it, it will be very difficult for them to understand how much it's actually worth.  That's why it's so important for your child to earn at least some their own money.
There are so many creative ways you can help your kids earn money.  To start, you can pay them a small amount for doing some extra chores or projects around the house.  You can also have them participate in a family garage sale by selling some of their own stuff they no longer use.  As they get older, they can make money running a lemonade stand, babysitting, pet sitting, doing yard work for neighbors, and even by getting a part-time job in their later teens.
#4: Explain What a Credit Score Is
Don't make the mistake of thinking it's too soon to talk to your child about credit.  In fact, the more you talk about money and credit now, the better equipped your kids will be to handle their own finances as they become adults.
Here's an easy way to explain to your kids what a credit score is.  Your credit score is a grade you are given for how well you pay your bills and manage your debt.  A higher score means you're doing a good job paying your bills on time and managing your debt.  A lower score means you need to do a better job paying your bills and that you might have too much debt.
#5: Tell Them Why Credit Scores Are Important
It's important to also help your child understand the positive benefits of having good credit.  Having good credit is a lot more exciting when they realize it will help them save money on cell phones.  Plus, they'll love knowing it will help them get their own house and car when they're older, just like Mom and Dad!
Remind your kids that a good credit score may help them:
#6: Teach Your Kids How to Check and Monitor Their Credit
As a parent, we want to teach and protect our kids.  So in addition to teaching our kids about credit, we also want to help protect the credit of our kids!
With data breaches so common and credit so vital to the future of our kids, what can we do to protect them?  To start, you can actually get a free copy of your child's credit report from AnnualCreditReport.com.  It's important to know that when requesting a credit report for your kids, some additional documentation may need to be physically mailed to the different credit bureaus.  Once you've received a copy of your child's credit report, review the report to make sure it is accurate.  If you're comfortable showing the report to your child, it can also be used as a tool to help them learn more about their credit and how it works.
If you do see any problems after reviewing your child's credit report, now is a great time to do something about it.  To start, there are some really helpful tools available from CreditRepair.com to help clean up credit scores!  To learn more about what they can do to help you and your family, be sure to check out CreditRepair.com.
#7: Explain How Credit Cards Work
Wouldn't you love the peace of mind of knowing that you were the one that taught your kids about credit cards?  You can use credit cards to teach your kids so much about credit, including the benefits and the risks.  You can explain to your kids how credit cards are small loans from the bank.  If you pay back whatever you owe on your credit card every month, you don't have to pay any interest.  But if you don't pay the money back every month, you can actually pay a lot of interest.  A higher rate of interest than what you would have to pay on most car and home loans.
Be sure to also explain that credit cards should never be used if you don't have the money to pay what you owe.  Don't be afraid to share about how common it is for people to struggle with credit card debt.  Ultimately, we want to teach our kids to be careful with credit cards and to avoid getting hurt by credit card debt.
You can also share with your kids the benefits of credit cards.  Explain that if they use credit cards responsibly, they can help build their credit.  For example, they can build their credit by using their card every month, always paying their bill on time, and only using a small part of the available credit.
A great way to teach your kids how to use a credit card responsibly is by having them practice using prepaid credit cards.  You can supervise their use of the card and manage how much money is spent.  Plus, you can gradually give them more freedom to use the card, so they can learn healthy spending habits.
#8: Have Them Watch You Organize Bills and Pay Them
I was pretty naive about money as a kid.  Crazy as it sounds, I didn't even know you had to pay for a home phone or water bill.  So trust me, you'll be doing your kids a huge favor by simply taking some time to explain to them what bills you have and how you pay them.  You can also show them how to organize and pay bills on time.  Just like cleaning their room and brushing their teeth, kids need to learn how to keep their finances organized and how to pay bills.  In fact, teaching your kids to organize and pay bills on-time is the first step toward building and maintaining good credit.
Don't assume your kids will learn everything they need to know about personal finance at school.  In fact, it's common for practical personal finance skills to not be emphasized at school.  That means your kids need your help.  And you are up to the task.  You can do it!  They will learn so much when you simply take the time to explain what you are doing when they are with you.  Remember, your kids are already paying attention to how you spend and talk about money.
If you still have questions about how to teach your kids about money and credit, don't be afraid to get some extra help.  I recommend looking online or at your local bookstore for a quality teaching resource that you can use at home with your kids.
Now go ahead and give yourself a pat on the back.  Taking the time to teach your kids about money and their credit is a big deal.  Just imagine how thankful we would be if we knew when we were younger what we know today about managing money and our credit!