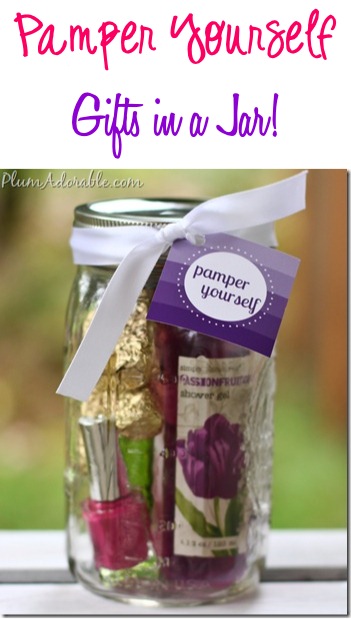 Following is a fun Gifts in a Jar Ideas and guest post
by Jenny and Jess at Plum Adorable… enjoy!!
Are some of you having a hard time seeing all of the Christmas ideas floating around? Jess' husband is one of 'those' people that struggles with this. Which makes it so much fun for me to present to you another CHRISTMAS gift idea.
These Gifts in a Jar Ideas would also make great gifts for teachers, neighbors etc. One of the reasons I want to share this idea with you now is because to get the most bang for your buck you need to start purchasing items right away. I actually purchased the jars this summer knowing I would be making these. I got 12 jars for $7.00. Over the last few weeks I have been using my coupons for other things like the shower gel and nail polish. Here is where I got everything and approximately how much they were…
Ball Jars – On sale at Ace Hardware – 12 for $7.00
Hand Sanitizer – Dollar Tree – 3 for (take a guess?)
Nail Polish – Joanne Fabric – 7 for $7.00 (with coupon)
Shower Gel – Joanne Fabric – 7 for $6.30 (with coupon)
Washcloths – Target – 8 for $5.00
Lip Balm – Dollar Tree – 2 for (you guessed it!)
The Almond Roca tin in the picture isn't the same one that I originally had. I bought a huge tin at Costco for, I believe, $9.99. I'm not sure how many come in the tin because somebody (totally NOT me) ate quite a few of them before I was able to make the jars. So, let's just estimate them at .10 each.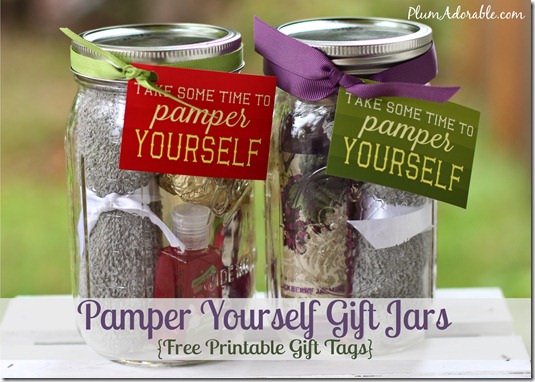 I was able to make 7 jars and each jar came to a total of $4.50 each. Not too shabby. You could get creative and add other things like lotion or foot scrub and cozy socks. There are lots of ideas.
Add one of our free printable tags to complete your gift!
Click the image below to download the free printable tags.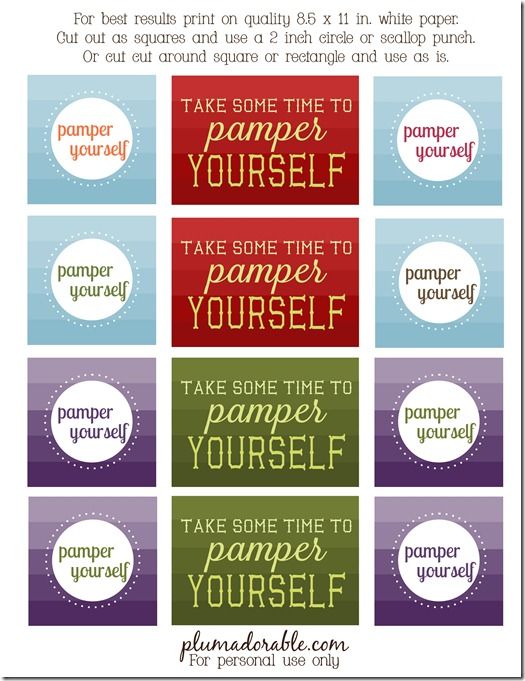 Jenny and Jess are two friends that love creating crafty stuff (for both kids and adults), cooking, reading, and so much more! They were so inspired by the ideas and lives of so many of their favorite bloggers, that last Fall they decided to start their own blog PlumAdorable.com. Even though they still feel like they have no idea what they are doing (most of the time), they are excited that their followers seem to like it! They also love to create free printables and svg's for both kids and home decor. 
You can also find Jenny and Jess on Facebook and Pinterest!
On the hunt for more fun Gifts in a Jar?  Get inspired below…