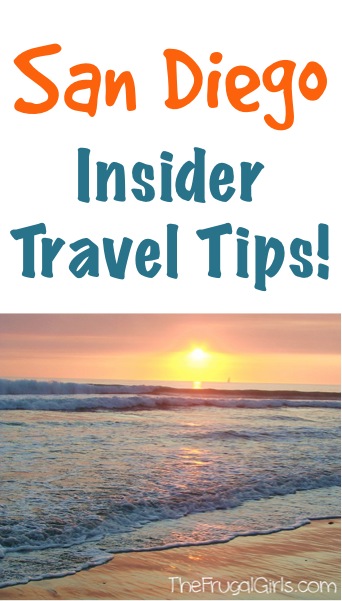 Have you heard… the weather is always perfect in San Diego!
Planning a trip to San Diego?? Check out these Fun San Diego Travel Tips, shared by your frugal friends right here and on The Frugal Girls Facebook page…
Kristina said: "The San Diego Zoo, Sea World, Old Town!"
Lori said: "I was lucky enough to live there! The zoo and wild animal park are a must as well as the Birch Aquarium. La Jolla Shores will forever be my fave beach, lived in Poway and Mira Mesa back in the 90's and my heart is still there. I have tons of pictures of La Jolla and the Scripps pier around my house."
Mary said: "I love the San Diego Zoo or the Zoo Safari Park. I have a thing for visiting a different Catholic Church every time I'm there. We go to Sea World a lot. The Birch Aquarium is a neat little aquarium. Legoland is just north of SD. Go to the beaches, the San Diego Marina's, or go whale watching. I could go on and on! :)"
Desiree said: "My home town is San Diego. I Love Balboa Park, Old Town, Solana Beach, Mission Bay, the San Diego Zoo, the Wild Animal Park, and the downtown Gas Lamp District. I'm homesick!!"
Marsha said: "You cannot leave that place without visiting that world-class zoo! And riding in ANY kind of boat in that gorgeous sparkling Pacific Ocean!!!!! :)"
Amanda said: "I love SD! Seaport Village, the Gas Lamp District, and Petco Park to catch a game. Balboa Park is awesome… it all is. Such great weather, food, people, and attractions!"
Sharon said: "If you are bringing kids, check out Point Loma National Park; you can scope out the tide pools for sea life. Also, you MUST eat at Fish Market near Seaport Village. Seals at La Jolla are fun too."
Jennifer said: "Arrivederci! Great Italian that is reasonably priced!"
Maud said: "Fillipi's in Little Italy rocks! Old Town is pretty neat too."
Jen said: "Torrey Pines Gliderport!"
Yolanda said: "I live in San Diego, and I just wanted to mention that the San Diego Botanic Garden (located in Encinitas), is free the 1st Tuesday of each month. Also, the New Children's Museum (located in downtown SD), is free the 2nd Sunday of each month."
Elayna said: "Ocean Beach, Balboa Park, North Park, Adams Avenue, Pacific Beach (Garnet Ave), La Jolla Caves, Cowles Mountain, Devils Punchbowl, and Sooo many more! Oh… and the Horton Plaza Mall downtown, awesome architecture! And every day during the summer, Sea World sets off fireworks, and you can enjoy them while hosting a bonfire on the beach!"
Bert said: "Beach weather doesn't start until July. May gray and June gloom extend a few miles inland. The San Diego Zoo, near downtown, and the Wild Animal Park are all day affairs. Check out Balboa Park, with its museums, amazing landscaping, Reuben H. Fleet Science Center and IMAX Theater, etc.. Torrey Pines is very popular for golfing; look out over the ocean and watch hang gliders while golfing. And if you are a quilter, you have to check out Rosie's Calico Cupboard on El Cajon Blvd. It is one of the biggest quilt shops in the world, with prices below MSRP. Go on a whale watching boat trip, or go out to see them at the end of Point Loma for great views. I grew up in San Diego, so these are just off the top of my head. ;)"
Elizabeth said: "We lived in SD and my husband still works there. The San Diego Zoo, Balboa Park, Old Town, Sea World, Hotel Del on Coronado, The Children's Pool at La Jolla, USS Midway, Downtown, Seaport Village…the harbor tours are pretty fun and very inexpensive. And if you go to Old Town, you have to eat at Casa Guadalajara! The ambiance and food is awesome!"
Angela said: "Years ago I stayed at Town and Country Resort, went to Sea World and shopped at Fashion Valley Mall (it was right behind the resort). I then went to Coronado. Great weekend away!"
Michele said: "I live in San Diego. Here's the list: San Diego Zoo, San Diego Safari Park, Sea World, La Jolla Shores Beach and La Jolla Village, Coronado, Legoland, Seaport Village, The Gas Lamp District, Old Town, Julian, Little Italy, Balboa Park and Museums, Mission Basilica San Diego, Fashion Valley Mall for shopping, Hornblower Cruises (whale watching or sunset), Birch Aquarium, Children's Museum, Corvette Diner, Mr. Wasabi for sushi, Knott's Soak City, Del Mar (Horse Races, concerts, and fairs/exhibits), hike Cowle's Mountain right before sunset, Mission Trails, Chula Vista Nature Center."
Dreaming of more vacationing in California?  Check out these fun tips below…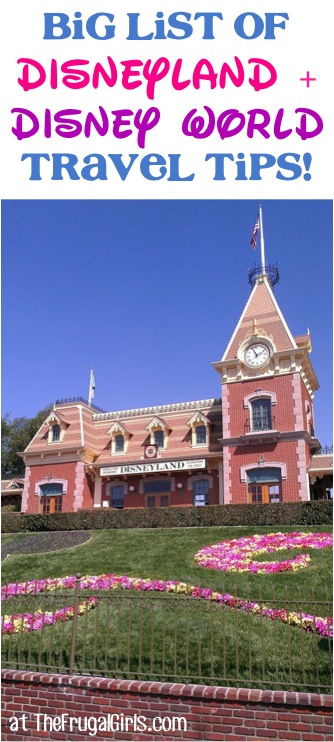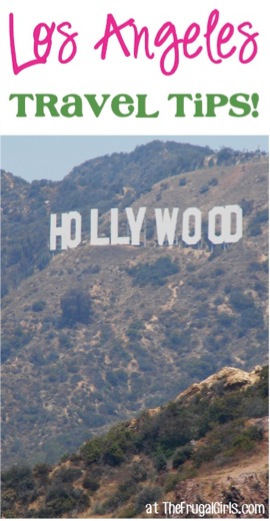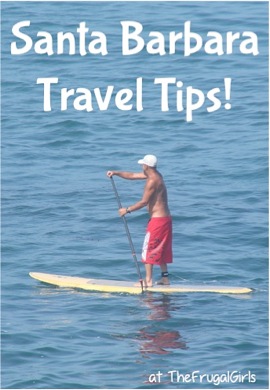 Thanks for supporting The Frugal Girls!

So… have YOU every been to San Diego before?
What are some of your favorite places to see, things to do, beaches to visit, etc? Leave a comment & share!