Get ready for some really fun and creative Preschool Birthday Party Ideas in the comments below!

Got a preschooler… or know someone that does?  I received the following question from frugal friend Jessica in Ohio…
"I was wondering if you had any good ideas for fun and thrifty birthday parties?  My daughter's 3rd birthday is at the end of March, and we are trying to come up with something that doesn't cost too much money… but that is still fun and entertaining for the children.  Thank you for any tips you may have!"
Have fun checking out these Creative Preschool Birthday Party Ideas! in the comments below…
Also, be sure to get even more ideas from this BIG List of Fun Frugal Birthday Party Ideas!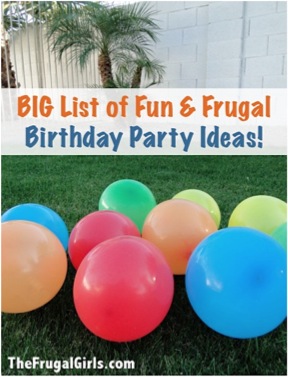 Don't miss out!  Get all the latest fun new Frugal Girls Tips, Crafts, Recipes + more right here…



Do you have any thrifty or creative Preschool Birthday Party Ideas for little ones?

Or any fun party games, decoration ideas, or ways to save $$ on the food?

Leave a comment & share!