I may get
paid
for ads or purchases made through links in this post.
Freshen up your dining room and old chairs with these easy step by step instructions for How to Recover a Chair without Sewing!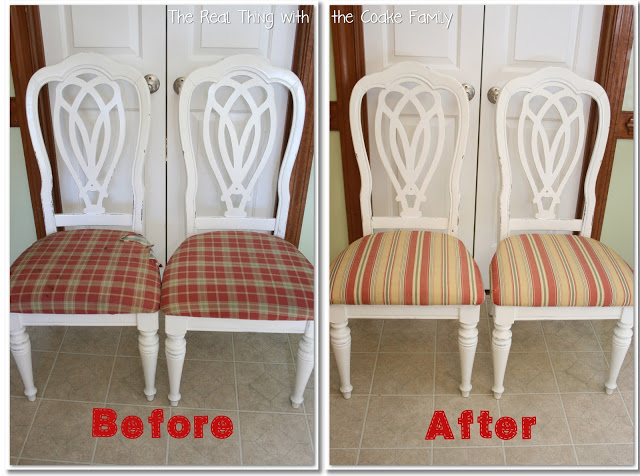 So are you wondering how to recover a chair without sewing?  It's easier than you think!  This DIY no sew step-by-step tutorial will show you how to reupholster a chair cushion using a staple gun.  How easy is that??
Here's what you need to do…re
The following is a fun DIY Upholstery Without Sewing Project and guest post
by The Real Thing with the Coake Family… enjoy!!
How to Recover a Chair without Sewing
Today I want to show you How to Recover a Chair without Sewing.  It is not a hard process, but it does take a little bit of time and a dose of patience.  Not always my strong suit(the patience part), but sometimes you just gotta do what you gotta do, right?
I don't know about you, but in addition to my holiday crafting, baking and activities, I'm also trying to get my house ready for company and for the holiday's.
Related:
My kids had destroyed our chairs, as you can see above in the before picture. At one time, the chairs has looked nice…I think that time passed a year or two ago.
I knew it wouldn't be too hard to recover the chairs, but I also knew the fabric would cost me a pretty penny.
Over the summer, my local JoAnn's was moving down the street. They put everything on sale. I found the fabric at 75% off!! Huge savings for decorator fabric. I picked up plenty and used some in my Command Central.
I have plans to use some in curtains and a few other projects, but I always seem to have more ideas than time….some day!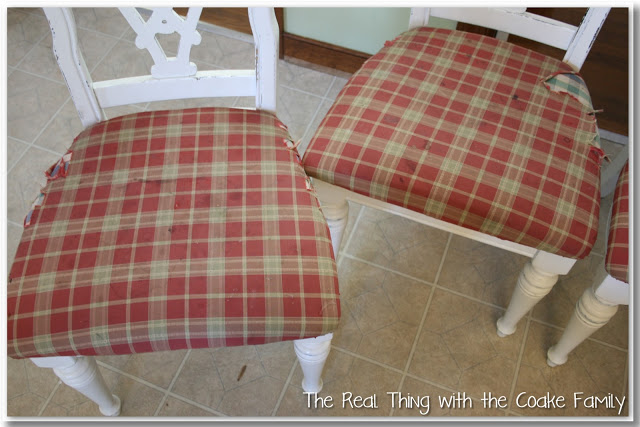 Back to the task at hand. I'm embarrassed to show these pictures, so please don't judge. Not only had the stain guard worn off the fabric, but apparently my kids found a hole and decided the chairs would look much better with really large holes in the fabric.
Oh Kids, I love you but why do you have to be so hard on the house?
I didn't want friends and family seeing the chairs looking this bad…I do have some standards. So, it was time to tackle this project.
Let me show you how, in case you have little monsters children in your house as well.
How to Recover a Chair without Sewing – Supplies Needed: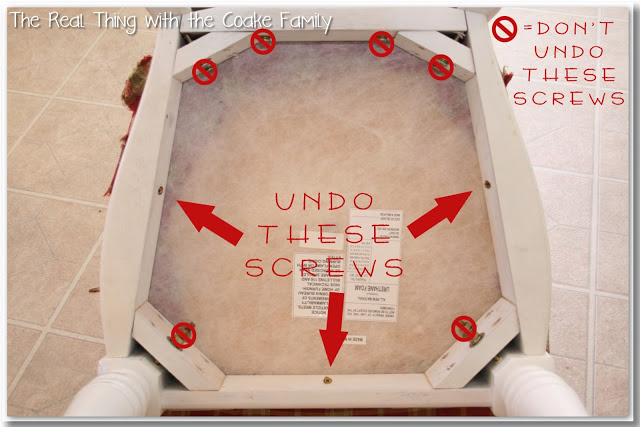 First, turn your chair over and locate the correct screws to release the seat. You can see my seat above. Yours may look slightly different, but you want to look for simple screws not those with washers and bolts.
Those hold the legs onto the seat. Should you undo some of those, it is not a big deal to re-tighten them. My seat had only 3 screws holding it to the frame of the chair.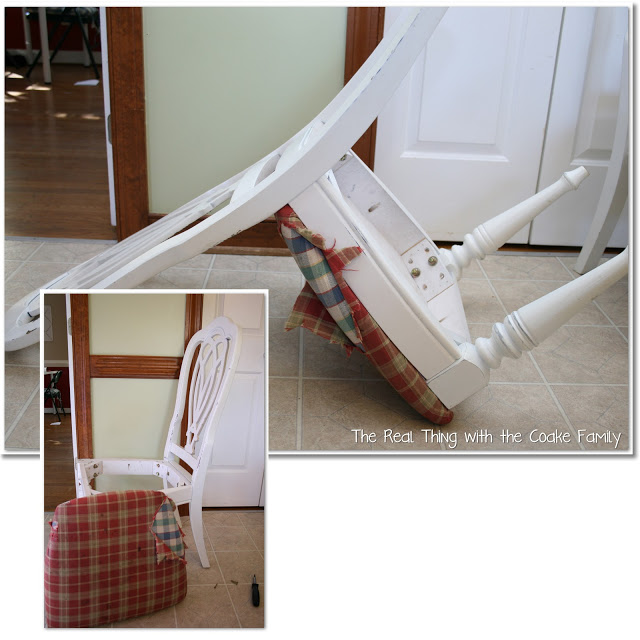 I found it easiest to work on my chairs upside down on the floor. You want your chair and seat cushion to look like the picture in the inset…chair in tact and seat cushion removed.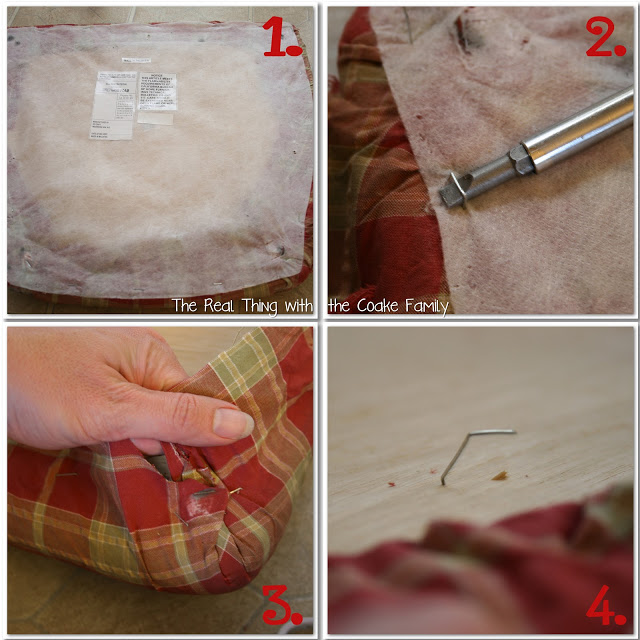 Now you need to remove your old fabric You don't actually have to do this if your fabric is whole. You could just skip to the next step and add fabric on top. As my fabric had holes in it that would bunch up and look unsightly under new fabric, I needed to remove my old fabric.
1. My chairs had a thin white fabric on the underside….with a ton of staples in it.
2. I used a flat head screwdriver to gently extract the staples.
3. I got tired of the 'nice' method of taking the staples out….there were soooo many staples. I decided to try pulling (i.e. ripping) the fabric up. For the most part, it worked and the staples came up and out of the chair and fabric.
4. Occasionally a staple would not come out all the way. If this happens to you, just use a pair of pliers to pull the errant staple out.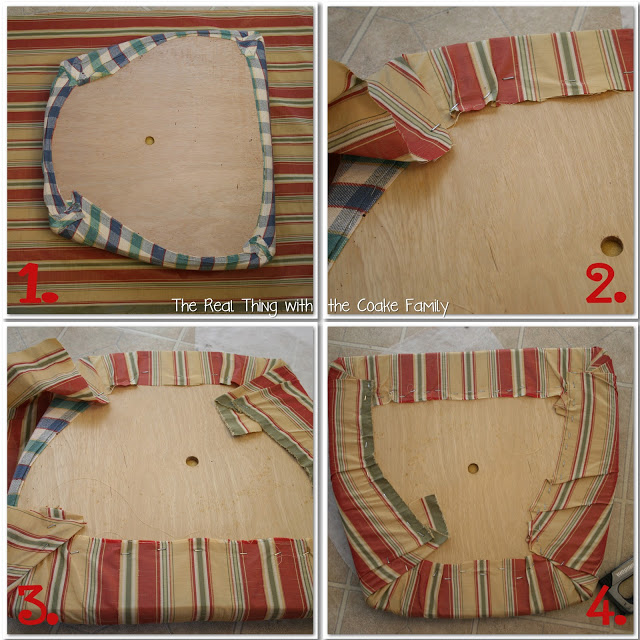 1. To cover your seat cushion, cut your fabric. I wasn't very precise about my cutting. For the first cut, I used my old fabric to make sure I got the right size. The cuts after that, I just put the cushion down and cut a piece large enough to wrap up and around the seat cushion.
2., 3., & 4. Once you have your fabric cut, start stapling with your staple gun and pulling the fabric tight as you go. If your fabric has a pattern, take time to line up the pattern or get it straight. When you get to the corners, use extra staples and folds to get the fabric to lay correctly.
Once you have the fabric stapled, go back around and add extra staples for added security. (Really I did this because there were so many staples in the bottom of my seat and I figured the professionals who did it the first time knew what they were doing and lots of staples were needed….maybe, maybe not, but it made me feel like I knew what I was doing!)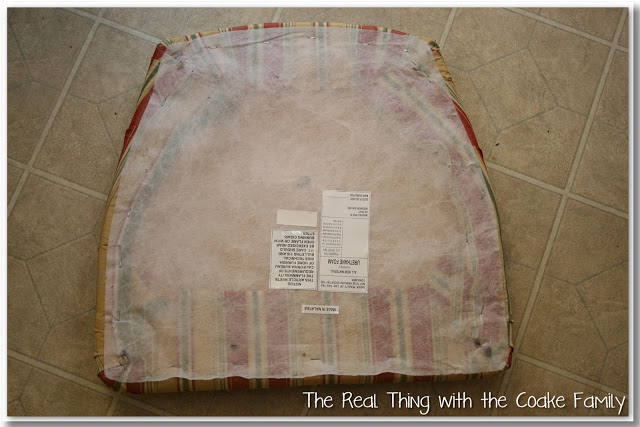 I decided to put the thin white fabric back on the underside of my chair cushion. I thought it would look a bit nicer than just the fabric. That way when I am crawling around on the floor picking up toys, I can look at the bottom and admire my work. Lol!
It really isn't a necessary step, but it is an option if you want a more polished/finished look.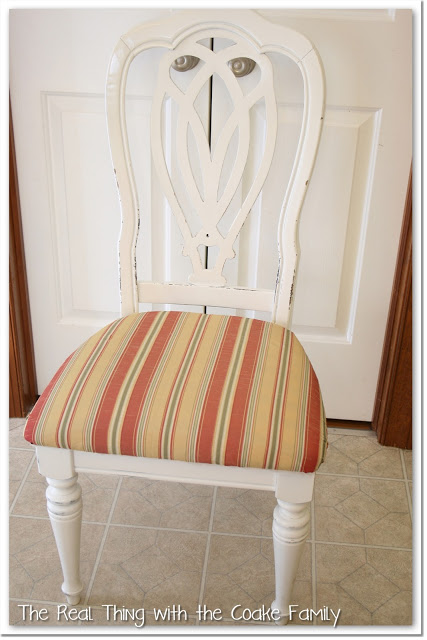 Voila, a little time and elbow grease and I have much better looking chairs! I would highly recommend using some type of stain guard on your newly covered chairs before putting them into use around your home.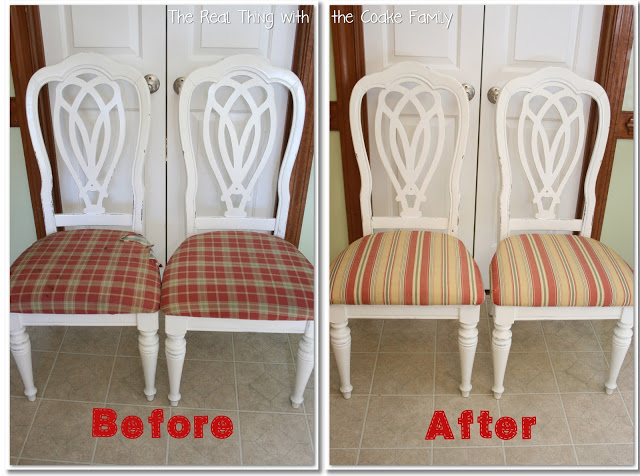 Doesn't that look much better and much more 'company/holiday' ready? I'm so glad I took the time to recover the chairs. It really wasn't hard, it just took time and elbow grease.
K Coake is a 41 year old stay at home mom to two cuties who are 10 and 6. She loves running, reading, scrapbooking, Starbucks, hiking, cooking, picnics, pretending to be crafty, and having fun with her family. She blogs at The Real Thing with the Coake Family about crafts, organizing, scrapbooking, making cards, running/fitness, cooking, and all manner of fun things. You can follow along on  Twitter, Facebook, or Pinterest.
So are you on the hunt for more creative DIY Home Decor Tips and Tricks?
Get inspired with these creative ideas…
Freshen up your living room or bedroom with an adorable Spring Bloom DIY Burlap Pillow! You don't need to buy a new throw pillow when you can do this instead!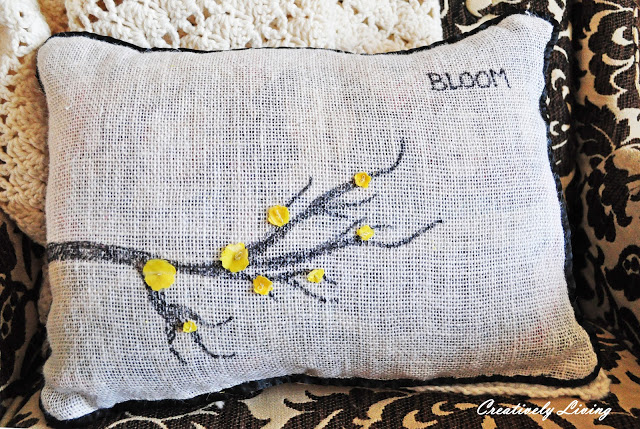 This DIY Wooden Utensil Box makes such a great holder for your kitchen utensils!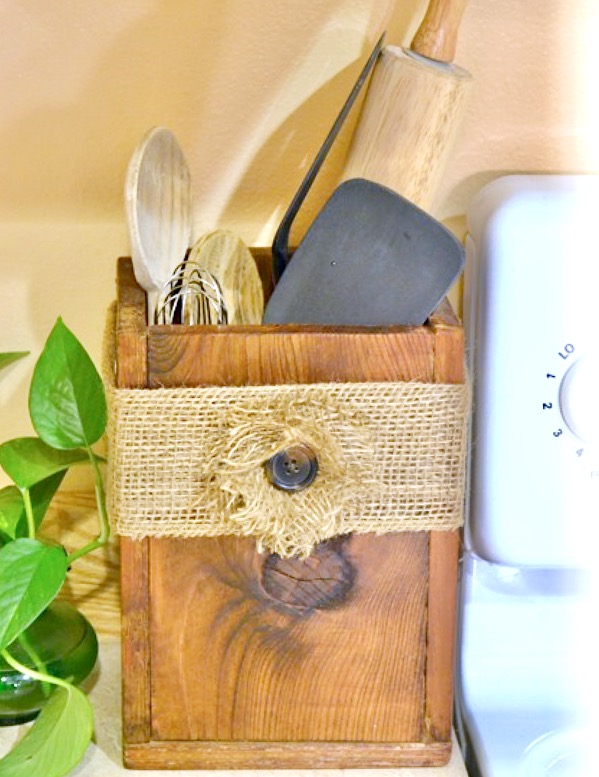 Create your own gorgeous DIY Kitchen Pot Rack by reusing an old wooden window frame!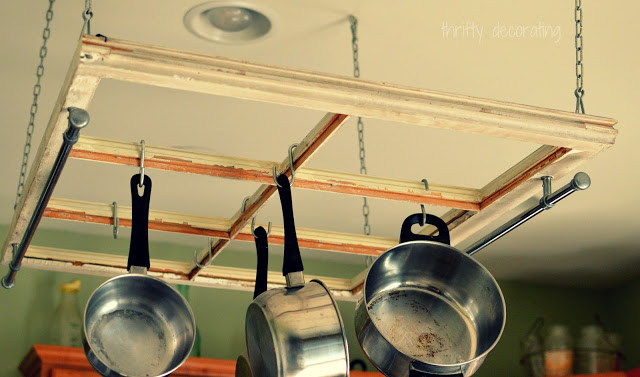 Transform your dining room into a space you'll love with these 9 Stunning Dining Room Ideas!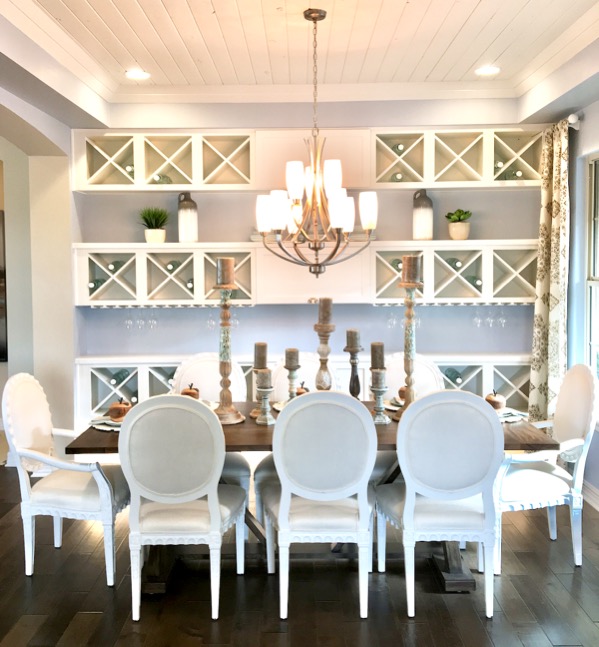 Give your home a gorgeous makeover with these Easy Designer Home Decor Tips and Tricks!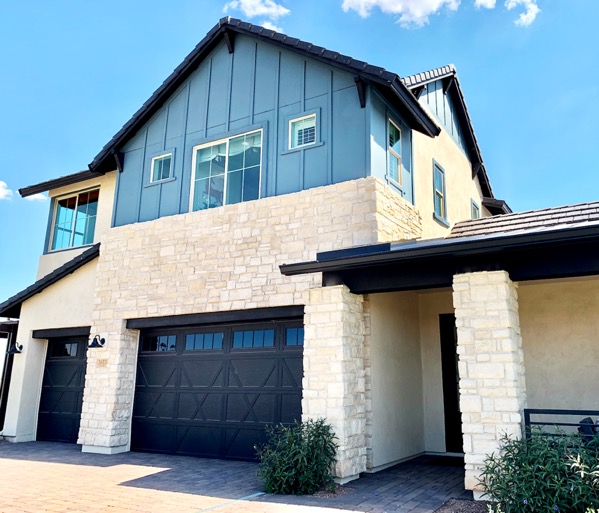 Feeling crafty??  It's time to get your Craft on and get inspired to do some fun crafts!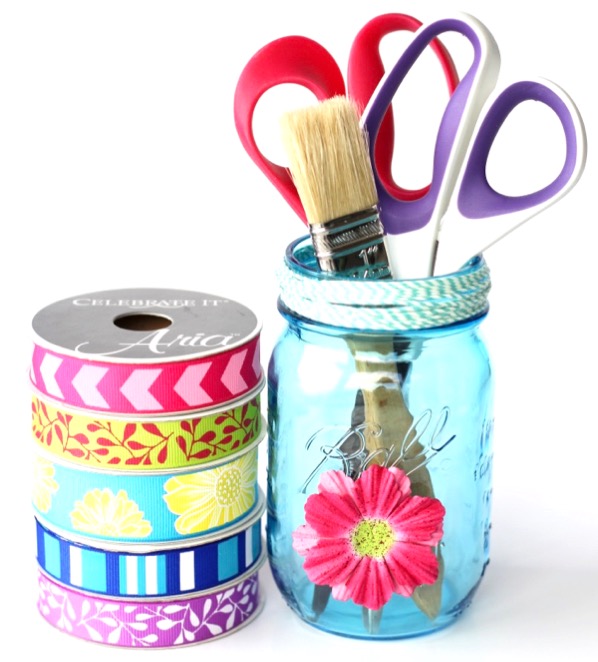 Nothing beats coming home to an organized home!  Put these Home Organizing Tips and Tricks to use and you'll love the results!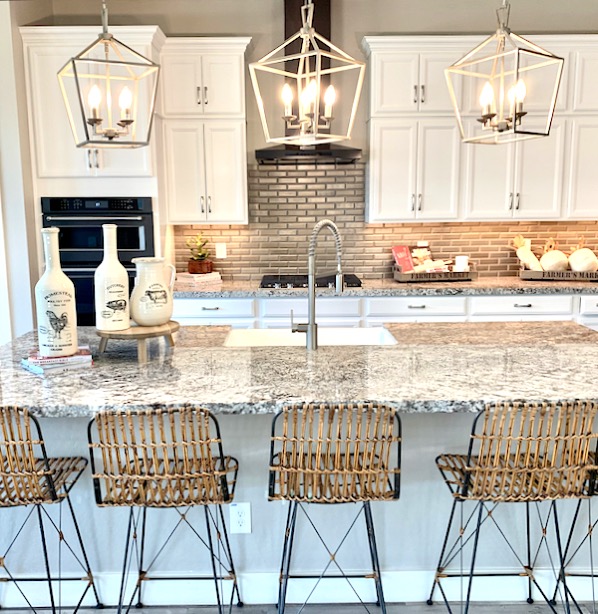 It's true… you can LOVE your house and save BIG all at the same time!  Are you ready to start saving?  Check out these affordable ideas and frugal hacks for your home.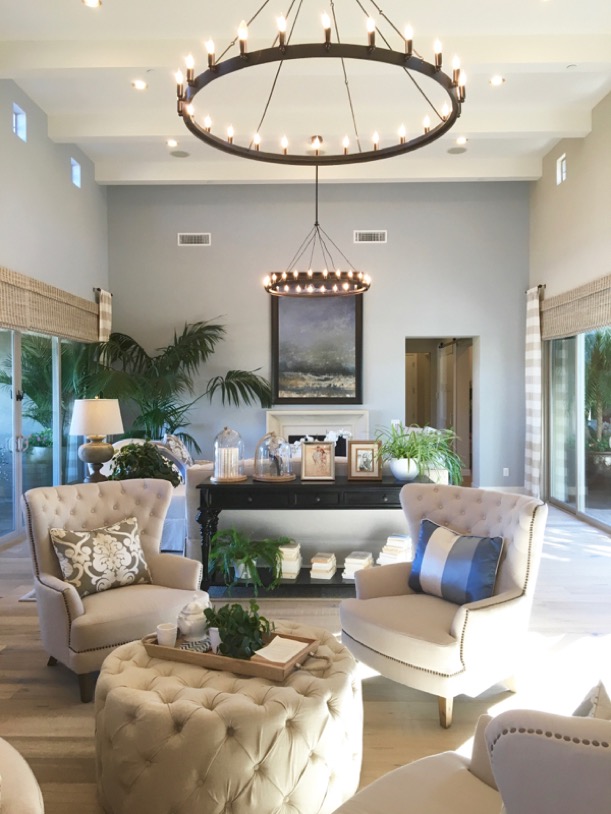 Frugal Girls LOVE great deals!  Before you shop for Home Decor, check out these Insider Tips + Shopping Hacks that will save you so much money at your favorite decor and home improvement stores!!
So have you tried this DIY project yet for How to Recover a Chair without Sewing?
Leave a comment & share!