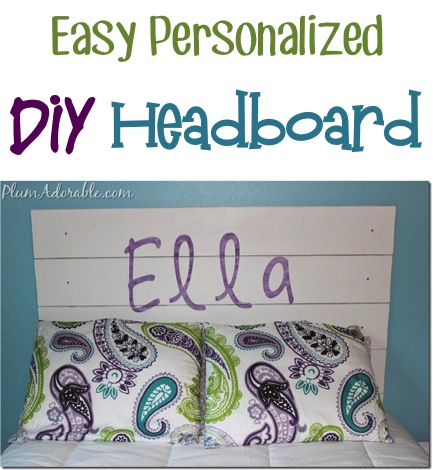 Following is a fun DIY Project and guest post
by Jenny and Jess at Plum Adorable… enjoy!!
Easy Personalized DIY Headboard
Related:
One of the things that I had told my seven year old I would do this summer was redecorate the guest room so that she could have her own room.
The girls have shared a room for a few years and Ella has been asking for quite some time if she could have her own room. I gave in.  One result… was this Easy Personalized DIY Headboard!
I think I've mentioned a few times how much Ella loves fashion. She actually has a really good eye. She spent weeks on Pinterest looking for ideas and colors. Yes, she's seven.
We had thought of a few ideas. At first my sister was going to make a fabric headboard. But, because Ella had her opinions on what style of bedspread she wanted, I finally decided to create a plain white headboard so she could pick out her bedspread.
It was so simple to make and I think it turned out really cute!
DIY Headboard:
I bought 7 pieces of wood at Lowes. The width is 7 inches and because she has a full bed I cut them to be 53.5 inches long. If you don't have a saw then Lowe's or Home Depot will cut your wood for you.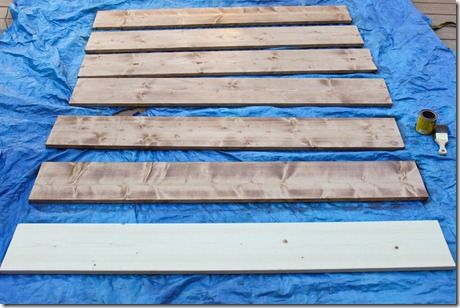 After they were cut, I sanded the edges down so that they were smooth. Then I stained them with some dark stain that I had on hand. It's up to you whether or not you want to stain them.
After I painted them white I sanded them again to give it a weathered or distressed look. The stain helped it to show up darker than the actual wood that I bought. It's hard to tell in the pictures, but it does look good.
I have to apologize I did not take pictures of me actually putting up the headboard. I was in sort of a hurry that day and actually forgot! But, it was very simple.
First, find where the studs are in the wall. Starting at the bottom, put your board on the wall and measure where you are going to screw it into the wall. I made small dots on the board and screwed it in with 8 x 2 flat head Phillips wood screws.
Once the first board was in it was easy to just measure where the other screws went on the following boards.
Then we decided to personalize it with her name. I basically used the exact same steps as I when I made these faux mini pallet signs.
The only difference was that I had to cut each individual letter out one at a time because I only have a small Cricut. I also used contact paper instead of vinyl. It's sort of hard to see the white on white, but it's there.
Once you line up the name and are happy with how it is centered then paint away!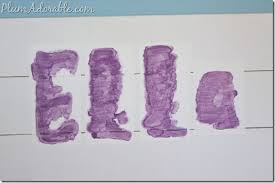 Then comes the fun part. Peel off the contact paper and lightly sand over the name again to make it look a bit weathered like the boards.
*Those two purples are really the same color. I took the pictures at different times during the day. Funny how a little less light changes things.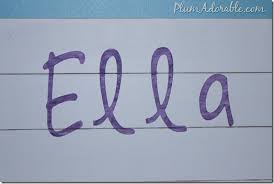 I also spray painted her old lamp with a purple color that matched her bedding. Luckily I had that perfect color on hand. She also needed a side table, so I bought a cheap one ($12) at Walmart, but it was black, so I painted it white.
We also thought it was cool that her Bible totally matched her bedding. Ha!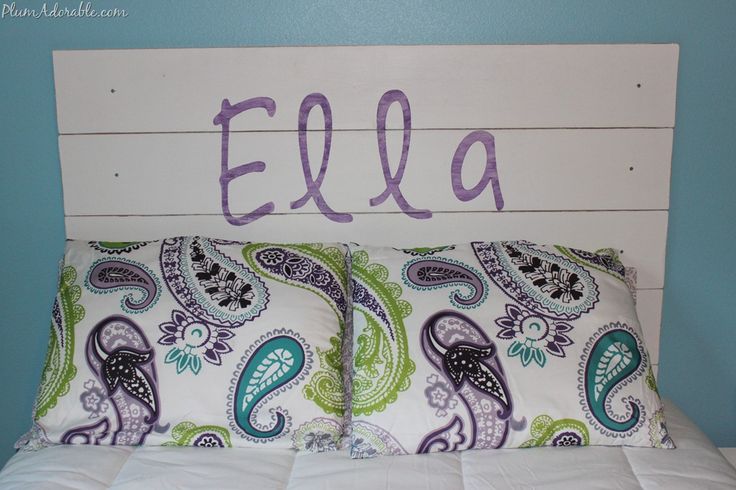 It is such a cozy room and Ella LOVES it. We have a few more things we'd like to do, like hang pictures and possibly make a fabric banner she liked from Pinterest. But, for now she is happy. And so am I.
~Jenny
Jenny and Jess are two friends that love creating crafty stuff (for both kids and adults), cooking, reading, and so much more! They were so inspired by the ideas and lives of so many of their favorite bloggers, that last Fall they decided to start their own blog www.PlumAdorable.com. Even though they still feel like they have no idea what they are doing (most of the time), they are excited that their followers seem to like it! They also love to create free printables and svg's for both kids and home decor.  Find Jenny and Jess on Facebook and Pinterest!
You can never have enough creative ideas.  Find even more Craft Ideas, Home Decor Ideas, and Organizing Ideas below…
Give your home a gorgeous makeover with these Easy Designer Home Decor Tips and Tricks!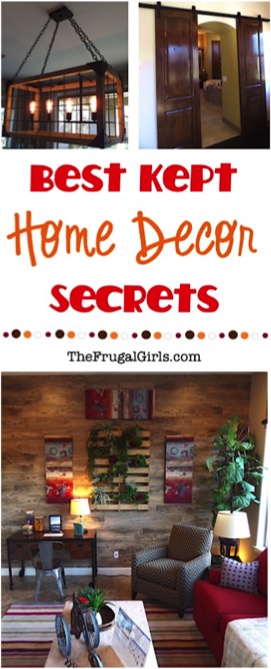 Feeling crafty??  It's time to get your Craft on and get inspired to do some fun crafts!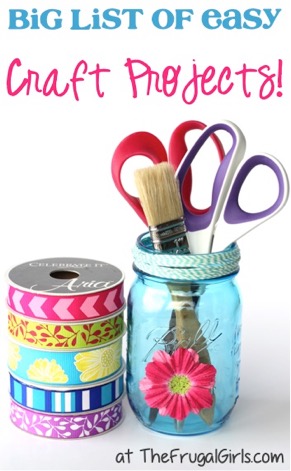 Nothing beats coming home to an organized home!  Put these Home Organizing Tips and Tricks to use and you'll love the results!

It's true… you can LOVE your house and save BIG all at the same time!  Are you ready to start saving?  Check out these affordable ideas and frugal hacks for your home.

Frugal Girls LOVE great deals!  Before you shop, check out these Insider Tips + Shopping Hacks that will save you so much money at your favorite stores!!