I may get
paid
for ads or purchases made through links in this post.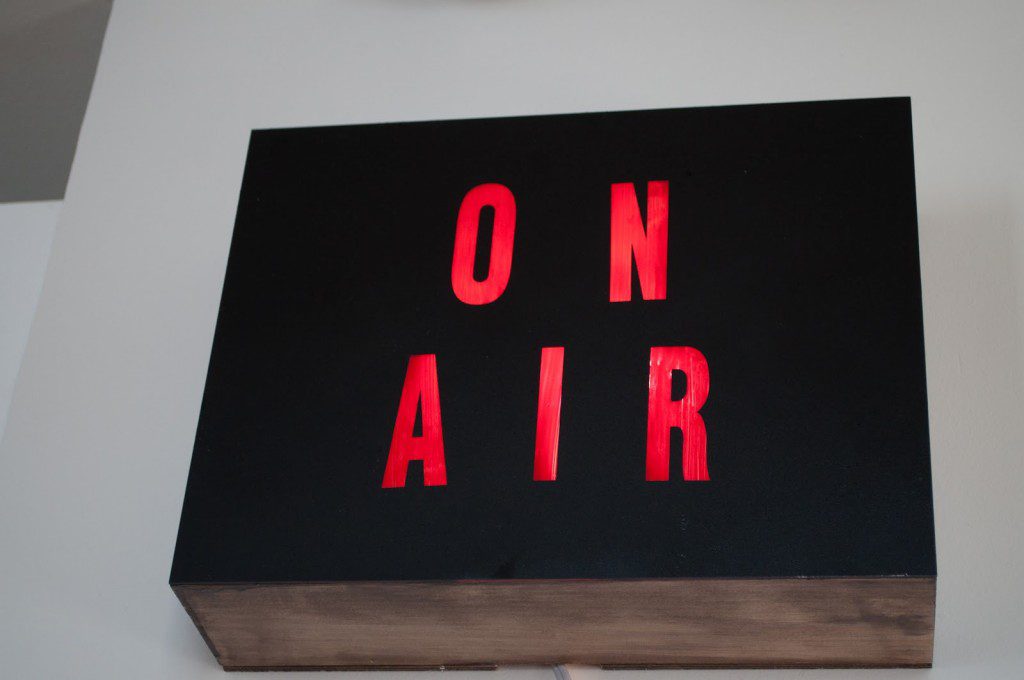 Following is a guest post by frugal friend Carly ~ enjoy!
DIY Retro 'On Air' Box
Related:
Picture this DIY Retro 'On Air' Box:
Old school. Retro. A recording studio or a radio station. In the lounge, a few people sit in chairs, watching the unlit "On Air" box, waiting for it to come to life; waiting to catch a glimpse of the music being made inside. A man in a suit lights a cigarette and waits patiently to hear the velvety voice of the woman on the other side of the wall.
The box flickers on. Bright red letters spell out "ON AIR." The man in a suit sits back in his chair and the music starts to play…
Since Justin has a recording studio in his apartment, we were inspired to appeal to the moods and atmospheres of the old school recording days. Thus began a long project to create our very own vintage-looking "On Air" Box. It's meant to go with vintage chic apartment pieces, like… DIY leather coasters, DIY Rustic Hardware Coat Hangers, and Ampersand Wall Art.
The main elements of the light box, as we first conceived it, were a wooden box with some type of semi-transparent front that allows the light to shine through and make red letters visible. We decided to cut the wood for the box and glue it together, then mount the light inside, and attach the "On Air" panel to the front.
After mulling over materials on the Home Depot website, we decided it was just time to "hit the ground running" and start making the magic happen. Here's our Home Depot "Grocery List."
8 foot piece of treated pine (For the sides of the box)

2'x2' piece of ¼" plywood (For the back of the box)

11"x14" sheet of ¼" thick acrylic ( for the "On Air" part)

9" Fluorescent light (fixture and bulb)

Vinyl Boat Letters

Gorilla Glue for Wood

Loctite Super Glue

Corner Clamps

Red Acrylic Paint

Black Acrylic Spray Paint

Tudor Satin Wood Stain

½" long screws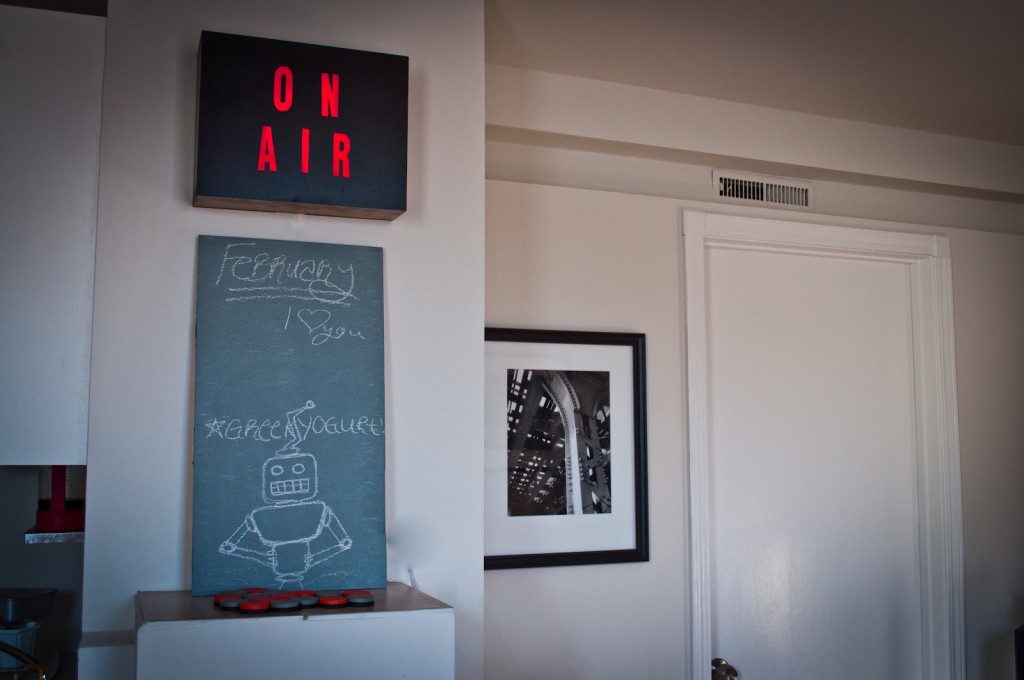 Step One: Cutting
The good ole folks at Home Depot cut our boards of wood with love. We used a piece of plywood for the back and boards of treated pine for the sides.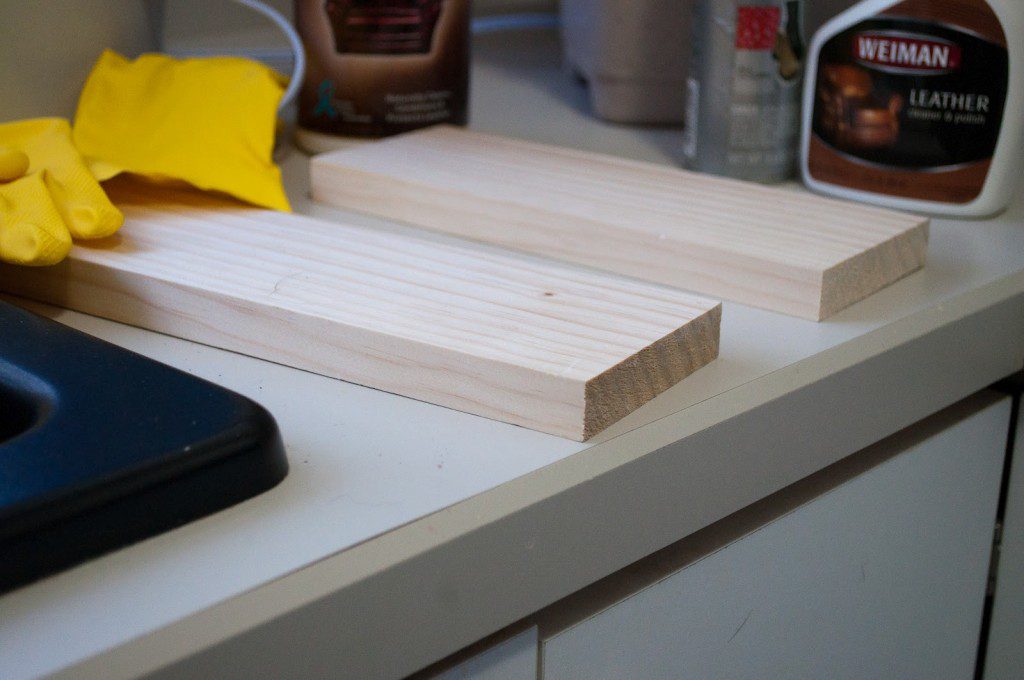 Step Two: Staining
That treated pine I just mentioned? Yeah, it was kind of obnoxious to stain.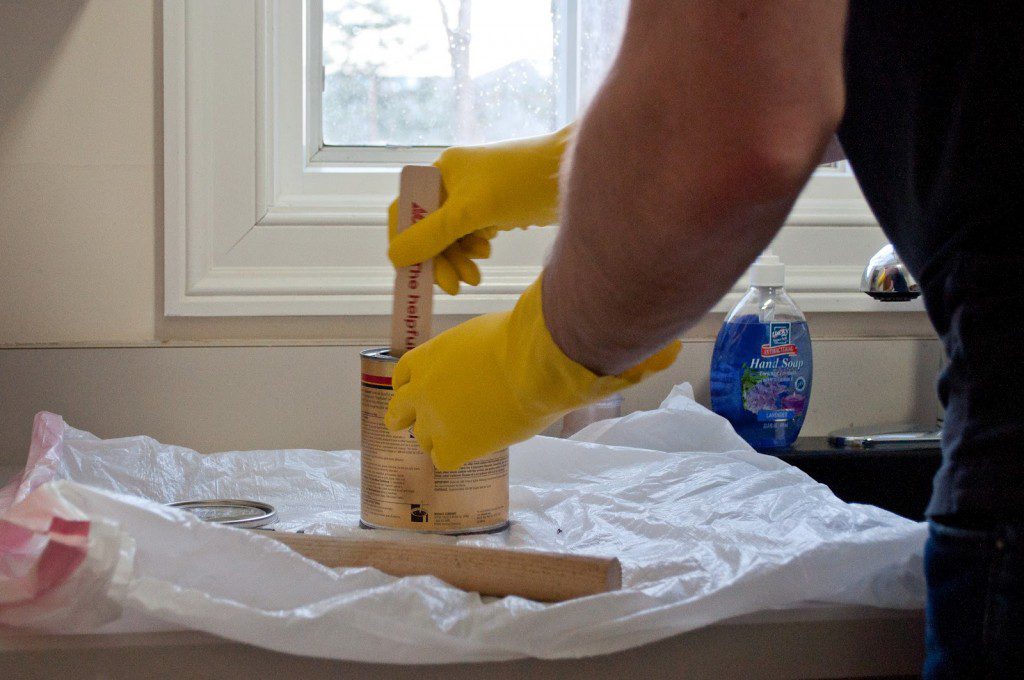 Step Three: Painting
We painted the back of an acrylic sheet red, in order to make the colors shine through with a reddish light.  We then added vinyl letters to the unpainted side and added eight layers of black matte spray paint.
Step Four: Assembling The Box
Using corner clamps and wood glue, we assembled the four sides of the box. Once it dried, we cut a hole in the back of the box for the cord to go through.
We screwed the back piece of plywood onto one side of the box, then glued a fluorescent light onto that piece, so that it would sit nicely inside the box. Then, we glued on the front.
Step Five:
The big reveal! The box had teeth comb brackets on the back, so simple screws did the job of holding the box onto the wall.
We added a homemade chalkboard underneath… which you'll get more info about later this week. I promise. Hey, at least you know it looks great 🙂
Here's the box, all lit up…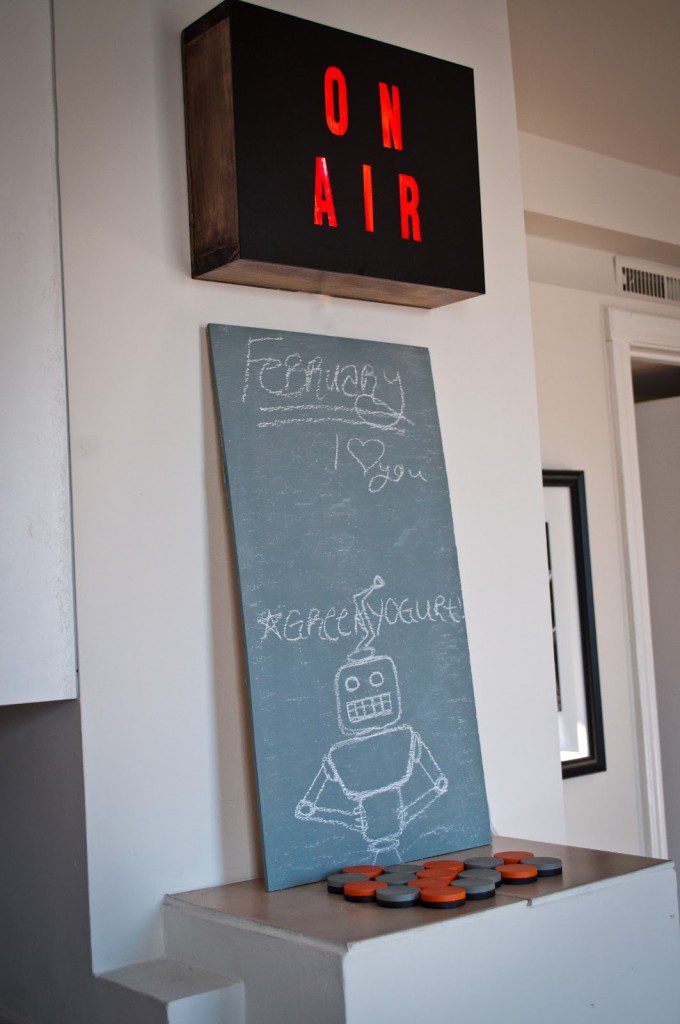 And a few side shots (the equivalent of telling a high school girl to "do a spin" as she tries on Prom Dresses, right?!).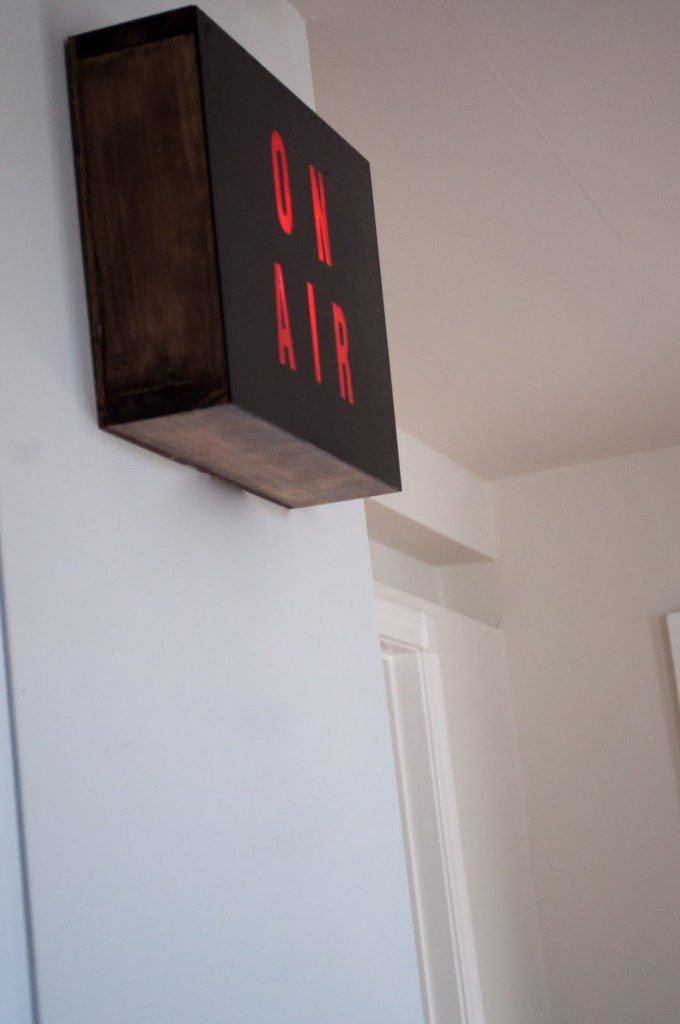 One from the left (above) and one from the right (below). Tell us. Does she have a good side or is she just all around beautiful?! 🙂
And a shot with a bit of context. I think she goes quite nicely that high up, with the black and white photography (courtesy of Justin's mom, Bev) next to it.
We're thinking we might add more of her black and white photography on each side of that door.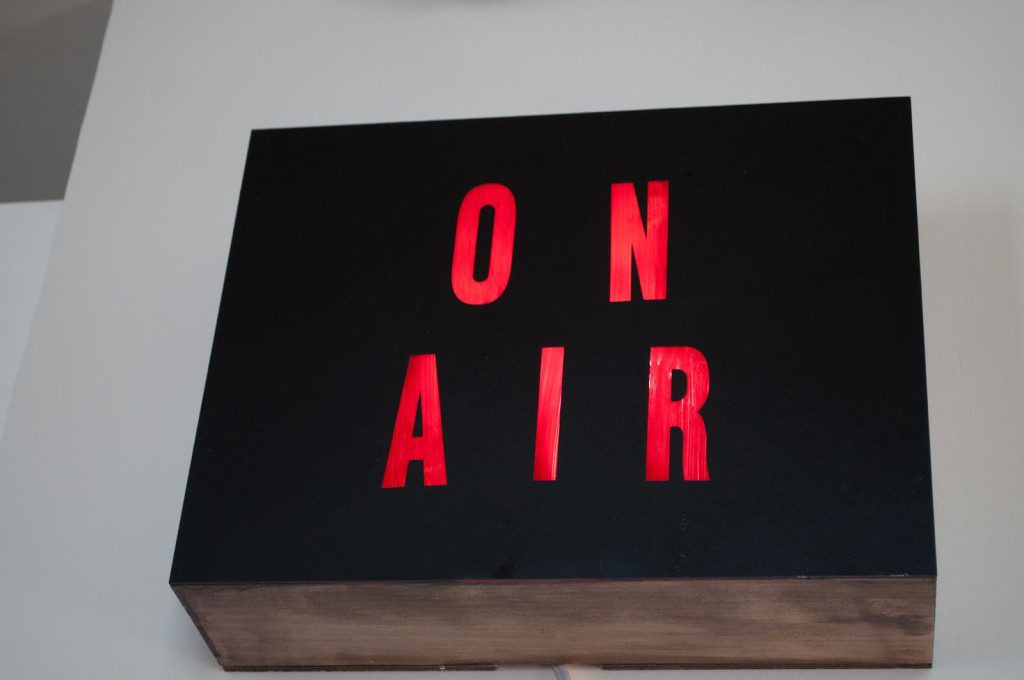 Carly is a young blogger living in Chicago who loves mason jars, healthy cupcakes, oxymorons, and workout music! Check her out on Facebook and Pinterest!
You can never have enough creative ideas.  Find even more Craft Ideas, Home Decor Ideas, and Organizing Ideas below…
Give your home a gorgeous makeover with these Easy Designer Home Decor Tips and Tricks!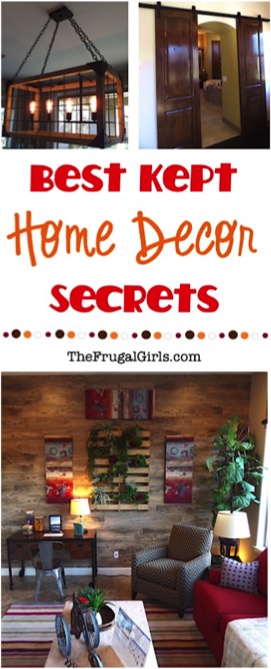 Feeling crafty??  It's time to get your Craft on and get inspired to do some fun crafts!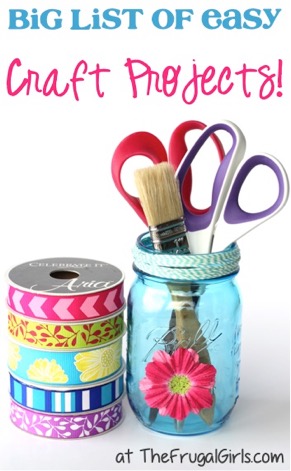 Nothing beats coming home to an organized home!  Put these Home Organizing Tips and Tricks to use and you'll love the results!

It's true… you can LOVE your house and save BIG all at the same time!  Are you ready to start saving?  Check out these affordable ideas and frugal hacks for your home.

Frugal Girls LOVE great deals!  Before you shop, check out these Insider Tips + Shopping Hacks that will save you so much money at your favorite stores!!