I may get
paid
for ads or purchases made through links in this post.
Get prepared for your next epic cross-country vacation with these essential Road Trip Tips and Tricks!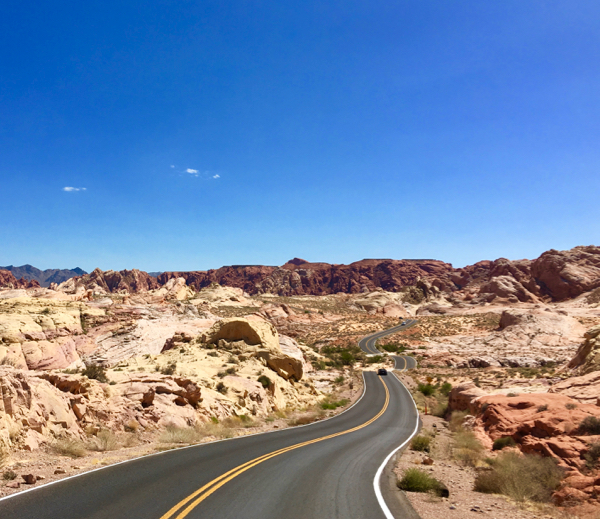 Dreaming of your next getaway?  It's time to plan the ultimate road trip!  From scenic stops across the USA to hidden gems off the beaten path, adventure awaits when you hit the open road.  And a little bit of planning ahead will make your next road trip off the charts!
Before you start your engine and take off on your epic vacation… be sure to check out these Road Trip Tips and Tricks!
Here's everything you need to know BEFORE you go…
Related:
Road Trip Tips and Tricks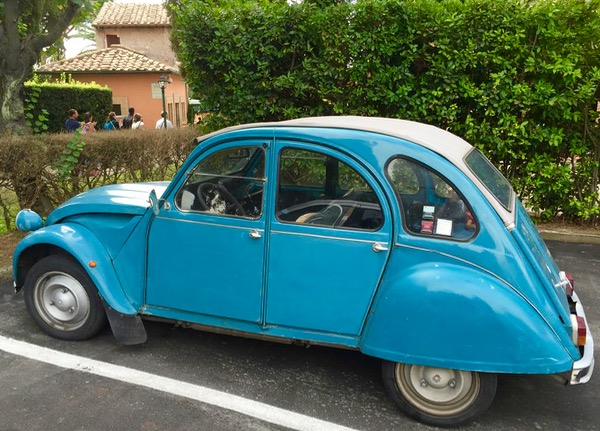 #1: How Can I Get Better Gas Mileage On A Road Trip?
If you're planning your next getaway and you want to know how to spend less on gas, here are some of my absolute favorite genius money saving tips for How To Save On Gas!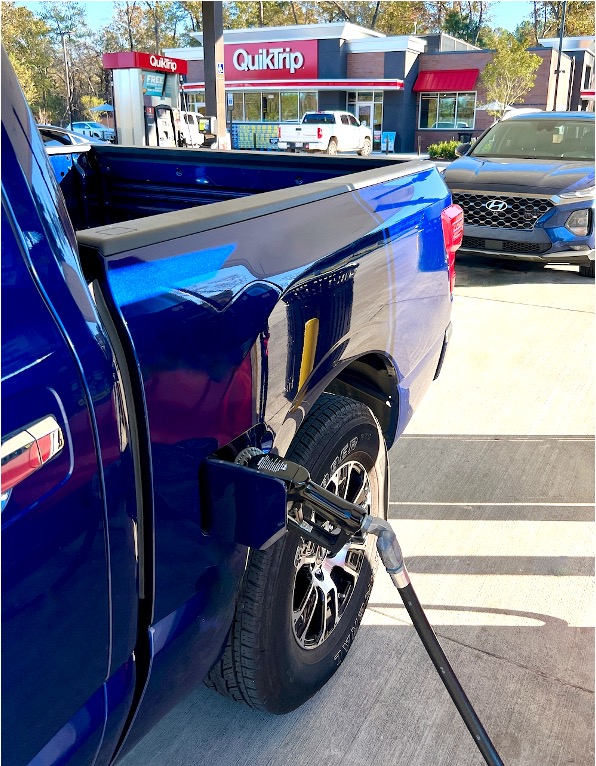 #2: Check Your Car Oil and Fluid Levels
Always check your car's engine oil, brake fluid, power steering fluid and transmission fluid levels before leaving home.  If one of these fluids is low, make sure to top it off before you head out on the road.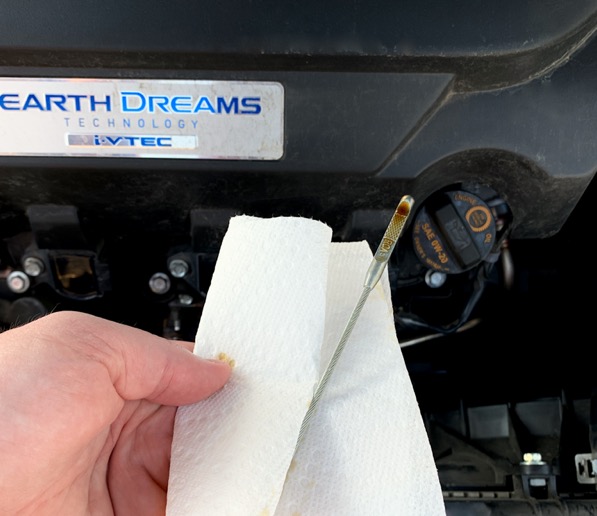 If you plan to go on a longer road trip, you might need to change your oil and filter before you leave.  For information about when to change your engine oil and other fluids, you can read the manual that came with your car, or simply call and speak with someone in the service center at your local dealership.  If you're car is getting older, consider having a trusted mechanic inspect the engine hoses, belts, coolant, brake pads, air filters, battery, and other car fluids.
#3: Then Check Your Car Tire Pressure and Tire Tread
It really pays to keep your tires properly inflated.  Driving your car around with low tire pressure can easily cost you 1-2 miles per gallon of fuel efficiency.  Plus, keeping your tires properly inflated will also help them last longer.  So before you head out on the road, be sure to check your tire pressure!  Your wallet will thank you!
You can use an analog or digital tire pressure gauge for checking your tire pressure.  Or, simply get a tire inflator with a built in tire pressure gauge.  I personally use the highly rated Dewalt Cordless Tire Inflator along with this handy easy clip-on Hose Adapter.  It's easy to use, fairly quiet and helps you avoid a trip to the gas station to fill up your tires.
The Dewalt tire inflator comes without a battery, so I simply use one of the 20 volt Max Batteries from a Dewalt drill I already own.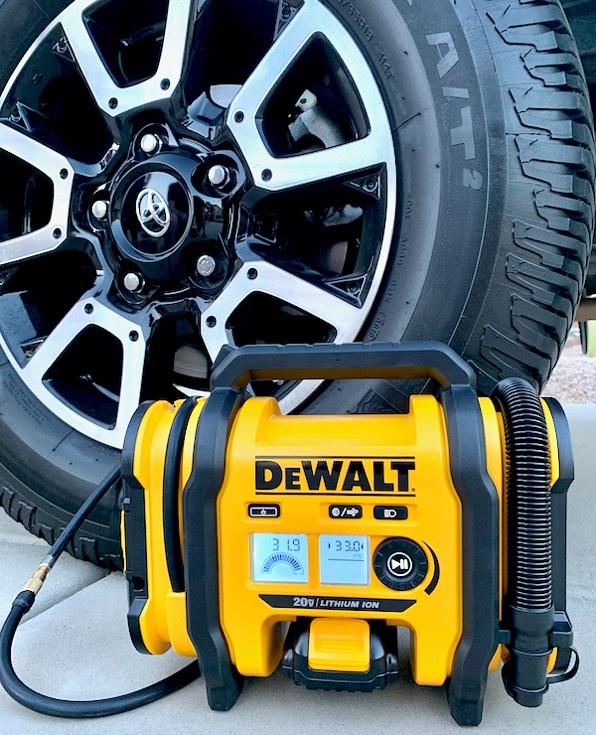 #4: Then Check The Tire Pressure On Your Spare Tire
Don't forget to check the air pressure on your spare tire.  I once got a flat tire and my spare tire in the trunk was also flat… yikes!!
Then before you leave home, make sure you have all the tools in your car that you will need to change a flat tire.
#5: Clean Your Windshield with Vinegar Water
It's so much easier to enjoy the view and to see in the afternoon sunlight with a clean windows, right?  That's why I always us this DIY Miracle Glass Cleaner to keep my car windshield sparkling clean…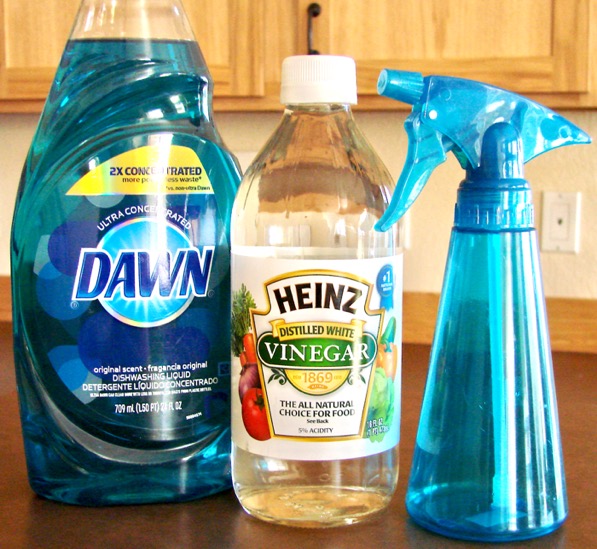 #6: Hide Baking Soda Underneath the Seats!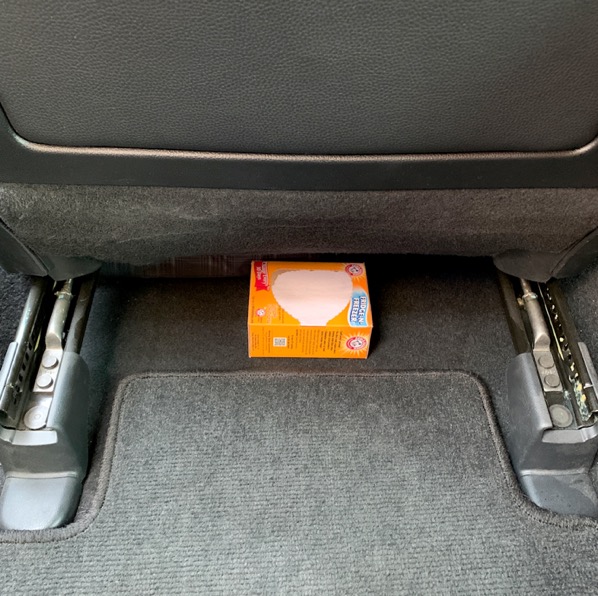 Nobody likes a stinky car, right?  That's why I always hide two boxes of Arm & Hammer Fridge & Freezer Baking Soda in my car… one underneath each front seat.  Weird?  Maybe… but guess what – it works!  These packs work wonders absorbing stinky smells in your refrigerator, and they work just as well in your car!
Then before I head out on a road trip, I make sure to put in a New Car Air Freshener, too.  This combo will help your car smell fresh and AMAZING!  The baking soda will absorb any bad smells, while the new air freshener will make your car smell dreamy on the trip.
  Trust me… it's a win-win!

#7: Pack A Cooler with Water & Caffeine
Don't forget the drinks!  When you're on a road trip you'll want to pack plenty of water so you don't get dehydrated… and anything coffee related so you don't fall asleep!!
I take my little Yeti Cooler with me on every road trip.  Here we were… my Yeti and I at a picnic spot just outside of Flagstaff, Arizona near the south rim of the Grand Canyon! 🙂  Oh the fun places this cooler has been!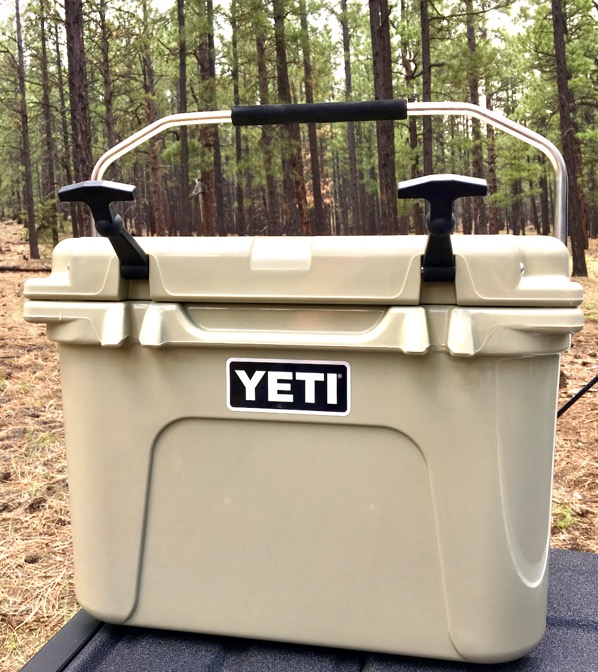 #8: Don't forget the Snacks & Trip Food!
Having a great road trip necessarily involves tasty treats, right?
Cindy writes: "We shop for snacks, beverages and sandwich items before we leave town. We stay in hotels that serve a free continental breakfast so we only eat out once a day."
Lori writes: "We bring snacks and beverages and some meals with us, and have simple breakfasts: cereal, oatmeal, muffins, fruit, etc. Have Crock pot soups and sandwiches for lunches."
Renee writes: "We usually buy food from the grocery store for breakfast and lunches…. fruit, bread, lunch meat and cheeses…. then ONLY eat out for dinner. Saves so much!!!"
Teresa writes: "The more meals you can "fix" vs eating out the more you save.  A family of 4 breakfast could easily be $50, instead grab a box of cereal, disposable bowls, spoons and a quart of milk for a $10 breakfast. Have a cooler and pack it full of lunch options on ice… we stop at rest stops or parks and make our own lunch. Then we normally splurge on dinner."
Dana writes: "We bring a cooler and picnic most of our meals"
Try taking a batch of fresh made cake mix cookies on the road with you, too!  Um… Yum!!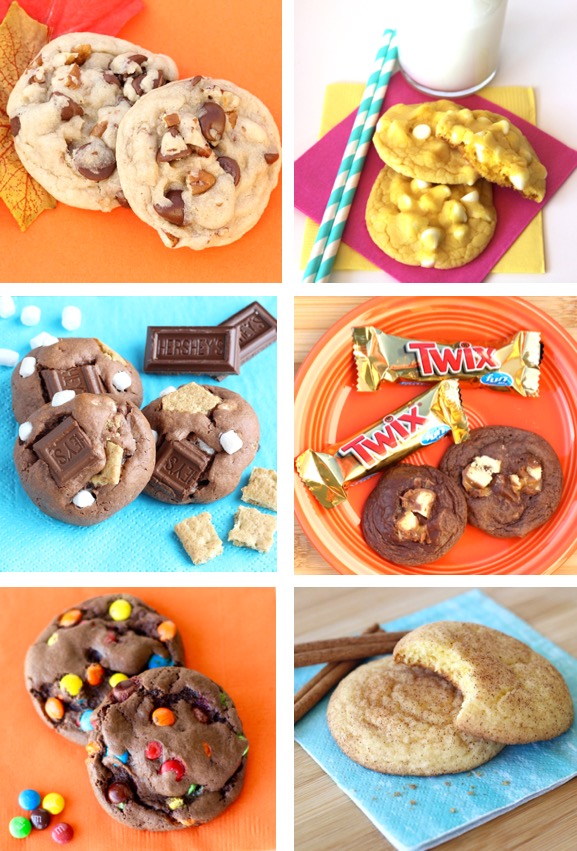 #9: Take a Small Portable Grill for Hot Meals On The Road!
If you have a truck or SUV, consider packing along a Small Portable Grill.  The price and convenience of grilling your own lunch or dinner makes taking a little grill along so worth while!
I like to stop at an amazing spot and grill up dinner using my portable grill right on the tailgate.
Here I am with my family grilling just off the road on the East end of Zion National Park!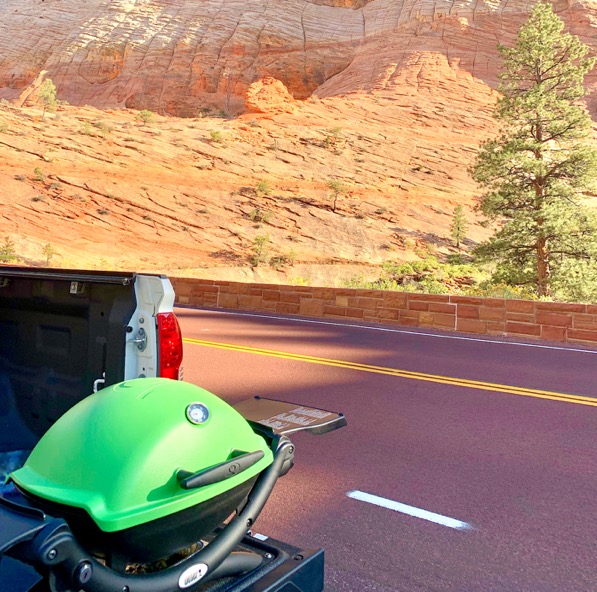 #10: Don't Forget a Paper Map!
Packing a Paper Street Map of your travel route is always a good idea.  Ever get lost because your phone battery was dead?  I know, I know… that would never happen, but just in case… 🙂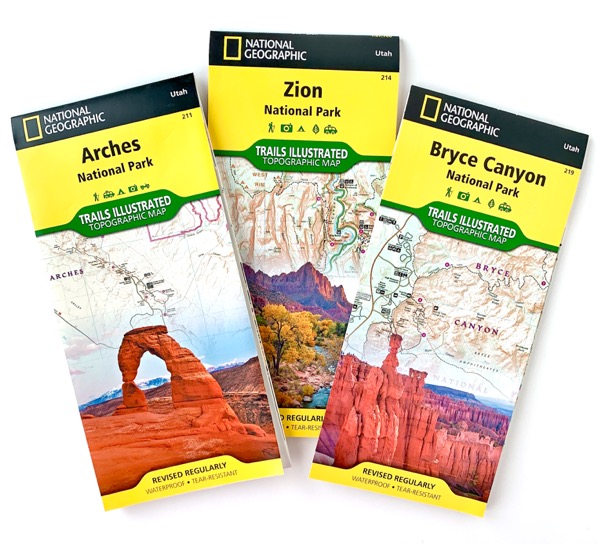 #11: Stock Your Glove Box with a Car Cell Phone Charger!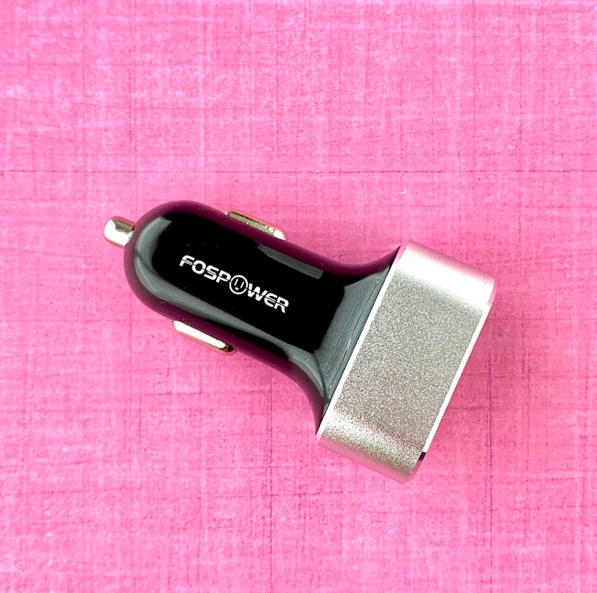 While on the road, you'll likely be using your phone for navigation, playing music and so much more.  So don't risk letting your phone battery die when you need it the most.  Never leave home without Phones Charging Cables and a Car Cellphone Charger that can plug right into your cigarette lighter.  And don't forget the charging cords!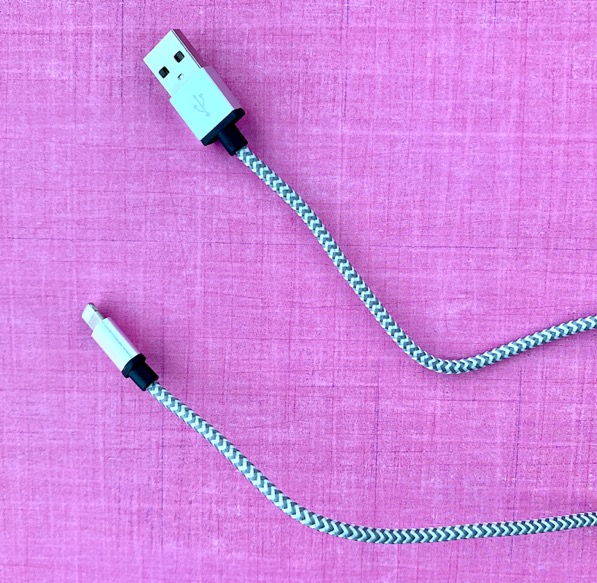 #12: Make a New Music Playlist using Free iTunes Gift Cards!
Listening to fun, brand new music for hours and hours will make your trip even more fun!  Load your playlist with happy, upbeat songs to keep you cruising bright eyed and bushy tailed!
#13: Keep the Hand Sanitizer Handy
Every road trip eventually involves a gas stop, and even an occasional sketchy bathroom break along the way, so have some hand sanitizer available for goodness sake! 🙂  You can even make your own at home!!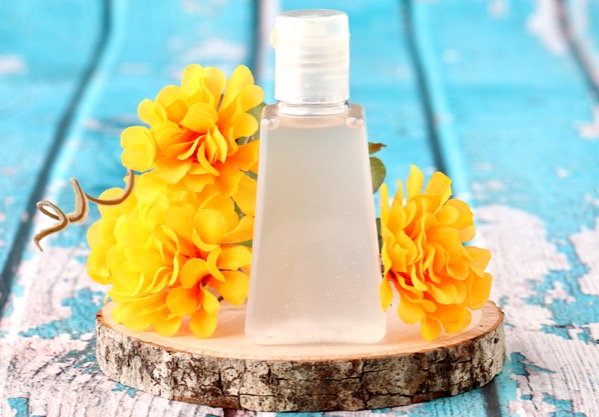 #14: Always Pack a First Aid Kit and Automotive Battery Jumper Cables
You may never need these items, but in the case of an emergency it really pays to be prepared!  Don't risk being left stranded for hours with a dead car battery… or having a cut finger without a bandaid in the car!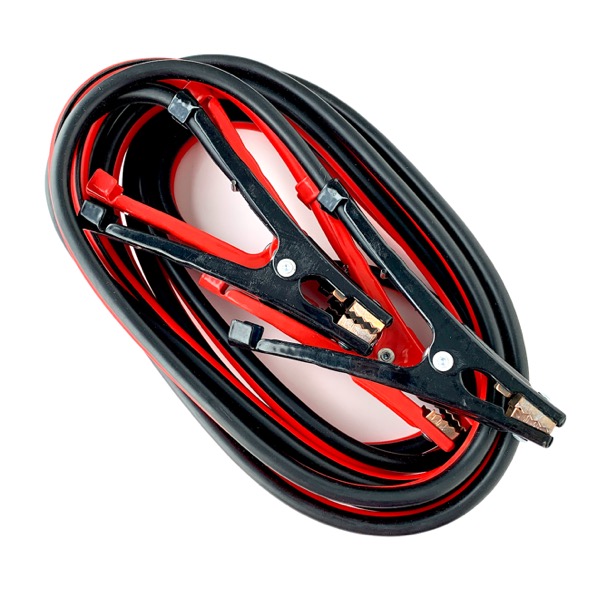 #15: Good Sunglasses are a MUST!
Sunglasses keep your eyes from getting tired from straining in the bright sunshine.  Plus… you just look better driving with a nice looking pair of Sunglasses! 🙂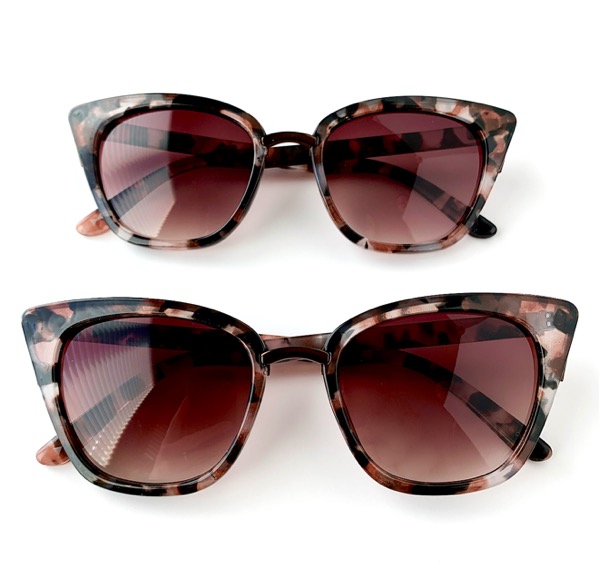 #16: Keep Your Passengers Happy!
Don't forget about some entertainment for your friend over in the passenger seat!  This might include Magazines, e-Books, a movie downloaded to your Kindle, or even knitting or crochet supplies!  Drive a little ways, knit a headband.  Drive a long ways, knit a blanket!! 🙂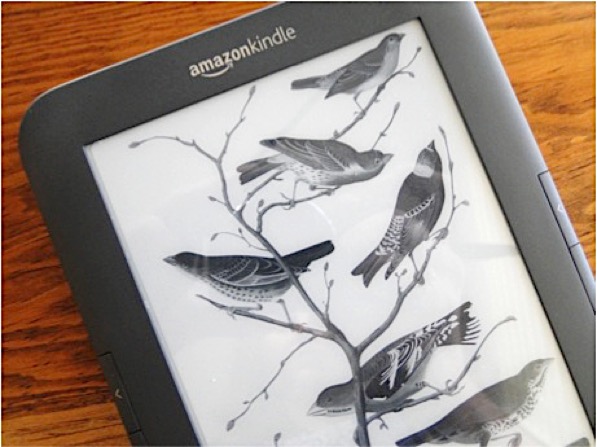 #17: Keep those Kiddos Entertained!
One of the most important Road Trip Tips and Hacks is to remember ito keep the kids happy all the day long!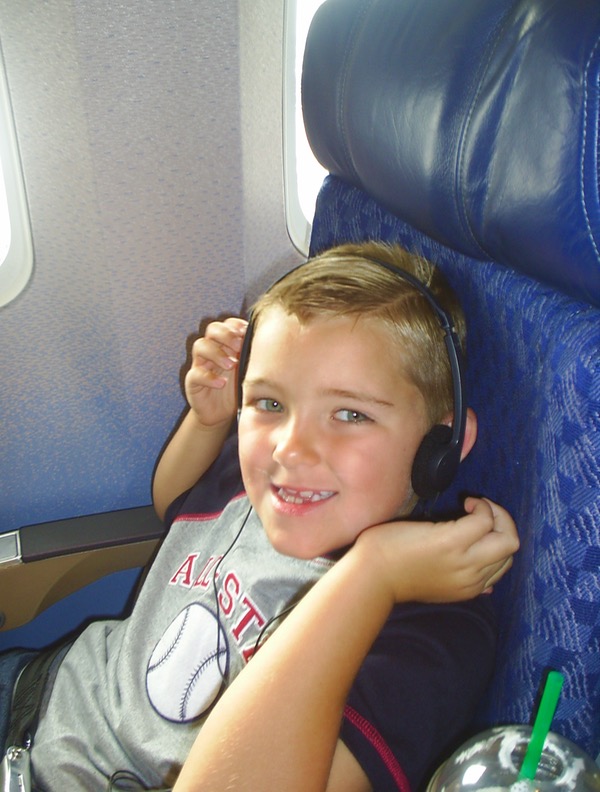 #18: Consider Renting a Car!
Now if you just don't want to rack up the miles on your current car, consider renting a newer car to take on your trip!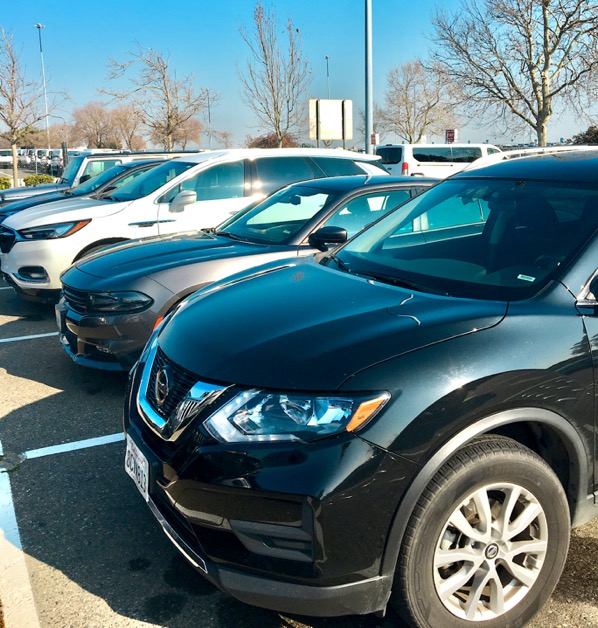 5 More Budget Road Trip Tips and Tricks:
Amy said: "I focus on saving on food. Each kid gets a lunchbox full of snacks and a bottle of water. That way there is no begging at gas stations for something unhealthy. And I buy the Kool Aid pills, they each get two and can put it in their water. When their food is gone, then that is all they get.
I also make meat bun sandwiches to take on the road. (Hamburger meat cooked inside a homemade bun). Then I make other foods that don't need to be heated to eat, and I freeze them. I store these foods in a cooler, foods like pasta salad with grilled chicken. A couple days down the road they are thawed and yummy.
We would eat PB&J for lunches, and then the meals I made for the trip. It saved us about $75 a day for a family of 6. Then I allowed for eating dinner out once or twice.  For fun, we stuck to the free stuff! Like free museums, the beach, etc."
Ashley said: "We used to always spend the most unexpected money on food on vacation. It may not be glamorous, but we always bring things we can eat for breakfast, and eat sandwiches (esp. PB&J) while we're on low budget vacation, we always find a pretty place to picnic. If you don't have access to a fridge for your jelly, you can use the small individually packaged ones from restaurants. Hope this helps!"
Debby said: "If it's not more than a 12 hour drive, I take my own car. If you stop in the smaller towns, you can save on gas. You also won't have to rent a car and you'll be comfortable in your own. I spent no more $150 in gas driving from Atlanta to Tampa and back. Not to mention, we drove all over the area including St. Pete, Zephyrhills FL, and South Georgia before returning. That's also including the tank fill-up for the week after we came home."
John said: "I use GasBuddy, a packed lunch (or several) and some good old common money sense to save on vacations, and I mostly only take road trips.
Karey said: "I save all the samples I receive all year from Quaker, Kashi, etc., then I put all of the snacks in a large zip lock baggie and save it for our trip.  There are several different varieties of snacks and I did not pay a penny for any of it!  I also save all of the samples of shampoo, conditioner, body wash and toothpaste and take it with me on vacation.  I am saving space in my suitcase and saving money by not buying travel sized items."
Next: Now that you've scored these ideas for Road Trip Tips and Tricks, plan the rest of your road trip with these creative tips…
Dreaming of a getaway?  Make your next vacation a reality when you learn how to travel for free or cheap!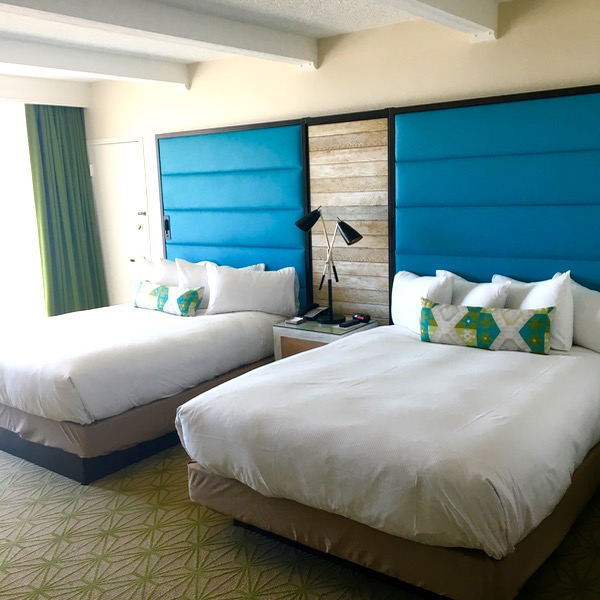 75 Hotel Hacks Everyone Should Know
Are you searching for the BEST Hotel Hacks from Hotel Staff and Frequent Travelers? You just hit the jackpot!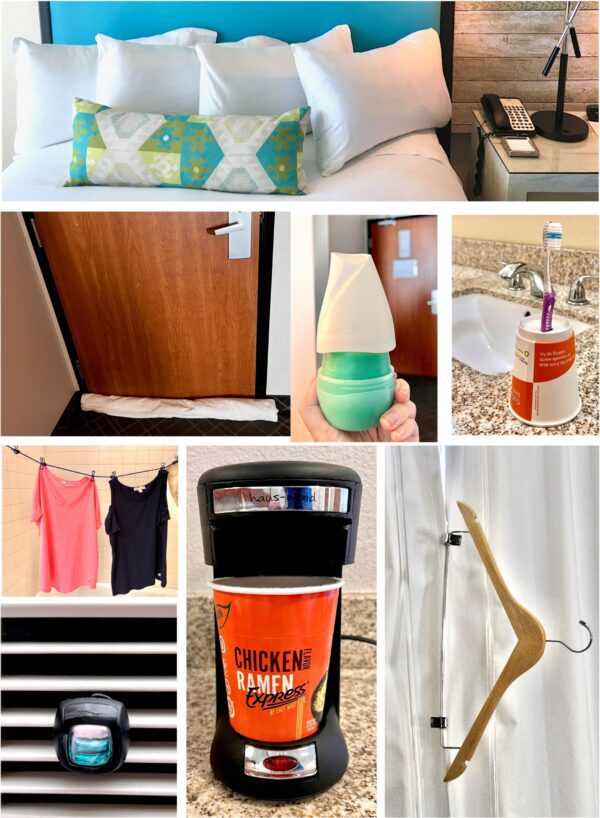 Planning a vacation?  Skip the hotels and use VRBO to slash the cost of your next trip!  You'll love saving money at your cozy home away from home!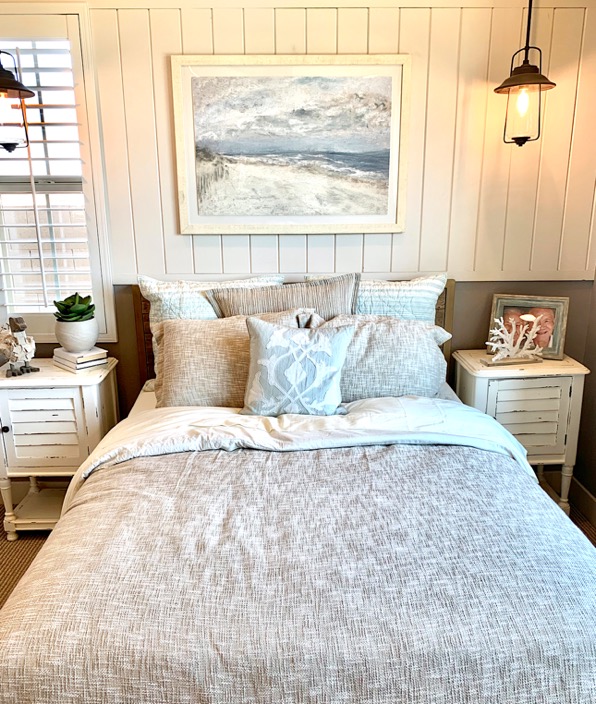 125+ RV Recipes for some easy RV Meal Planning!
Get ready to load up on some seriously fun RV Recipes to fuel your RV and camping adventures this year!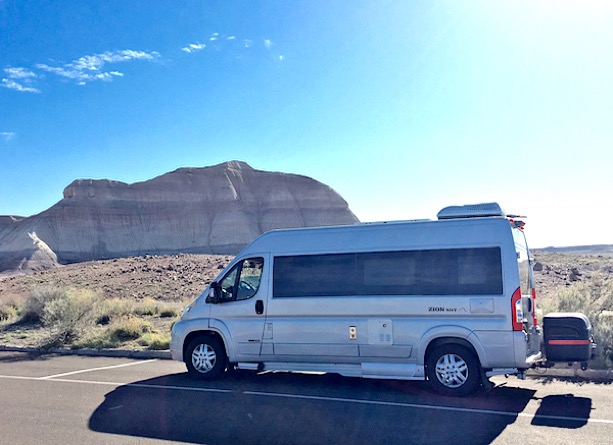 These little-known camping tips and tricks for beginners to pros are about to take your next adventure to the next level!!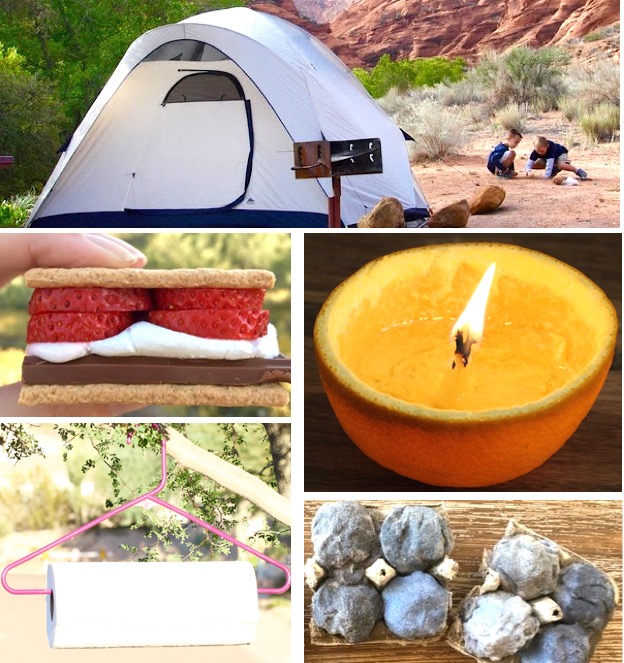 Road tripping is the only way to do National Parks.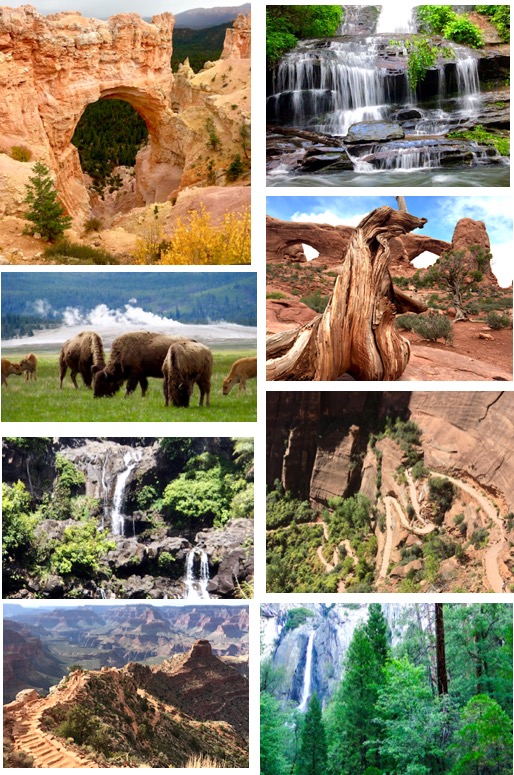 Insider tips on the hottest road trip destinations across the country!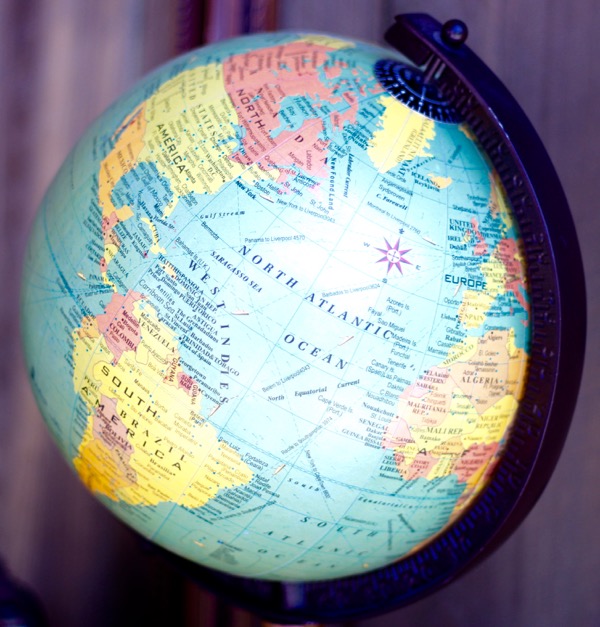 So what are your favorite Road Trip Tips and Tricks?
Leave a comment & share!