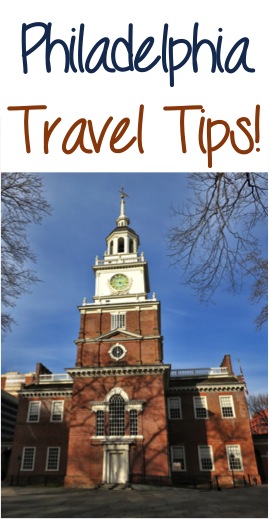 Planning a trip to Philadelphia?? Check out these Fun and Frugal Things to See & Do in Philadelphia, shared by your frugal friends on The Frugal Girls Facebook page…
Lisa said: "Tons of places, Liberty Bell, National Constitution Center, Franklin Institute, Natural History Museum, Art Museum, Rodin Museum, Please Touch Museum, Duck Ride, other Tour buses, Seaport Museum, Reading Terminal.  It is a grand city!"
Stephanie said: "Franklin Institute, Zoo, Liberty Bell of course and the Academy of Natural Science Museum.  I live in PA and these are places we take the kids.

"
Stacey said: "We went this summer for a few hours and loved walking the streets around the Liberty Bell!"
Tonja said: "The carriage ride is great for a history lesson or to just enjoy the ride.  If you are willing to drive about 1.5 hours north to Easton, PA, the Crayola Factory is there and was a lot of fun."
Megan said: "A more obscure and eclectic activity is a tour of the city's murals… They are really interesting and you see a lot of the city.  Another fun option is dinner at the Restaurant School on Walnut? It has a neat ambiance and delicious meal for a reasonable price."
JoAnne said: "Tony Luke's has THE best Chicken Supreme Sandwich ever!  Oh 'n if you have kids you should do the Liberty Benches.  My kids loved the stories and being able to put a star on the flag they give out."
Jane said: "Reading Terminal Market."
Shelly said: "Reading Terminal Market – the best soft pretzels I have ever had!"
Holly said: "Mini golf at Franklin Square, followed by ice cream from the Franklin Fountain!"
Kris said: "South Street and Jim's Steaks. You will be able to smell their goodness at least a mile away.

"
Yolanda said: "Geno's Cheese Steak!"
Stefanie said: "A great kid activity would be Sesame Place, just 30 minutes north of Philadelphia.  If you want to hit up some additional amusement parks just outside of Philly, you could check; Hershey Park… when you drive into the town you can smell the chocolate; Dorney Park with the oldest wooden roller coaster; Knoebels; and Dutch Wonderland.  You can also head out to Lancaster County to get some great fresh veggies, produce and see the Amish. Have fun!"
More Tips + Ways to Save on Your Next Trip:
So… have YOU ever been to Philadelphia before?
What are some of your favorite places to see, things to do, etc? Leave a comment & share!