By now you know how much I love pretty hair bows!  I know ~ it's kind of silly… I've got 2 boys {no girls}, so my nieces and the sweet little daughters of my friends benefit from my crazy addiction of making hair bows! 😉
Do you remember the
pretty ribbon flower hair bow tutorial
, shared a few weeks ago??
Well… frugal friend Brooke and Seasyn took the instructions, played around a bit, added a layer, then emailed over this gorgeous picture of A New Twist on Pretty Ribbon Hair Bows!  Didn't she do an AWESOME job??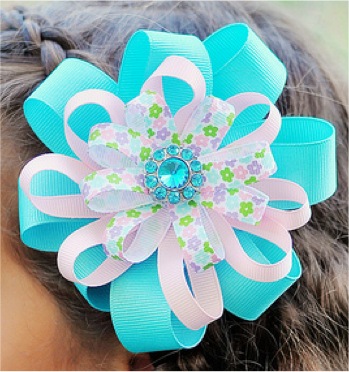 She started with this tutorial from Domesticating Michelle, but then made the bow into 3 layers!  Here's what she said:
"I used the 'recipe' for the base but made it into 3 layers….with varying ribbon thickness.
The thicker blue ribbon is cut at 10 inches, the thinner pink ribbon is cut at 7 inches, and the center decorated ribbon was cut at 5 inches.
I just followed the figure 8, gluing directions for each set of ribbon then stacked them on top of eachother and glued….with the button in the center hot glued in place from my bag o' buttons I had laying around." 🙂
Thanks so much for sharing, Brooke Seasyn!!  You did a fabulous job… gorgeous, gorgeous!
More Hair Bow Fun:
How to Make Korker Hair Bows
How to Make Double Layer Hair Bows
How to Make Flower Hair Clips & Headbands
How to Make Cute Ribbon Clippies
A Creative Way to Store your Ribbon!