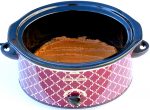 Print Recipe
Crock Pot Pumpkin Butter Recipe! {5 ingredients}
This Crock Pot Pumpkin Butter Recipe is about to make your mornings amazing!
Combine all ingredients in large mixing bowl, and stir well.

Transfer pumpkin mixture to Crock Pot, and cover with lid.

Cook on LOW for 6 hours, stirring occasionally.

Transfer to mason jars, and store in refrigerator. Refrigerate overnight prior to using, as pumpkin butter will continue to thicken as it cools. ENJOY!