Peanut Butter Chocolate Chip Protein Cookies Recipe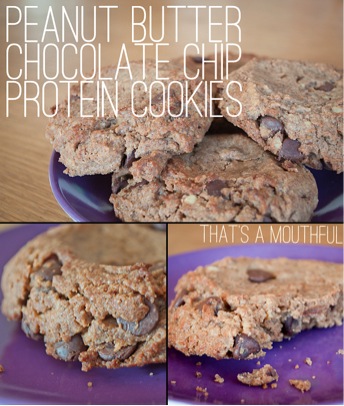 ¾ cup Peanut Butter
1 large egg
1 tsp Vanilla Extract
¼ cup Chocolate Chips (or ½ cup for extra chocolatey goodness)
2 tbsp Ground Flax Seed
¼ cup Diced Walnuts
2 scoops Protein Powder
Preheat oven to 375.
Combine all ingredients and mix well.
Scoop onto cookie sheet and flatten with a fork. (Makes 8 large, using an ice cream scoop as a guide. Making 12-14 smaller would also work!)
Bake for 14-18 minutes or until cookies are just beginning to brown (my bake time on this was funky. I first baked for 10, then took it out for a few, then put it back in for 5. I also turned the temp up to 375 for the last few minutes. Just watch for browning).
Recipe by
The Frugal Girls
at https://thefrugalgirls.com/2012/03/peanut-butter-chocolate-chip-protein-cookies-recipe.html