Whole Wheat Thin Mint Chocolate Cupcakes Recipe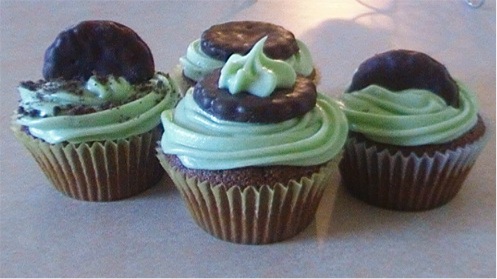 2½ cups Whole Wheat Flour
1 tsp Baking Powder
1 tsp Baking Soda
1 tsp Salt
1 cup Light Brown Sugar
1 tsp Vanilla
1 cup Buttermilk
2 Eggs
1 tsp White Vinegar
1 cup Canola Oil {or applesauce can be substituted}
8 Thin Mint Cookies, crushed
24 Thin Mint Cookies, whole
8 tbsp. Unsalted Butter, softened
8oz Cream Cheese, softened
3 cups Confectioners Sugar {powdered sugar}
Optional: Green Food Coloring
Preheat oven to 350 degrees.
In medium mixing bowl, combine Flour, Baking Powder, Baking Soda, Salt, and Brown Sugar, stir well, and set aside.
In large mixing bowl, mix Vanilla, Buttermilk, Eggs, Vinegar, and Oil until well combined.
Gradually add dry ingredients you had set aside, and mix until well blended.
Line muffin tins with cupcake liners, and spoon batter into liners about ½ way full.
Bake for 20 minutes for standard cupcakes, or 12 minutes for mini cupcakes.
Once done cool on wire rack.
After the cupcakes have cooled, it's time to make the frosting!
Cream Butter and Cream Cheese together, then add Powdered Sugar one cup at a time, and mix until well combined.
Optional: You can add in a few drops of green food coloring when mixing the frosting, if you'd like to tint it a pale green.
Transfer frosting into piping bag, and frost your cupcakes.
Then, immediately sprinkle crushed Thin Mint Cookies on top of frosting, and add 1 whole Thin Mint Cookie on top of each cupcake.
Recipe by
The Frugal Girls
at https://thefrugalgirls.com/2012/03/whole-wheat-thin-mint-chocolate-cupcakes-oh-yum.html