Girl Scout Thin Mint Truffles Recipe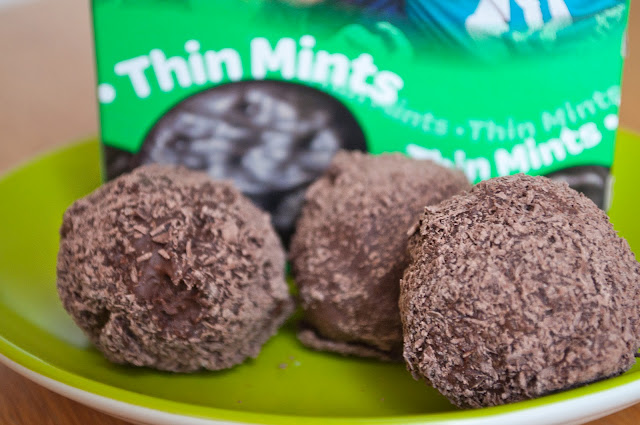 1 box of Thin Mints Cookies
6 oz Cream Cheese, softened to room temperature
2 tbsp. Cream Cheese Icing
2 cups Semi-Sweet Chocolate Chips
1 Semi-Sweet Chocolate Baking Bar
Prep: Have two cookie sheets waiting, one lined with parchment paper or aluminum foil. Also, have either two spoons or a fork and a spoon ready for dipping the thin mint truffles.
The thin mints need to be crushed/processed into small pieces. If you have a food processor, congratulations, your life just got easier than everyone else's! Otherwise, I'd suggest putting the cookies in a large ziplock bag and using an ice cream scooper to crush them. The cookies are also quite fragile, so squishing them by hand is do-able.
Mix in cream cheese + 2 tablespoons of cream cheese icing. Use your hands to mix the ingredients well.
Roll into 1 inch thick balls and place on a cookie sheet. Put in the freezer for 30+minutes.
Use a cheese grater to shave chocolate baking bar for coating the truffles later. Keep the chocolate shavings in a shallow bowl.
Then put 2 cups of chocolate chips into a bowl and heat for 90 seconds. Stir, then heat for another 15. Add 1 teaspoon of oil and mix well. Continue to heat and stir for 15 second intervals if needed… but you should be set!
Drop cooled truffles into the melted chocolate. Using two spoons (or a spoon and a fork), roll each ball around until it is covered in chocolate. Drop onto a cookie sheet and let sit for 10 minutes.
After 10 minutes, or when the chocolate is somewhat more firm but still sticky, pick up each truffle and roll it around in the bowl of chocolate shavings.
Refrigerate for 1 hour. Then serve!
For best preservation, keep truffles in the fridge when not using.
Recipe by
The Frugal Girls
at https://thefrugalgirls.com/2012/02/girl-scout-thin-mint-truffles-recipe.html