Homemade Cheez Its Recipe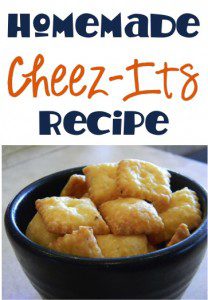 2 Cups Sharp Cheddar, shredded.
¾ Cup flour, plus more for dusting
4 tablespoons butter, softened and cut into 4 pieces (I used salted butter, but if you would like to use unsalted use 1 teaspoon salt instead)
½ teaspoon kosher salt
½ teaspoon freshly ground pepper
1 tablespoon whole milk
Preheat oven to 350 degrees.
In a food processor, combine the cheese, butter, flour, salt and pepper in 5-second pulses until the mixture resembles coarse crumbs.
Add the milk and process until the dough forms a ball, which takes about 10 seconds.
On a lightly floured surface, using a lightly floured rolling pin, roll the dough into a 13×7 inch rectangle that is about 1/16″ thick. I used a serrated fondant cutter to trim off the sides and make the serrated edges of the crackers.
Next cut the dough into 1×1 inch squares.
Transfer the crackers, carefully, to a parchment-lined large cookie sheet.
Using the dulled end of a skewer make a hole in each cracker and sprinkle with coarse sea salt.
Bake the crackers on the middle rack for 15 minutes, or until the ends are barely browned.
Remove from the oven and allow to cool thoroughly on the cookie sheet. (Tip: remove crackers when they are still light as they will darken when cooling on the cookie sheet.)
Serve at room temperature and enjoy.
Recipe by
The Frugal Girls
at https://thefrugalgirls.com/2012/01/homemade-cheez-its-recipe.html