Chocolate Chip Pecan Pie Recipe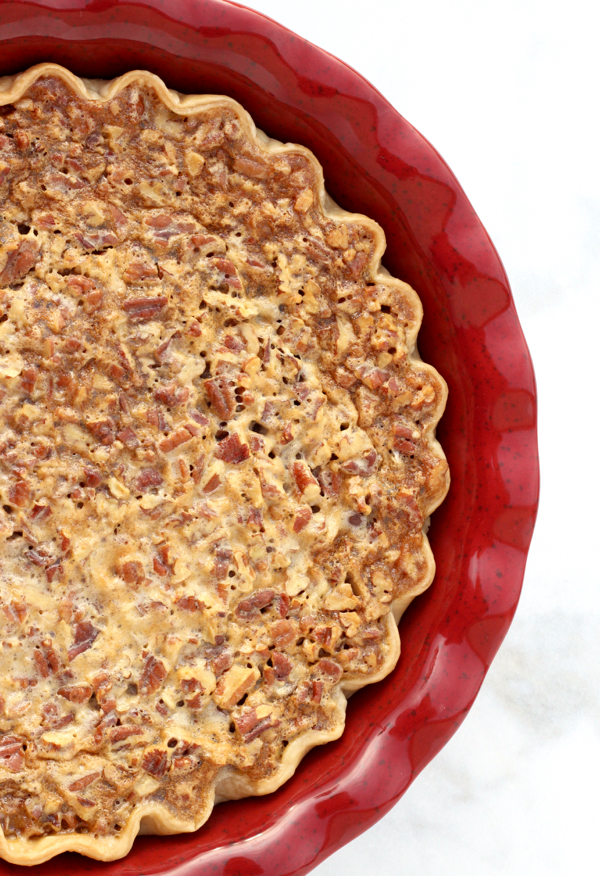 3 large Eggs
1½ cups Granulated {White} Sugar
½ cup All-Purpose Flour
6 tablespoons Butter, melted
1 teaspoon Vanilla Extract
½ tsp. Salt
½ teaspoon Lemon Juice
½ cup Karo Corn Syrup
1½ cups Semisweet Chocolate Chips
1½ cups Chopped Pecans
1 9″ Single Pie Crust {Homemade or Pillsbury Refrigerated Crust}
Preheat oven to 350 degrees.
Carefully roll pie crust out into 9" or 9.5" Pie Plate, then flute or crimp edges.
In a large mixing bowl, beat eggs until light and fluffy.
Add sugar, flour, melted butter, vanilla, salt, lemon juice, and corn syrup.
Mix thoroughly, then stir in chocolate chips and pecans.
Pour mixture into pie crust shell.
Bake in preheated oven for 45 minutes - 50 minutes, or until set and golden.
Important: Cool on wire rack for a minimum of 3 hours, to allow pie to finish setting. For best results, I prefer to let mine set overnight.
Leftovers can be stored in the refrigerator, and eaten chilled or brought to room temperature before eating.
Recipe by
The Frugal Girls
at https://thefrugalgirls.com/2011/10/chocolate-chip-pecan-pie-recipe.html