Garlic Parmesan Kale Chips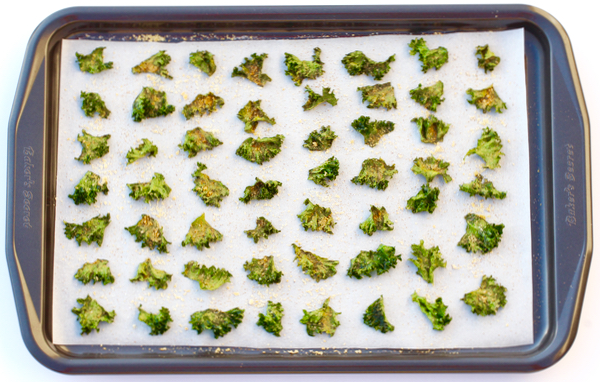 4 cups Kale leaf, torn into 1½″ by 1½″ pieces
1 Tbsp Olive Oil
2 tsp. Grated Parmesan Cheese
½ tsp. Garlic Powder
½ tsp. Sea Salt
Tear off kale leaves into 1½″ by 1½″ pieces, discard stem. (leaves pieces will shrink up while baking)
Place Kale pieces into large bowl and hand toss with Olive Oil.
Spread out over a baking sheet lined with Parchment Paper.
Sprinkle Kale with Parmesan Cheese, Garlic Powder and Salt.
Bake at 300 degrees for 20 minutes.
Recipe by
The Frugal Girls
at https://thefrugalgirls.com/2016/08/garlic-parmesan-kale-chips.html