Easy Beef Enchiladas Recipe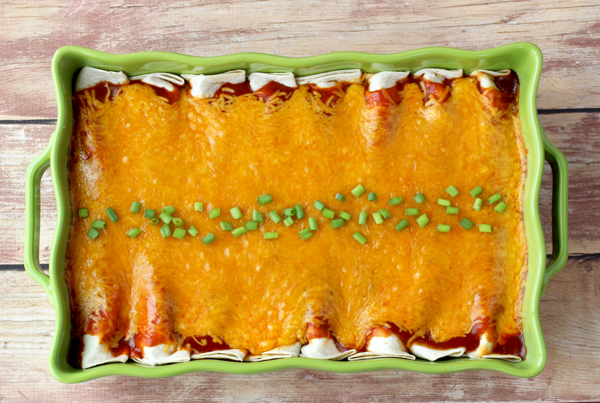 8 large Flour Tortillas {I like to use Mission Soft Taco size}
1.5 lb Ground Beef
1 Serving Homemade Taco Seasoning
¾ cup chopped White Onion
26 oz. La Victoria Enchilada Sauce {1 can}
4 oz. Diced Green Chiles can
3 cups Shredded Cheddar Cheese {use Sharp for extra flavor}
1 tbsp Olive Oil
Preheat oven to 350 degrees.
Spray 9×13 casserole dish with Pam Nonstick Cooking Spray.
Add Olive Oil, Ground Beef, and Chopped Onions to frying pan.
Brown beef / grill onions in frying pan.
Drain juices from meat and stir in ⅓ cup water mixed with 1 serving Homemade Taco Seasoning.
Bring seasoned beef/onion mixture to simmer for 5 minutes.
Transfer beef/onion mixture to medium bowl.
Mix browned Beef and Onion, 1 cup Enchilada Sauce, 1 cup Cheese, and Green Chiles.
Fill each tortilla with mixture, and roll up. Place seam side down in a row in your casserole dish.
Pour remaining Enchilada Sauce over tortillas and sprinkle remaining grated cheese on top.
Bake uncovered at 350 degrees for 30 minutes, or until hot and bubbly.
Optional: Garnish with shredded Lettuce, Sour Cream and chopped Green Onions. ENJOY!!
Recipe by
The Frugal Girls
at https://thefrugalgirls.com/2016/03/easy-beef-enchiladas-recipe.html