Easy Steakhouse Burger Recipe!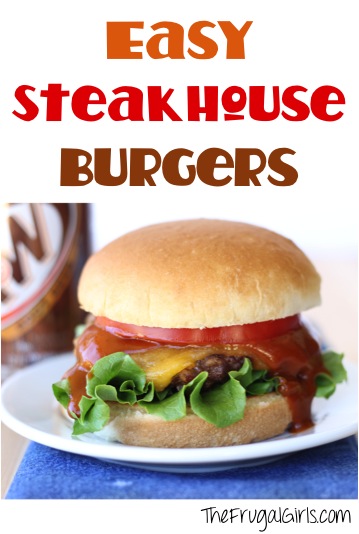 2 pounds of Lean Ground Beef
1 tbsp McCormick Grill Mates Montreal Steak seasoning
¼ cup Heinz 57 Sauce
¼ cup crushed Fritos Corn Chips
1 Egg, lightly beaten
8 Hamburger Buns
8 Slices of Cheddar Cheese
Mix Egg, Steak Seasoning, Heinz 57 sauce and crushed Fritos in large bowl.
Add Lean Ground Beef to bowl and mix well with your fingers.
Form mixture into 8 balls, place individual balls between two square pieces of Wax Paper, smashing into patties with Hamburger Press.
Carefully stack burgers with Wax Paper separating patties, and place in refrigerator to marinate for a few hours or overnight.
Grill your burgers for 6 minutes on each side at 350 – 400 degrees, or until done
Melt cheese onto burgers for the last minute or so while still on the grill.
To grill or to not grill your buns?? Your Choice!! I love to add some butter to the inside of the buns, and grill them just until a little toasty.
Build your burgers… Bun, Burger, a little extra Heinz 57 Sauce and optional Lettuce and Tomato. ENJOY!!
Recipe by
The Frugal Girls
at https://thefrugalgirls.com/2015/04/easy-steakhouse-burger-recipe.html