Candy Cane Cupcakes Recipe!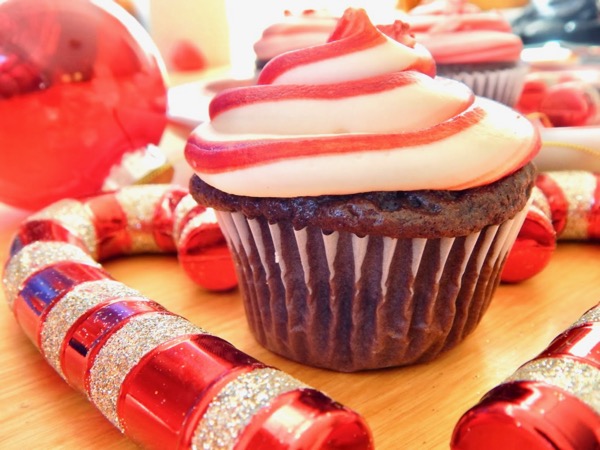 ¾ cup cocoa powder, sifted
¾ cup hot water
3 cups all-purpose flour
1 teaspoon baking soda
1 teaspoon baking powder
1¼ teaspoons salt
1½ cups unsalted butter
2¼ cups sugar
4 large eggs, room temp
4 teaspoons vanilla
1 cup sour cream, room temp
½ cup unsalted butter, room temp
6 ounces cream cheese, softened
4 cups powdered sugar
½ teaspoon vanilla
1 teaspoon mint extract
2-3 tablespoons heavy cream
1 Red gel food coloring, for the swirl
Preheat your oven to 350 degrees.
Line cupcake tins with paper liners.
In a small bowl, whisk together the cocoa powder and hot water until smooth, set aside.
In a medium bowl, whisk together the flour, baking soda/powder, and salt; set aside.
In a medium saucepan, combine the butter and sugar over medium heat. Heat, stirring occasionally, until the butter is completely melted. Remove the mixture from the heat and transfer to a large heat proof bowl or the bowl of your stand mixer.
Beat on medium for 4-5 minutes, until the mixture is cooled. Mix in the eggs, one at a time, being sure to scrape the sides as you go. Mix in the vanilla and then the cocoa/water mixture.
With the mixer on low, slowly add in your dry flour mixture, alternating with the sour cream (starting and ending with the flour mixture).
Pour batter into prepared cupcake tins, ⅔ of the way full, and bake for 18-20 minutes or until a toothpick inserted in the center comes out clean.
Allow the cupcakes to cool completely on your counter top or wire rack.
Now it's time to make the frosting!
In a large bowl, beat the butter on medium heat for a couple of minutes until smooth.
Add in the cream cheese and beat until just combined.
Slowly add in the powdered sugar, 1 cup at a time, until it is full combined.
Add in the vanilla and mint extract and beat just until incorporated.
Mix in the heavy cream, 1 Tablespoon at a time, until you have reached your desired consistency. *Milk can be substituted for the cream, but I love the thickness and richness the cream adds.
Ready to frost? Here's how you'll achieve the Swirl!
In your piping bag, using a toothpick, draw 2 parallel lines with your red gel coloring (on both sides).
Carefully spoon in your prepared frosting, cut a large tip on the bottom, and pipe frosting on to your cooled cupcakes.
I like to use 2 piping bags for this, and split the frosting in half, to achieve a brighter swirl.
Recipe by
The Frugal Girls
at https://thefrugalgirls.com/2013/12/candy-cane-cupcakes.html