Milky Way Chocolate Cake Mix Cookies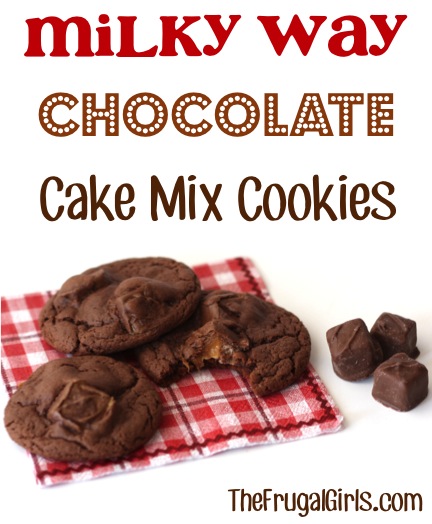 15.25 ounces Betty Crocker Milk Chocolate Cake Mix {1 box}
7 ounces Milky Way Bites {1 bag}
2 eggs
½ Cup Canola Oil
Preheat oven to 350 degrees.
Combine cake mix, eggs, and oil in large mixing bowl, and beat well.
Stir in Milky Way Bites
Chill dough in refrigerator for 1 hour
Drop onto ungreased non-stick cookie sheet in rounded balls.
Bake for approx. 7 – 9 minutes, or until done. ENJOY!
Recipe by
The Frugal Girls
at https://thefrugalgirls.com/2013/11/milky-way-chocolate-cake-mix-cookies-recipe.html