Skinny Peanut Butter Truffles Recipe!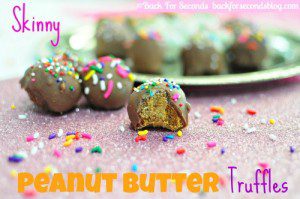 1 cup finely ground Fiber One cereal
¾ cup creamy peanut butter
½-1 ripe banana
12 oz dark, milk, or white chocolate
sprinkles (optional)
In a food processor grind the cereal as finely as possible.
Add in the peanut butter and ½ banana and pulse until it all comes together. If it seems a bit dry add in more banana. I did not add any sugar and me and my 3 year old could not stop eating the "dough". If you want it sweeter go ahead and add a little sugar – just keep in mind you are dunking them in chocolate, so they will get a little more sweetness from that.
Roll the dough into balls and lay them on a cookie sheet.
Freeze for about 30 minutes.
Melt chocolate and dunk each truffle completely. Scoop them out of the chocolate with a fork and tap it on the side of the bowl to remove excess chocolate. Add sprinkles immediately.
Store at room temperature for up to 24 hours. Refrigerate or freeze for longer shelf life. Best served at room temp!
Recipe by
The Frugal Girls
at https://thefrugalgirls.com/2013/01/skinny-peanut-butter-truffles-recipe.html