Pumpkin Pie Pudding Recipe!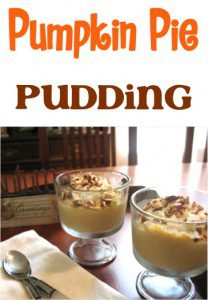 6 tablespoons sugar
1 tablespoon + 1 teaspoon maple sugar*
2 tablespoons cornstarch
1¾ cups half 'n half
1 large egg
½ cup canned unsweetened pumpkin
1 teaspoon vanilla extract
¾ teaspoon pumpkin pie spice
⅛ teaspoon salt
¼ cup pecans
Dash of salt
¼ cup heavy whipping cream
Combine 6 tablespoons sugar and 2 tablespoons cornstarch in medium saucepan. In separate dish, combine half 'n half and egg and whisk well. Over medium heat, gradually add half 'n half mixture to sugar mixture in pan, stirring constantly. Bring to a boil. Cook for 1 minute, stirring constantly. Remove from heat. Mixture will be very thick.
Combine pumpkin, vanilla, pumpkin pie spice, and salt in a bowl. Stir well. Slowly add pumpkin mixture to cream mixture, whisking constantly. Place pan over low heat. Cook for 3 minutes or until thoroughly heated, stirring constantly. Do not boil. Divide pudding evenly among 4 dessert bowls.** Cover surface of pudding with plastic wrap (to avoid pudding skin!). Chill in refrigerator.
Line a plate or baking sheet with foil and coat with cooking spray. Place 1 tablespoon maple sugar, the pecans, and dash of salt in small nonstick frying pan. Cook over low heat until sugar dissolves and is golden (3+ minutes). Stir frequently to coat pecans. Transfer coated nuts to foiled plate/sheet. Cool completely and coarsely chop.
Place heavy cream and 1 teaspoon maple sugar in a bowl. Beat with mixer on high until stiff peaks form. Top each serving with 2 tablespoons whipped cream and sprinkle nuts over top. I suggest doubling the whipped cream recipe – better to have too much than not enough! :)
*I found maple sugar at Trader Joe's. It's sweeter than regular sugar, so you use less. If you decide to use regular sugar, then you may need to increase the amount in the recipe a bit for the nuts and the cream.
**This dessert is rich enough that I think you should stretch it out to make 6 servings rather than Once the cream and nuts are added, you won't miss the extra!
I thought of another way to serve this pudding! Make or buy a graham cracker crust; fill it with the pumpkin pie pudding; top with plenty of whipped cream and nuts! Chill well.
Recipe by
The Frugal Girls
at https://thefrugalgirls.com/2012/10/pumpkin-pie-pudding-recipe.html