Load up on gardening inspiration with these creative and truly innovative budget friendly Gardening Tips and Tricks!


Could you use some easy Budget Friendly Gardening Tips and Tricks??  I've got some fantastic ideas to share with you today.
Check out these amazing creative tips shared by your frugal friends!  Get ready for some gardening greatness on a budget this year…
Related:
Gardening Tips and Tricks :
Diana said: "Give your garden a distressed look.  Look on Craigslist for discarded items. Re-purpose these items (spray painting to look "Mossy") to have them look like they have been in the garden for a long time.  Perennials and annuals in your garden will look fabulous! And all on a budget.."
Lainey said: "I buy one or two shrubs of a variety and then root all the ones I want from those."
Abigail said: "I buy seeds at the dollar store for $.25 a packet! I use the kids' empty yogurt containers to plant them and put them on the window sill to grow. :)"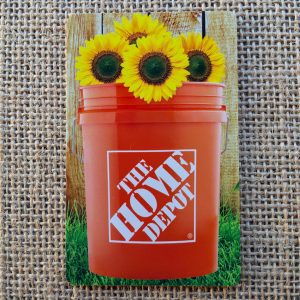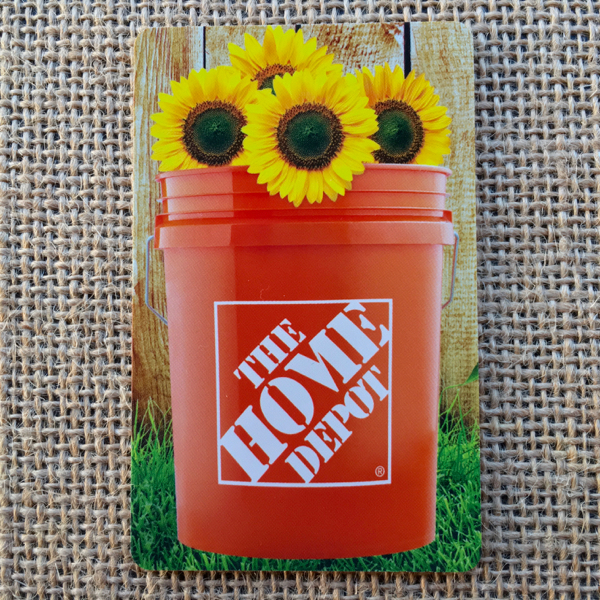 Rebecca said: "Buy perennials! You can divide and start new plants from the few that you buy, and have a gorgeous garden.  You can then get a few annuals to put in pots around your garden for color all summer!  Be sure to also start plants from seeds early in the spring!"
Mary said: "Last year several local garden stores had Groupon and/or Living Social Deals.  I got some great deals on mulch that way!"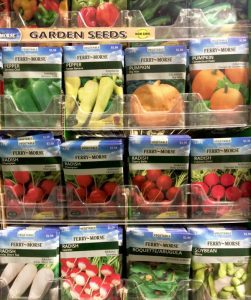 Nydia said: "No fancy equipment necessary!  If you ever buy 6 Packs of Flowers, save those cheap plastic packs and you can re-plant in them.  Buy the kind that are made out of biodegradable material, so you can plant directly into soil (super cheap). Almost anything will do. Just set them somewhere where they can get some decent light.
My husband always tills the garden, making rows, and then plants the seeds immediately.
The biggest investment that you should make is in good soil! I live in the Houston area and have had success with Beefmaster for big tomatoes (last spring I grew Jelly Bean tomatoes, my favorite yet!)
For cucumber seeds, we buy Poinsett 76 (salad cucumbers). Vegetable gardening is so much easier than most people think."
Brenda said: "Check Craigslist and Freecycle in the spring… people are often thinning out perennials and give them away.  Also, when you take your yard waste to the recycling area, if you look around you can find all kinds of good plants there.
A friend re-did her yard with different Hostas she found there."
Janice said: "Coffee grounds are great for acid-loving plants like azaleas."
Kathleen said: "Get grounds from Starbucks, they give them away in huge bags!! Great for the garden!"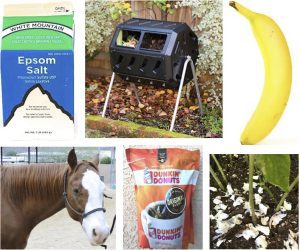 Elvira said: "I used to buy manure, but have started saving coffee grounds and egg shells. I mix the coffee grounds and egg shells in a 5 gallon bucket and frequently roll the contents to keep it mixed.
This is what I now use instead of manure.  It is very effective and all my plants react to it beautifully – even my African Violets, which keep blooms pretty much all year round."
Marty said: "We get fertilizer from our friends with horses.  They are always delighted to rid themselves of some nice, aged poo."
Lisa said: "I made a slideshow showing with step-by-step instructions for how to make your own upside-down tomato planters out of old milk jugs!"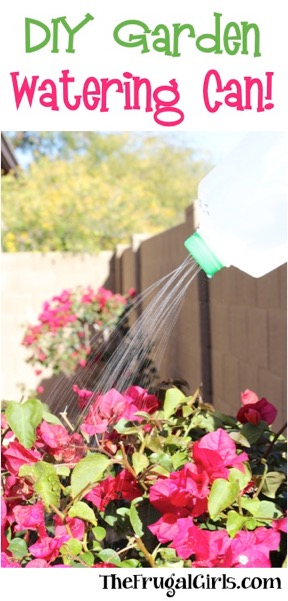 Kelly said: "I do winter sowing and love it because it is cheap and easy. The idea is to plant the seeds in a container and put it outside for the winter. When it is warm enough, they will start to grow.
No special lights, no hardening off, etc. So easy! I also use leftover containers, so I don't have to buy anything new.
I have had the best success with juice containers, because they are tall enough for the plants to grow to a strong height while still being protected."
Donna said: "We have a greenhouse business and we start our plants in the greenhouse.  Some vocational schools have plant sales that will save you money.
Please do not save seeds, many are hybrids, which means that the seeds will not be like the year before.
Soil is important!  Find your local agricultural extension agent, and get a soil test done. That way you do not waste your time and money buying fertilizers and lime that you do not need.
Also Google to find a local garden club to join… many have professionals that are members.  Hope this helps! Signed… 'A Horticulture Teacher.' ;)"
Karen said: "Check with your library for a mound of information on home gardening. A great book for small spaces is "Square Foot Gardening." There are many book on container gardening, too.
A great way to get inexpensive plants is at a gardening club sale in your town. The members start the plants by seed or divide their plants (perennials).  I've gotten tomato plants for $0.10 each this way.
Rhubarb comes back every year and can be put in your landscaping.  One Rhubarb plant will produce enough that you'll be chopping it up and putting it in the freezer for later!
Start gardening with a good, fresh mixture of 2/3 topsoil and 1/3 compost.  I concentrate on plants my family likes that are high producers, like tomatoes and cucumbers.
For tomatoes, put them in as early as recommended in your area, using tomato cages when you plant. (If you put the cages in later, you'll damage the roots.)
Mound the dirt around the base of the plant with another circular mound about 8 inches out.  This will create a moat when you water.

Water every day unless it's pouring rain.
For cucumbers, they grow on a long vine. Your vine can be moved outside the garden or along the perimeter.
I also plant onion sets just inside the perimeter of the garden. These are no hassle and you can harvest as needed any time after about 10 weeks after planting."
Tofucute said: "When you are preparing green onions or leeks to eat, take the part with the roots that you cut off (and normally throw away) and put it in the ground.
The roots will grow and eventually seed. Cut the ends off as needed and they will keep growing. Your garbage becomes food!"
Barbara said: "Save seeds from produce you buy from the store."
Pamela said: "Make sure your garden is south facing or gets plenty of light.  I recommend raising your beds.  It will help with drainage and your back!
Rabbits in your area? Be sure to fence in a small area if you have rabbits. You don't want to see all your hard work eaten overnight.  Remember, animals seem to know one day before we do that items in your garden are ready to eat!
I let my children each have a section of garden. Carrots and radishes are easy to grow and the first to come up.  They loved having the satisfaction of caring for them and especially harvesting them later.
Cucumbers take a lot of room.  Allow an entire plot for them. Pole Beans are great in a container or small area.
Lettuce can be planted first and will take up some room.  You can plant radishes in between your lettuce to save on growing space.
If trying to plant perennials – ask gardeners in your area! Many people have what grows best in your area and a good gardener knows that plants need to be split every other year or so.
Plants are expensive, but you can get most of them for free. (or barter with a batch of cookies with the neighbor!)
Check to see if your area has a garden club. That is an excellent way of starting your own gardens. They will have helpful hints as well as plants to share! Enjoy!! Being outside is life's greatest pleasure for me!"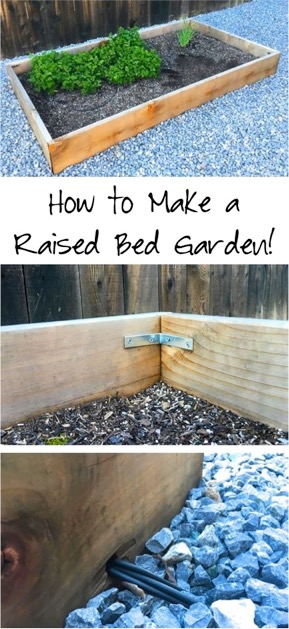 Jenny said: "Container Gardening is hard, heck, all gardening is hard until you get the hang of it.  But it's so nice to be able to eat the food you've grown. Don't count on harvesting a lot at first (you could get lucky though, you never know) Just count on learning a lot at first.
Get as many Books About Gardening as you can, especially gardening in your climate. That will make a big difference.  Start with good soil that includes compost, fertilizer, etc.
Look for books to help with that.  Use very large containers for most plants, except plants with shallow roots, like lettuce.  Roots need a lot of room to grow!
I have grown tomatoes, eggplant, cucumbers, peppers, chives, zucchini, squash, and strawberries in containers with varying degrees of success.
Your harvest depends a lot on what variety of plant you have, how much water they get, how much fertilizer you use, how hot or cold the temperature is, and if you get attacked by any bugs.
Buy plants already started, don't bother with seeds at first. Make sure you pick healthy plants with NO fruit or veggie on them yet, and with no bug or rot damage.
Follow the directions to plant them. Many plant labels will say if they are good for containers.
The first year is usually the hardest, so start small with just a few types of plants."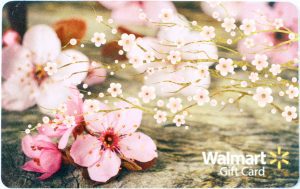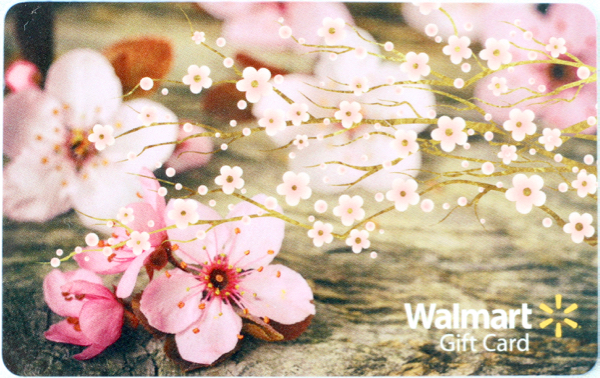 Kelley said: "If you have some space and need something to fill it, I would suggest rhubarb.  It's easy to grow and continues to produce all summer (at least where I live in Zone 4).
It also is just a nice large plant to fill in a space. Plus there are so many things you can do with it."
Alicia said: "To save money on water, and to help your plants grow nice deep roots, save your plastic 64oz juice containers.  Leave the caps on, cut off the bottoms, and then poke a zillion holes in the sides (I use my hubby's grilling fork!).
Bury the containers (cap-side down) about every three feet or so.  Allow just the top 1.5 inches to remain above ground.
When you water, just fill the containers. They'll each spread water in about a 1.5 foot circumference.
I've used these mostly around my tomatoes and peppers. They tend to need a lot of water and they can grow very deep roots."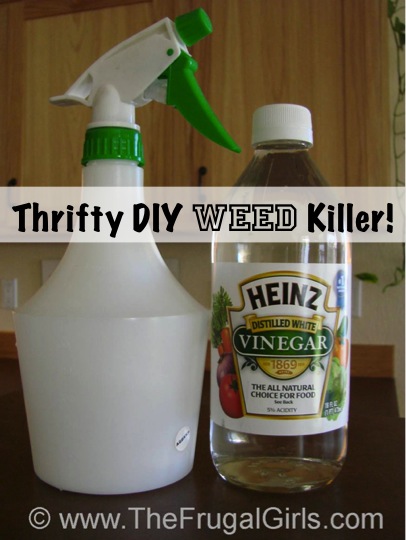 Rosanna said: "I just discovered VINEGAR as an "organic" weed-killer! I've had monkey grass growing in ugly patches around my magnolia tree. If you have monkey grass, you know it's impossible to get rid of.
On a hunch, I took some vinegar and didn't even spray it. I just sort of poured it on while jiggling the bottle around.
One week later, DEAD MONKEY GRASS! The Vinegar is safe for the tree, because the tree roots are too deep to be bothered by it, and the vinegar is not strong enough to harm the tree.
It works much faster on common weeds."
Jennifer said: "We use heirloom seeds.  Most of the time they are the same price as the seed packs at Walmart (around $2.00 a pack), but your benefits are enormous.  Last year I got around 10-20 packs worth of seed off of one plant.
I also got a half gallon of pumpkin seeds off of two pumpkins.
I would recommend buying what you can grow easily in your area and then branch out. Here in Missouri (in Zone 3), I can easily grow tomatoes, peppers, lettuce, cucumbers, and okra.  Green beans are hit and miss.
I am a 6th year gardener and I still don't like starting plants early indoors. The plants seem to catch up if I just plant outside at the right time anyway.
Also, if you'll check farmer's markets, they often have plant seedlings available closer to the end of the starting season (around May) You can get these for just pennies."
Michaela said: "Buy plants at the end of the season, including indoor pots. Then keep them inside over the winter! The plants will keep growing throughout the winter and you will get an even bigger harvest the next year!"
Jen said: "I like to look for "distressed plants" at Lowe's (and other home improvement stores).  Last year I got 8 marigold plants for $2.00 total.  The key is to check out the plant itself, not the flower.
The flowers will look bad, but if the plant is healthy enough, it can easily be revived. :)"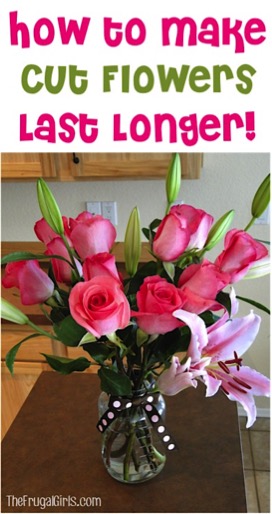 Sandra said: "People with too many plants will want to thin out in the Spring.  I post on Craigslist that I'm willing to come dig up hostas or daylilies (or whatever).  I usually get several responses from people saying 'please dig up mine.'
People will also often post that they're getting rid of plants, for free or very cheap."
Debra said: "In the Spring, look for landscapers cleaning out gardens. I have gotten boxes of hostas, tulips and daffodils out of a landscapers truck bed that had just been dug up.
I had to separate the plants from the weeds, but the following spring I reaped the benefit of a just few hours of work.
You can check your local library for free recycled gardening magazines. These are usually located just inside the Library entrance.
Save newspapers, you can mulch your veggies with them to keep the weeds down and retain moisture in the soil.
Look for plants that multiply, like ferns and hostas. Divide and replant these every other year to enlarge your gardens.
Then… be sure you do some stretching before you start gardening. It will help with those sore muscles!! Have fun!"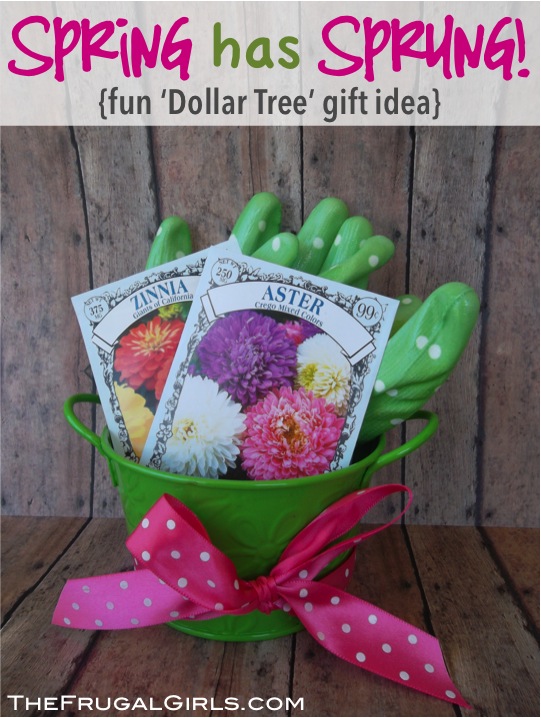 Arlena said: "When I see neighbors in their yard, I ask to cut off a portion of a plant that can be thinned out.  I usually start off asking about the plant or commenting on how nice their yard looks.
I find gardeners are very generous this way.  And I also offer plants from my yard if they need to be thinned out.  Join Freecycle.org, and you can check to see if anyone has anything to share."
Bruno said: "Have a neighborhood perennial swap. I will be trading with my neighbors this year, as I need to divide grasses, etc. and want a new color or texture to add to my beds."
Got the gardening bug? Check out moreEasy Gardening Tips and Tricks+ Tips & Tricks To Save Money on Garden Supplies…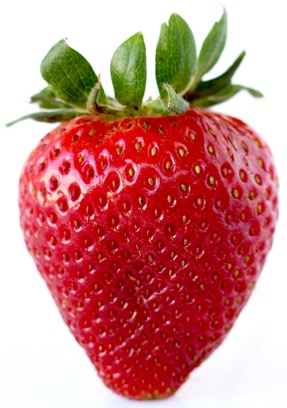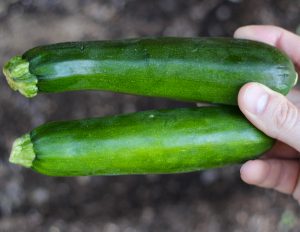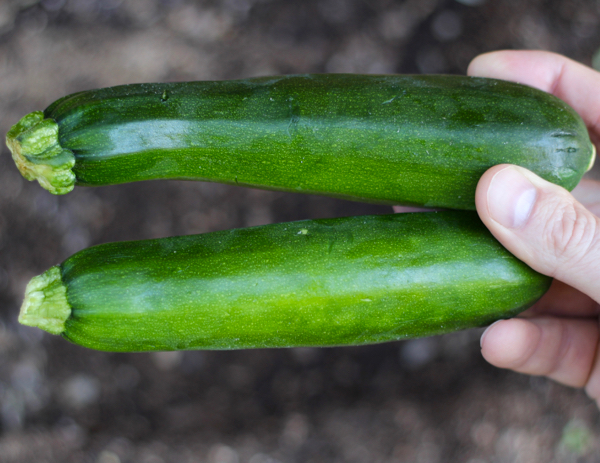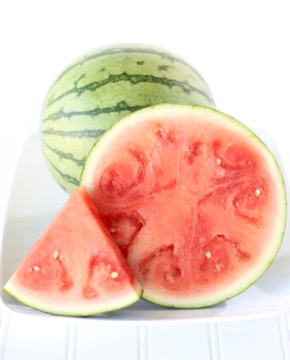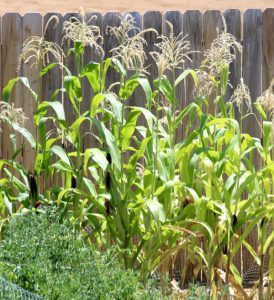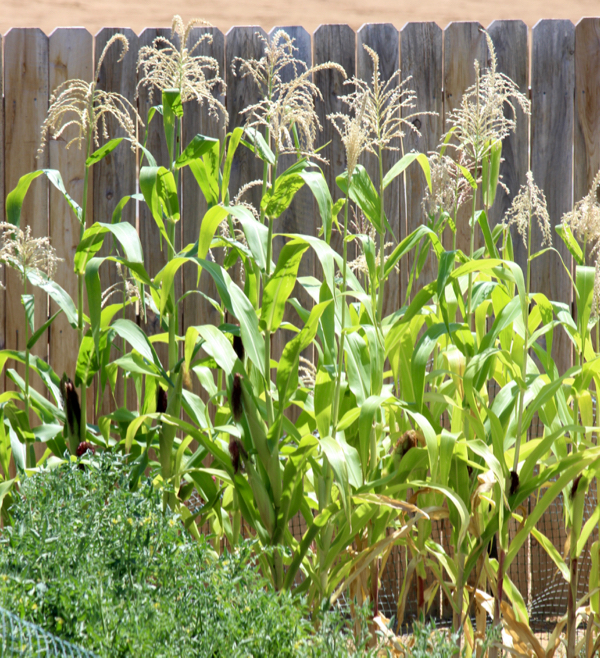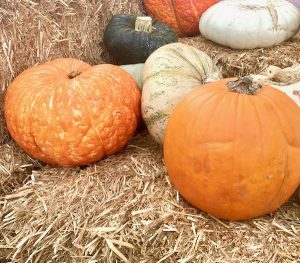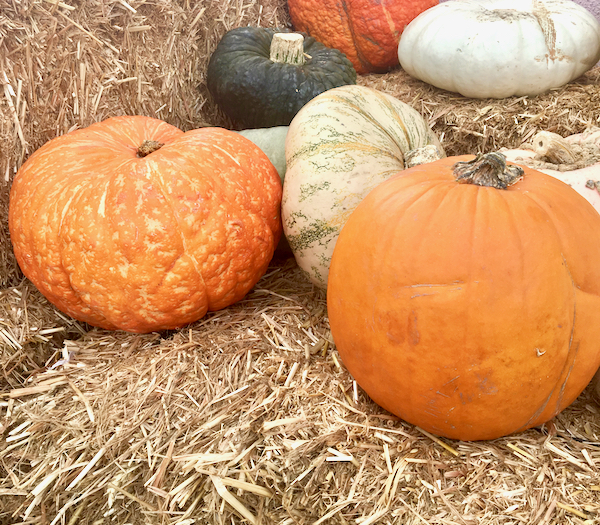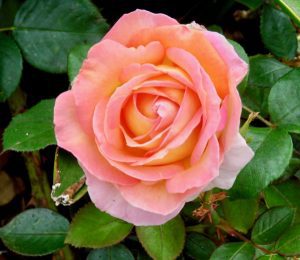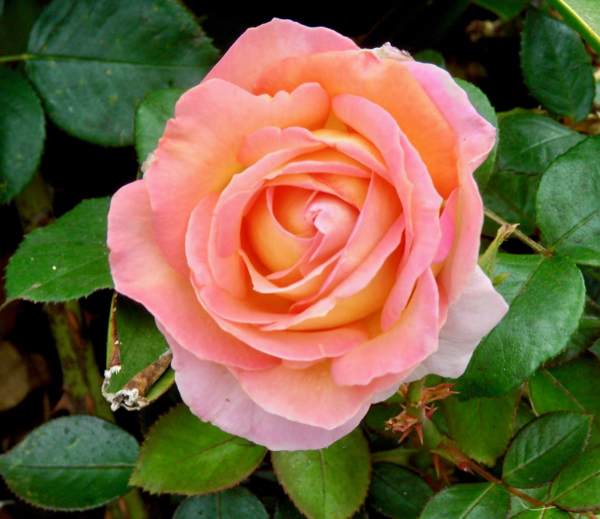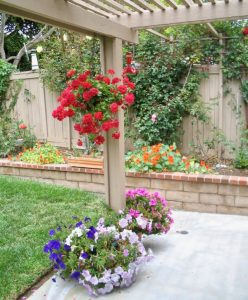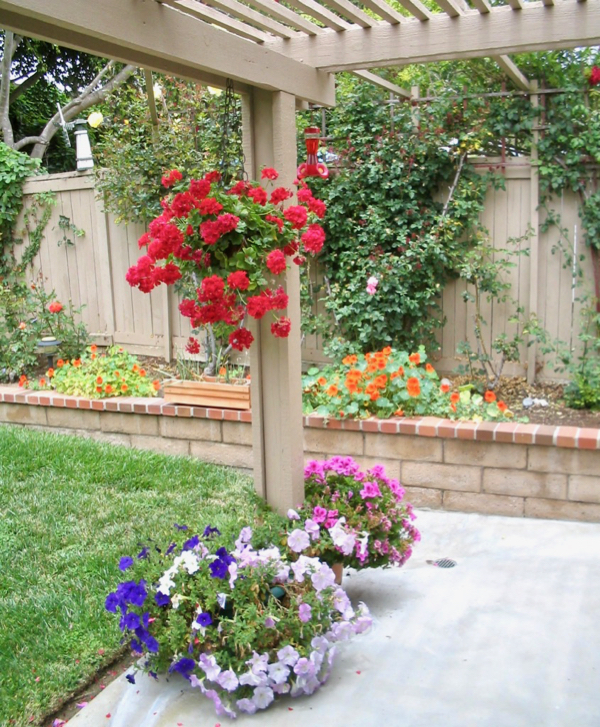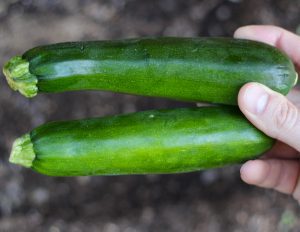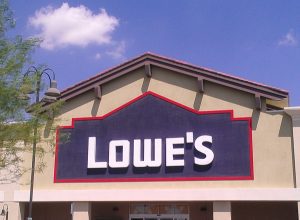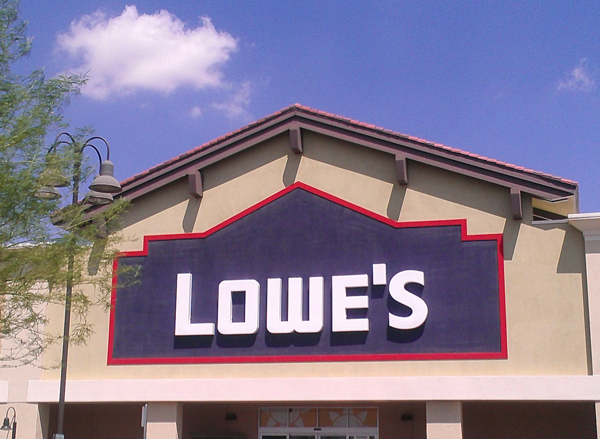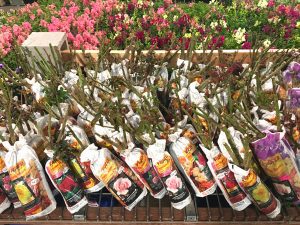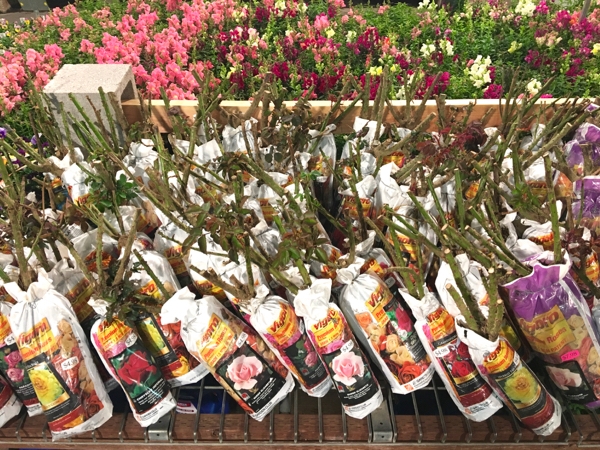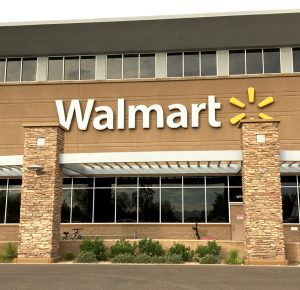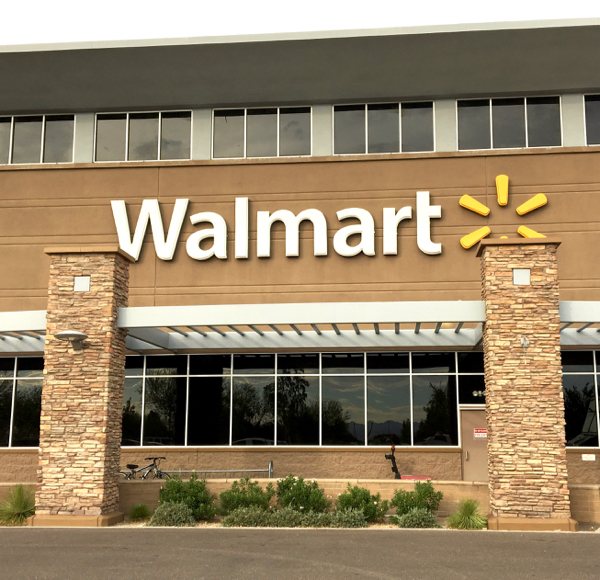 Want even more Frugal Inspiration for around Your Home?  Check out these Creative Tips: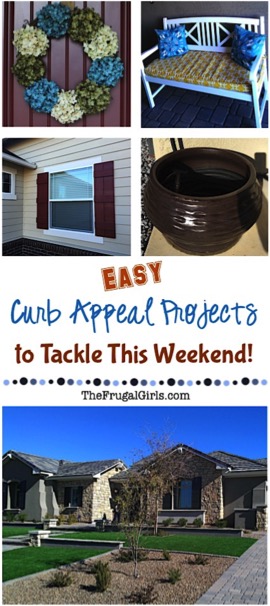 Now that you've gotten inspired with these Gardening Tips and Tricks, don't miss out!  Get all the latest fun new Frugal Girls Tips, Recipes + more right here…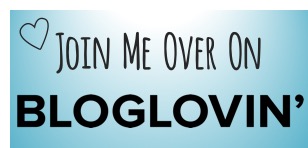 Got some Gardening Tips and Tricks up your sleeve??
Leave a comment & share!