I may get
paid
for ads or purchases made through links in this post.
If you're expecting a big crowd, use these Inexpensive Ways to Serve Holiday Meals to help you save money!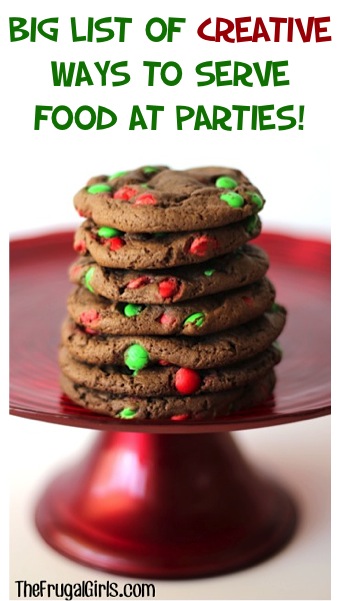 Pretty up your holiday and party table with fun tips and tricks!  Get loads of inspiration with this BIG List of Inexpensive Ways to Serve Holiday Meals!!
Related:
Inexpensive Ways to Serve Holiday Meals
Here are just a few of the awesome ideas shared by your frugal friends…
Lori said: "On a table (where you would like to display the food) create levels. You can do this by using various size boxes/books/ containers. You can then cover them up with Christmas fabric/table clothes/batting(for a snow look). The plates don't have to look the same. You can then take the cinnamon pine cones & twigs from outside, candles, etc. to decorate. The more levels and color you use the fancier it will look without spending an arm and a leg for it. Use unusual containers to display the food. People love things that are different and they give a great conversation piece."
Danielle said: "Martini glasses work great for nuts, candied cranberries, or other small treats… Can also use Christmas wrapping paper to dress up plates and bowls you already have on hand."
Rachel said: "Baskets for bread or crackers with a colorful napkin or towel.  Cake stands are great for cheese balls, or other finger foods.  Also, you probably can borrow some from your church or a friend or relative who is coming to the party."
Patti said: "Place your plastic utensils (forks, knives, spoons) in Christmas- themed mugs or tumblers on the table next to the plates – one mug/tumbler for forks, one for spoons, one for knives, etc. For decorative appetizer/hors d'oeuvres plates, wrap a paper plate in Christmas paper, place clear plastic wrap over the decorated plate (Saran Wrap or Press & Seal) so that the decor shows through without exposing the food to the paper."
Sarah said: "Dollar store usually has trays! That's where we got them for Thanksgiving. Also if you put bowls of different sizes upside down on the table then cover with table cloth you can set your trays on those so it's all on different levels instead of just flat on the counter. Then to decorate it even more, you could weave Christmas lights throughout and maybe even garland or whatever you feel like using! Hope that made sense. Lol"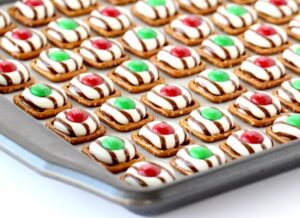 Melanie said: "Dollar Tree, Dollar General, or Big Lots.  Also, the Target dollar bins sometimes have things that you can use as serving dishes."
Windie said: "You can go to the deli/bakery or produce dept. at the grocery store.  Not a Walmart, but a regular grocer like Publix, where I have the best luck.  Buy some of the trays that they use for $1.50 or less depending on the size and they come with covers to.  You can also dress them up with paper doilies."
Kathy said: "Hobby Lobby has neat serving plates in metallic Christmas colors for about $1 each.  If you don't want to spend anything, try wrapping your regular plates with foil. Then add Christmas flowers, ribbons, bows, ornaments etc. around the plates to keep the eye on the decor around, and not the plate!"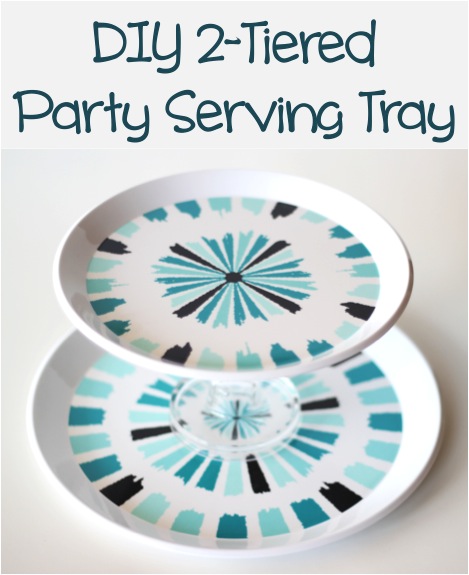 Michele said: "Have you tried Ross? Also, I would recommend going to Michaels with one of their coupons"
Lorraine said: "Most people are more interested in what's *on* the plate, than what the plate itself looks like. However, if you wanted something a bit better you could go to the Goodwill, Salvation Army store, or thrift store. My Goodwill always has a huge dish section and there are often lots of different kinds of plates and platters. People give them away when they don't have a complete set anymore ,so you might even be able to find a few that match. I have a whole collection of different bowls that I've gotten at Goodwill over the years. Personally, I like that they *don't* match, but I'm weird like that. :)"
Heather said: "A lot of DIY stores have slate tiles that break in shipping and the store can't sell them. Ask if you may have them or purchase them at a significant discount. Use them as your tray and then use chalk to write either a message or what the food item is on the slate. When you're done, wipe the chalk off and you can use them for another event like a wine and cheese party!"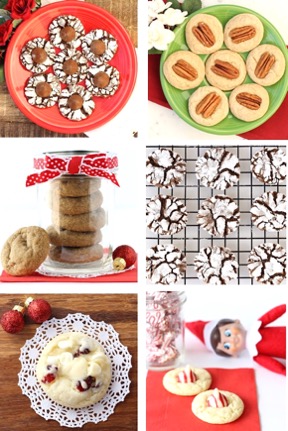 Jessica said: "I saw a really cute idea on Pinterest where someone just took white paper plates and put slits close to the edge… then wove cute Christmas ribbon around the outside of the plate and tied it with a bow.  Also, making a bowl from bread or fruit is usually a big hit.
You can use pretty holiday scrapbook paper and set it on a plate for cookies, brownies, etc. You can also go to the dollar store and get some plates and bowls, or wide mouth cups.  Glue the bottom of the plates onto the bottom of the cups or glasses for an instant raised up serving dish or cake holder ( I would use gorilla glue or E6000 to glue them together).
You can even glue 2 or more of them together for a tall tiered serving unit… Very cheap and very pretty (I made one o these for my daughters birthday and put cupcakes on it… It was a big hit!). Good luck!"
Dawn said: "You can take pieces of uniformly cut square or rectangular cardboard, wrap them with festive Christmas paper (the foil kind would work well).  Wrap ribbon around to look like mini presents.  The other plus is that you can throw it all away at the end of the night 😮 "
Kristin said: "Use old record albums and album covers.  Wrap them in foil. Instant silver tray."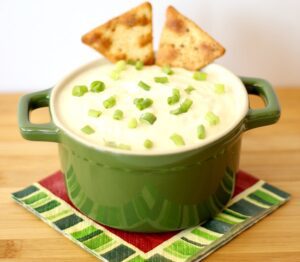 Teri said: "Wrap your cutting boards in freezer paper or foil – use decorative napkins over the top for a holiday touch.  Or if you have lovely wooden cutting boards, use the uncut backside and serve right from the board!"
Melissa said: "Scrapbook paper can be used in so many ways! Wrap things with it, layer it on top of plates or multiple trays. You can also take bowls and put a dinner plate on top of them, if you need to create more space on the table."
Angela said: "I once made a cake stand by getting a bowl and matching plate at the dollar store, turning the plate upside down and gluing the plate on top.  Looks great for cupcakes and appetizers.  You can also get nice plates and platters at the dollar store and little doilies to put on some of the plates."
Jeanne said: "I've wrapped up empty cereal boxes before and used them to give baked goodies.  Tape up the top and cut it open on the face of the box.  Line it with foil or tissue paper. Cheap and festive. :)"
Here are more ideas to help you save money for your next big holiday meal…
Delicious meals don't need to be complicated, and your family and friends will be begging for seconds with these crowd pleasing breakfast options, satisfying dinner ideas, and simple crock pot recipes!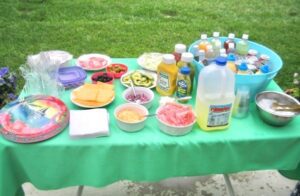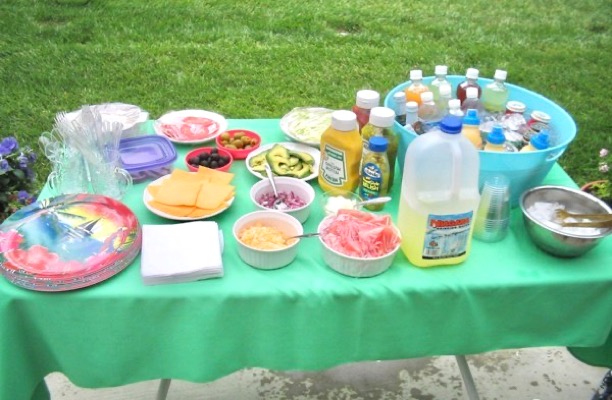 Want to know how to cut your grocery bill in half?  Keep more cash in your wallet with these easy money saving tricks!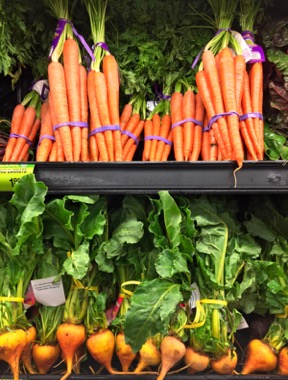 So do you have a fun idea or tip for inexpensive ways to serve holiday meals??
Leave a comment and share!