I may get
paid
for ads or purchases made through links in this post.
Searching for some sweet Blessing Jar Ideas?  This easy craft will show you How to Make a Blessing Jar… and why you should!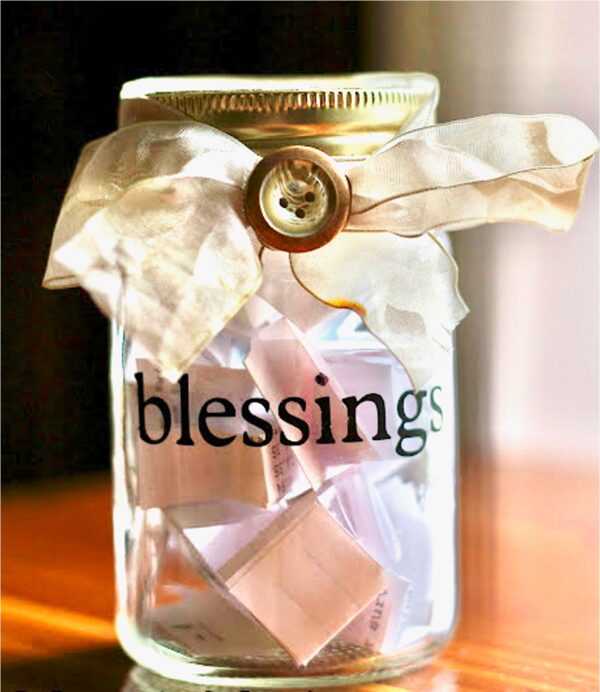 Blessing Jar Ideas
Following is a guest post and Mason Jar Craft by Marty at Marty's Musings… enjoy!!
What is a Blessing Jar?
So this is our Blessing Jar, a tradition that goes back to 1999. At that time we just had two children and couldn't possibly have even imagined the changes the next few years would bring, with both joys and trials.
Blessing Jar Instructions:
Our favorite family tradition occurs on Thanksgiving Day. We have lunch at our house for our family (our kids, my niece and family and our friend Barbara.)
Late afternoon then finds our immediate family meandering up the street to Wagoner's Tree lot, where we have picked out our tree every year for more than 15 years. We come home, drag the tree in the house and start decorating.
Point of Grace Christmas CD must be playing and Russian tea must be served. It truly is the highlight of our year, a tradition we hold to tightly and joyfully.
After the tree is decorated we gather around our table and take out The Blessing Jar.. This special little jar sits on our kitchen table year round, reminding us to take time to appreciate God's blessings, both small and large.
No special paper needed. Any scrap will do! We then go around the table and one by one open the slips of paper, seeing the blessings of our lives laid before us. As we read from the past year we are always reminded of the ways he has taken the good and bad times and turned them into family memories, a tangible picture of his love for us.
I cannot begin to tell you how we look forward to this time. As our family ages and changes we welcome new members and treasure those to come in future years.
How to Make a Blessing Jar:
For the jar itself I used my trusty Cricut and cut the word blessings out of vinyl. I attached a ribbon and button and it was done!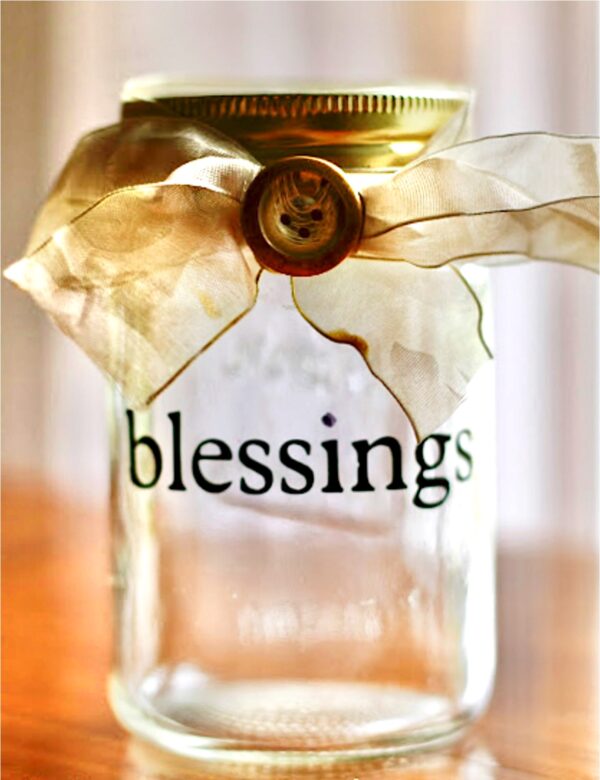 Our little jar, filled with the promise of tradition and memories.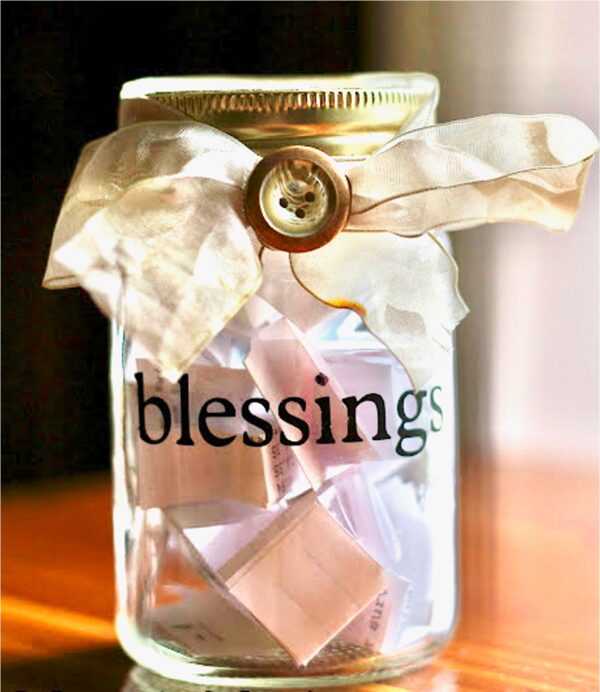 What do I do with the blessings after we read them on Thanksgiving night? I save them until I'm ready to scrapbook them!
The layout below is from 2005 and features just a few of the blessings from that year. Not one of my finest pages but it is done and in our album as a reminder of God's goodness and those traditions that make our family unique.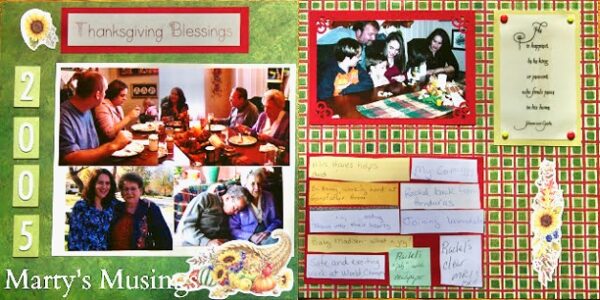 Bonus Tip: Mason Jar Storage!
When we remodeled my scrapbook room last year I used every item imaginable for storage: baskets, pasta jars, spice jars, boxes, drawers, and of course, mason jars. Here is part of my button storage…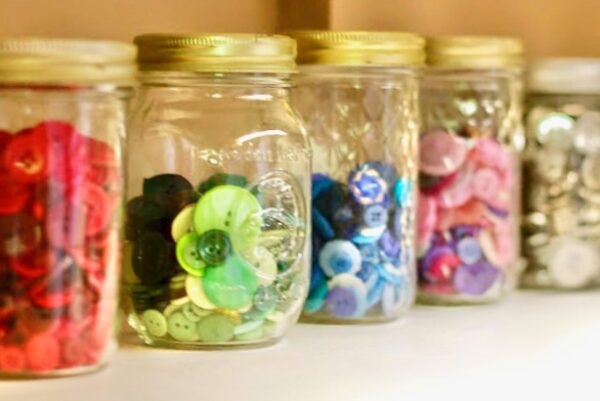 I hope you've enjoyed this little glimpse into my love of mason jars and our family tradition of the The Blessing Jar. I hope you'll try this in your own family and be blessed.
Marty is a wife of 25 years and both an adoptive and biological mom to five children, Marty blogs at Marty's Musings where she writes about faith, frugality, family and fun (among other things!). You can catch up with her via her blog, pinterest, facebook.
On the hunt for more Fun Crafts?  Check out these fun ideas…
Feeling crafty??  It's time to get your Craft on and get inspired to do some fun crafts!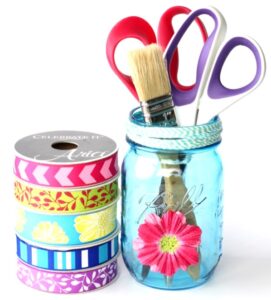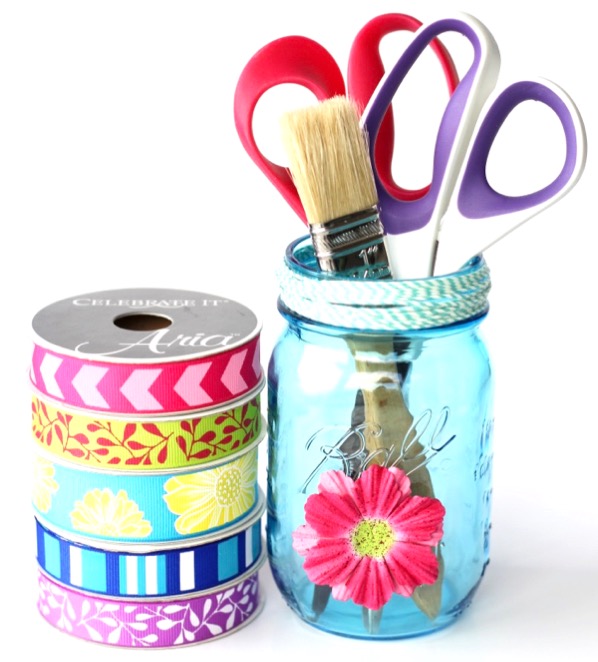 With these easy Homemade Christmas Gift Ideas, you'll always have enough time to give that perfect homemade gift!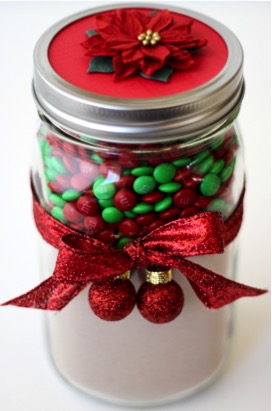 Load up on inspiration with this HUGE List of Unique Gifts in a Jar Recipes!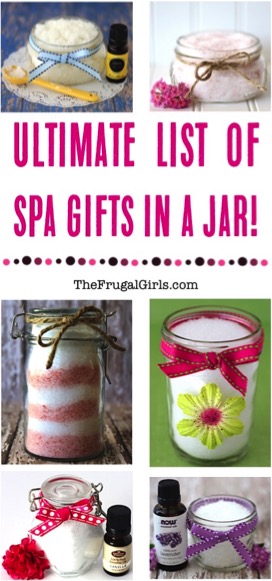 So have you tried making a Blessing Jar yet?
Leave a comment & share!