I may get
paid
for ads or purchases made through links in this post.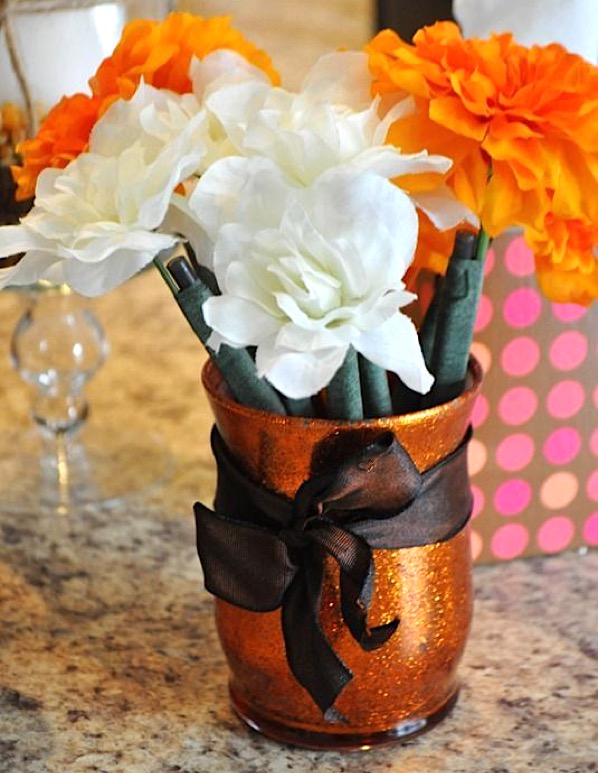 Following is another fun Craft Project and guest post
by Jenny and Jess at Plum Adorable… enjoy!!
DIY Glitter Vase Tutorial
Related:
Over the past couple of weeks, I have been helping two of the lovely ladies at our church office re-do our office space and get it decorated for fall!
I mainly focused on making our reception area look "pretty". The gals really wanted it to look more like fall and told me that my spring inspired pencil holder was the first thing that had to go!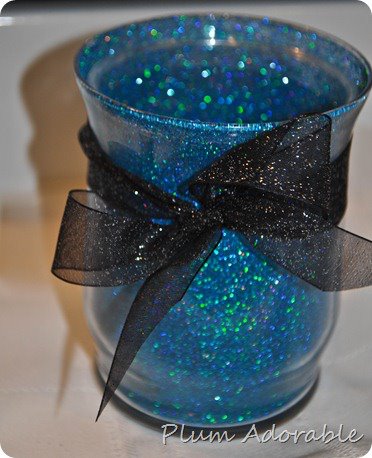 SO I knew EXACTLY what I wanted to do!! I decided to make a DIY Glitter Vase!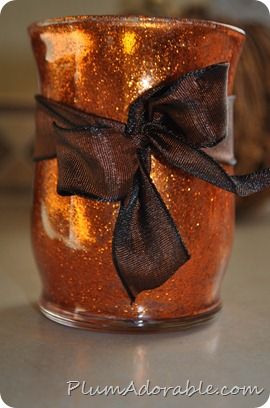 I have since then refined/ changed how I do this process. And the new way is just as easy BUT it makes the glitter actually stick and STAY on the cup!!!
So here are the supplies I needed: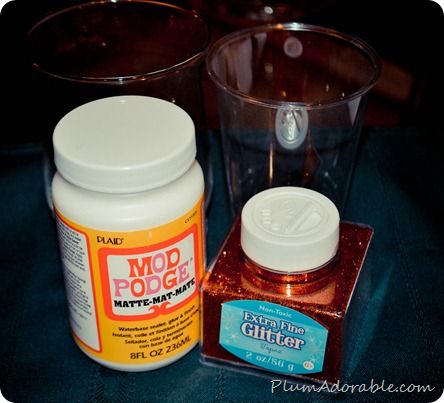 I found the DIY Glitter Vase at the dollar store! (SCORE!!) I had the Mod Podge on hand and the Glitter I got for 50% off with a Jo-Ann's coupon so it was about $2 so this project only cost me a little over $3.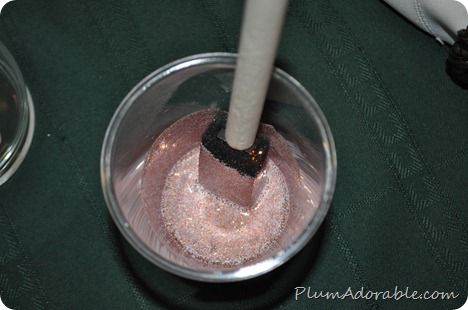 In a plastic cup, mix together Mod Podge and glitter. I didn't measure anything, just did a very generous amount of glitter to a good 1/4 cup or so of Podge. If in doubt, add more glitter I say!!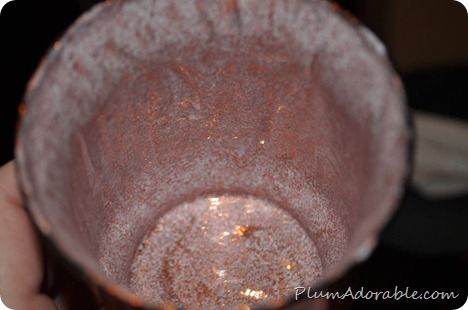 Then begin painting! I used a foam brush and painted away! Just make sure you can't see through the DIY Glitter Vase when you hold it up to the light. You will see white from the glue, it won't look as though it is completely covered in glitter but believe me, it is!
I let the DIY Glitter Vase sit overnight to dry! This is what it looked like in the morning. I just added a ribbon!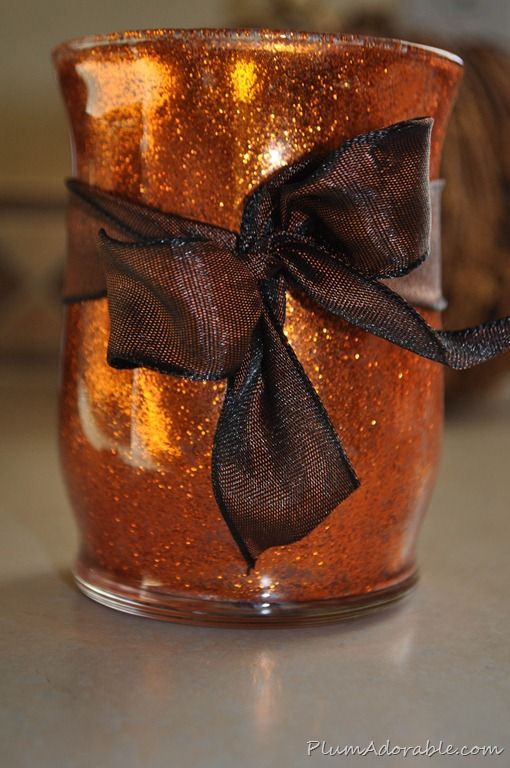 And here it the on the reception counter, doing it's job holding our Fall floral pens!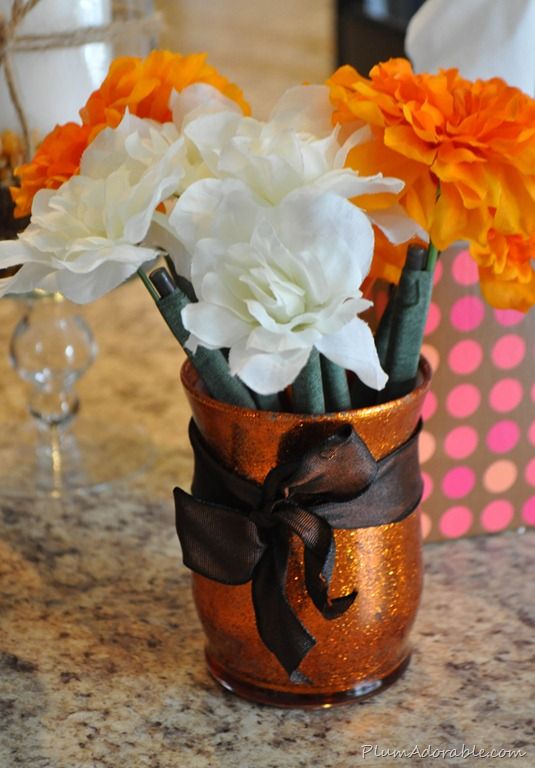 And since the glitter actually stays put, you could use it as a small vase! I haven't tested what water does to the glue and glitter base but you can slide a clear plastic cup right inside this size vase for added protection if you wanted to use real flowers!
I'll be sharing a different part of our Fall décor on the blog with you so stay tuned!
~JESS
Jenny and Jess are two friends that love creating crafty stuff (for both kids and adults), cooking, reading, and so much more! They were so inspired by the ideas and lives of so many of their favorite bloggers, that last Fall they decided to start their own blog PlumAdorable.com.
Even though they still feel like they have no idea what they are doing (most of the time), they are excited that their followers seem to like it! They also love to create free printables and svg's for both kids and home decor.
You can also find Jenny and Jess on Facebook, Pinterest, and sign up for RSS Updates!
You can never have enough creative ideas. Find even more Craft Ideas, Home Decor Ideas and Organizing Ideas for your home below…
Give your home a gorgeous makeover with these Easy Designer Home Decor Tips and Tricks!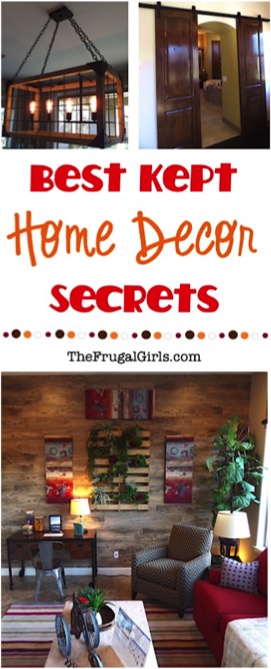 Feeling crafty?? It's time to get your Craft on and get inspired to do some fun crafts!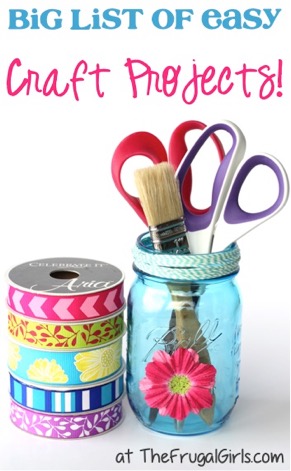 It's true… you can LOVE your house and save BIG all at the same time! Are you ready to start saving? Check out these affordable ideas and frugal hacks for your home.

Frugal Girls LOVE great deals! Before you shop, check out these Insider Tips + Shopping Hacks that will save you so much money at your favorite stores!!