This healthy Skinny Spinach Dip Recipe contains a secret ingredient that will make enjoying your favorite dip guilt-free!


Following is a delicious Skinny Spinach Dip Recipe
and guest post by Carly ~ enjoy!
I love the taste of the totally-bad-for-you spinach dip you can get at some restaurants. But I never order them. Why? Because it's so bad for you.  There's got to be more to life than that, right?
Well, there is. And it involves Greek Yogurt. It's good for you.  You can put it in just about anything.  And so, by using Greek Yogurt instead of the typical sour cream base, this Healthy Spinach Dip Recipe comfort appetizer becomes a lot more SKINNY.
Skinny Spinach Dip Recipe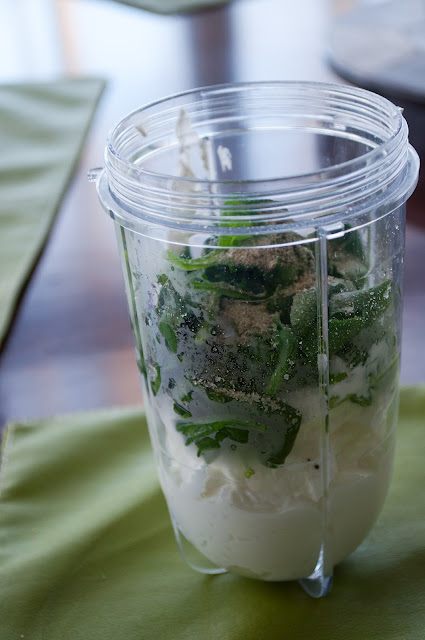 Skinny Spinach Dip Recipe
This Healthy Spinach Dip Recipe contains a secret ingredient that will make enjoying your favorite dip guilt-free!
Ingredients
2 cups Spinach
2 cups Plain Greek Yogurt
10 stalks Asparagus
2 tablespoons Fat Free Feta Cheese (or Low Fat)
2 tablespoons Parmesan Cheese
1-2 minced Cloves Garlic or 2 teaspoons minced garlic
2 teaspoons Greek Seasoning (or ½ teaspoon garlic salt, ½ teaspoon onion salt, ½ teaspoon lemon pepper)
Instructions
Preheat oven to 350 degrees.
On the stove, sautee or grill asparagus. Feel free to lightly coat with olive oil or add water to keep them moist as you cook them.I chopped the asparagus before blending them, just to make the process a bit smoother. I chose to keep the tips of a few pieces of Asparagus to use as a garnish. If you're feeling similarly fancy, set a few good looking tips aside as garnish.
Place spinach in a bowl and heat in the microwave for 30 seconds to 1 minute to wilt the spinach leaves. I also chopped the leaves before blending them.
Combine all ingredients in a blender and mix well. If you are using a smaller blender, like the Magic Bullet (which is what I used), feel free to do this in batches. As long as you mix them with a spoon in the serving dish, batch mixing works just fine.
Transfer to an oven-safe dish and heat on 350 degrees for 20 minutes.
Garnish and serve!
Carly loves mason jars, healthy cupcakes, oxymorons, and workout music! Check her out on Facebook and Pinterest!
Still hungry?  Check out more delicious and healthy Dip Recipes below…