I may get
paid
for ads or purchases made through links in this post.
Stock your freezer fast with these budget friendly tips for How to Save Money Freezing Food!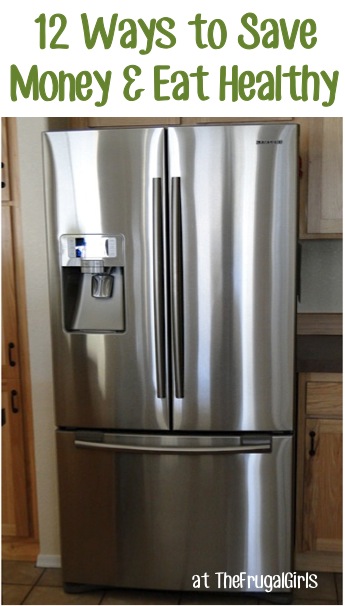 The following is a Freezer Friendly Meals guest post by Ana Brady ~ enjoy!!
Save Money Freezing Food
Related:
Learning About Freezing Food the Hard Way…
When I started living alone for the first time, I wanted to have a party and impress friends who always made jokes about my poor cooking.
I decided to cook one week in advance, and I made huge quantities of a great three-layered nuts/cookie/coconut cake, Olivier salad, bread, and chicken-in-mushroom-sauce, which took the pressure off. I could shop for drinks and dress up without any stress on the day of the party.
Long story short, the party was a disaster; at least, the food part. Here's why:
a) I forgot to take out the food out of the freezer the night before. The cake didn't defrost in time. Once it defrosted, the coconut took over and everything tasted only of that ingredient. It turned out I didn't cover the cake well enough.
b) The mayo in Olivier salad tasted weird.
c) The mushroom sauce in chicken became a non-edible lump.
d) The bread was great!
Luckily, I wasn't discouraged. What I got out of this cooking adventure was that it's REALLY cool preparing food in advance and being able to get ready for a party like a normal person, and not like a hysteric lunatic who tries to do 10 things at once. What I needed to do, though, was to learn how to freeze food. Very quickly I figured out what I did wrong:
a) Always defrost food in the refrigerator, the night before at least (sometimes two days ahead, if you're defrosting a big piece of meat, a whole turkey, for example).
b) ALWAYS pack your food properly, not letting any air enter the packaging, so as to avoid freezer burns which dehydrate food and leave it tasting bad.
c) Don't freeze mayo. Don't freeze sauces. There are a few more things that don't freeze well.
d) Bread behaves very well after freezing and defrosting!
Now I live with my husband and two kids, and it's really important to us to eat healthy AND to spend as little money as possible on food. You might think these two don't go together, but it actually works. You just need to NOT be lazy and cook once in a while, at least on weekends.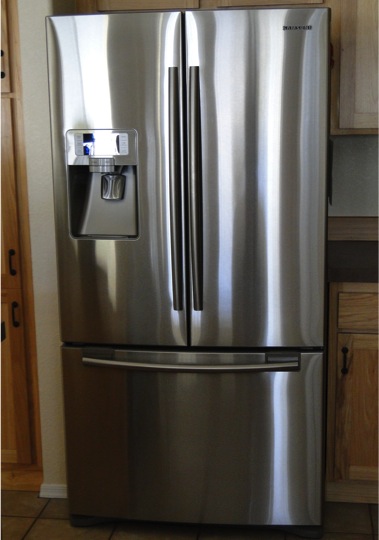 12 Simple Yet Overlooked Ways to Save Money and Eat Healthy…
1. Lesson number one to spending less is eating out only on special occasions. Instead, preparing meals from scratch is the way to go.
2. In order to cook, you need to go shopping. When you do that, look for supermarkets that offer special deals, use coupons as often as you can (as a visitor of this blog, you should know all about coupons by now!), and very important – buy vegetables and meat in bulk!
3. Make a list of what you need before you go to the store. Buy according to your budget, and not the other way around (that is, don't plan the budget according to what you buy).
4. DON'T buy stuff just because it's on the shelf and looks inviting.
5. Avoid ready frozen meals; they are full of fat, sugar and sodium. Also, when you calculate their price against the price of ingredients you need to make the same meal, you'll see that it pays off to spend a little time cooking.
6. You don't need to eat meat every day, do you? Meat is kind of expensive and you can get your daily dose of proteins from beans, eggs, cheese, tofu. Meat twice or three times a week is completely OK, so buy accordingly.
7. Once you get home, prepare those big quantities of veggies and meat for freezing. Veggies should be blanched before freezing, to stop the decaying process in the freezer. Blanching is simple: boil the veggies for a few minutes, and then immerse them in cold water to cool down.
8. Now, packaging is very important. The whole point of freezing food is to never throw any food away. You'll make sure of this if you use strong freezer bags/containers, and if you put the quantity of one serving size in each packaging. That way you'll always defrost just the right amount of food, and you won't need to throw leftovers away (since refreezing is not recommended).
9. Labeling is a big part of preserving food. Once you get the hang of using frozen food, pretty soon you'll have a packed freezer. You want to know what you have in there, and you want to know how much time you have to use it. Label each food packaging with a strong adhesive freezer label that contains info about what is inside and what is its "best before" date.
10. Now, about the cooking. It's true it's time consuming, but it pays off if you do it wisely. For example, if you cook on weekends and make 2 or 3 types of meals in large quantities, so that you can split it into several one-serving-size meals that you'll freeze and use in the days to come (when you're working), that won't seem so difficult. Plus, you'll always have a healthy meal when you come home from work.
11. Speaking of work, buying lunch is an unnecessarily expensive or unhealthy option. Carrying a lunch bag packed with a serious meal or a healthy sandwich and a fruit is much better.
12. As for defrosting: never do it at room temperature. The safest way to thaw food is in the fridge the night before. If you forgot to do it, putting the food packaging in cold water or quick thawing in the microwave are also options.
I spend 30% less on food now, than I used to when I didn't cook and rely heavily on frozen food. Plus, my kids really like participating in this activity – blanching veggies is like a game for them. We are a little richer and healthier eating family now.
Ana Brady is a mother of two, a writer focusing on food and health related topics, and a member of a designers' group that recently completed a project on freezer labels.
Be sure to also check out these delicious Freezer-Friendly Meals and time saving Kitchen Tips…
Meal Prep Ideas: Pre-Marinating Meat before Freezing
On the hunt for more Kitchen Tips and Timesavers??  Pre-Marinating your meat is a quick trick to save time and hassle later!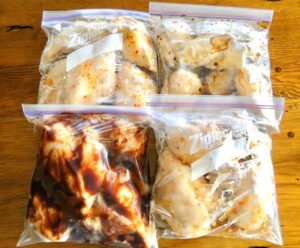 Wanna keep your evenings fun and carefree? Then you'll love this tip for Freezing Hamburger Patties to enjoy anytime you need them!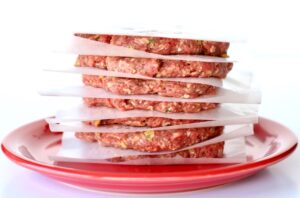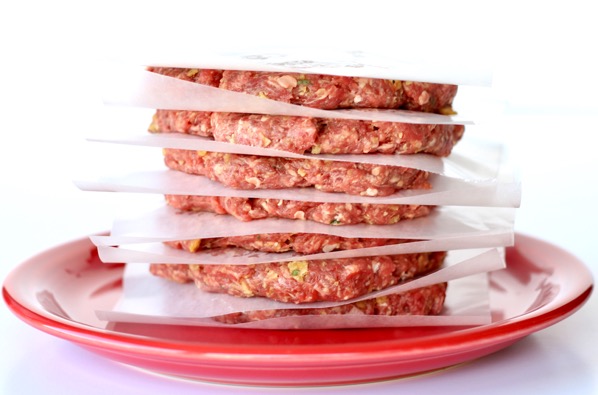 Enjoy these amazing bbq baked beans today… or freeze them for later!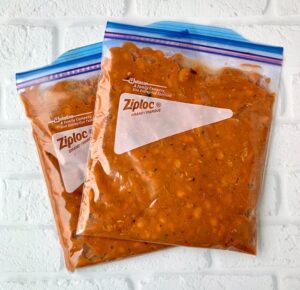 To make this ahead of time or to store leftovers, the creamed corn can be frozen in freezer friendly bags.  When ready to serve, just place the frozen corn in the refrigerator to allow it to thaw, then microwave it in a microwave-safe bowl.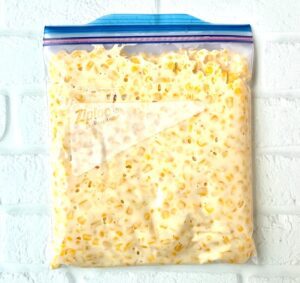 Dinner planning is about to get really easy with this fabulous list of popular Freezer Friendly Meals and Recipes!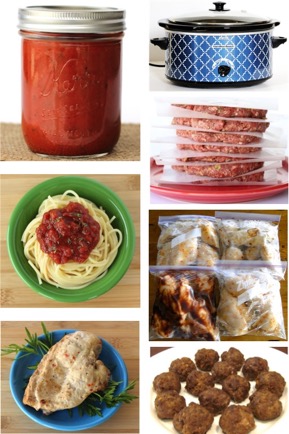 Clever Kitchen and Grocery Tips:
Make the most of your time in the kitchen with these favorite kitchen timesaver tips!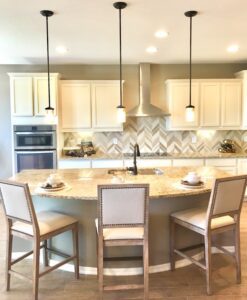 Make your time in the kitchen a little easier when you start using these clever cooking tips and tricks.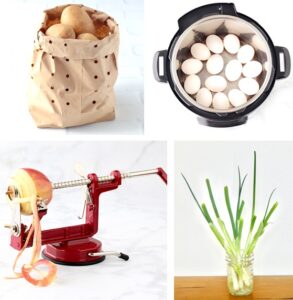 Want to know how to cut your grocery bill in half?  Keep more cash in your wallet with these easy money saving tricks!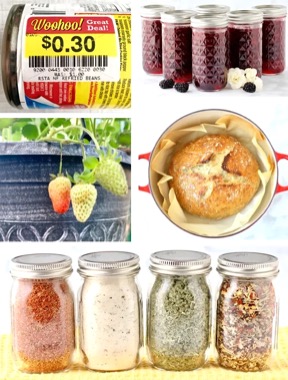 So how do YOU Save Money Freezing Food while eating healthy?
Or… got a tip for freezing food, or a favorite freezer-friendly recipe?
Leave a comment & share!