I may get
paid
for ads or purchases made through links in this post.
Help the kiddos get excited about Valentine's day with this fun Valentine's Day Countdown for kids!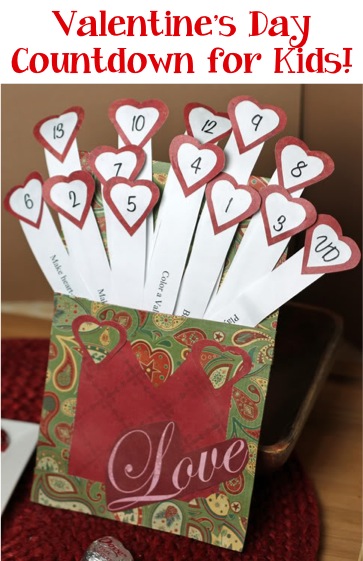 This Valentie's Day Craft and guest post comes from
my sweet friend, Katie Tevis… enjoy!!
I wanted to teach Bradley about Valentine's Day and celebrate in a fun way. I am not a crafty person.  However, as my mother once told me, sometimes we do things that make us uncomfortable because it's good for our kids. c-:
So I was inspired by Martha Stewart to make a simple and frugal Valentine's Day Countdown.
Related:
Valentine's Day Countdown
I bought three sheets of scrapbook paper, plus I used some supplies I already had on hand, like my computer/printer, scissors, and glue. That's it!
Then I made a pocket on the front of a piece of scrapbook paper and printed out strips of paper that had ideas for each day of the countdown. I glued a heart at the top of each strip of paper, along with a number.
Then I decorated the front of the pocket with a few hearts and pretty writing. Each day, Bradley can pull out an activity from the pocket.
Here are my ideas:
February 1 – Bake a special Valentine's Day treat for Dada.
Ideas: Valentine Confetti or Valentine Pizza
February 2 – Treasure hunt! Search for candy hearts around the house.
February 3 – Make a Valentine's Day Tootsie Pop Flower for cousins.
February 4 – Read Winnie the Pooh's Valentine from the library.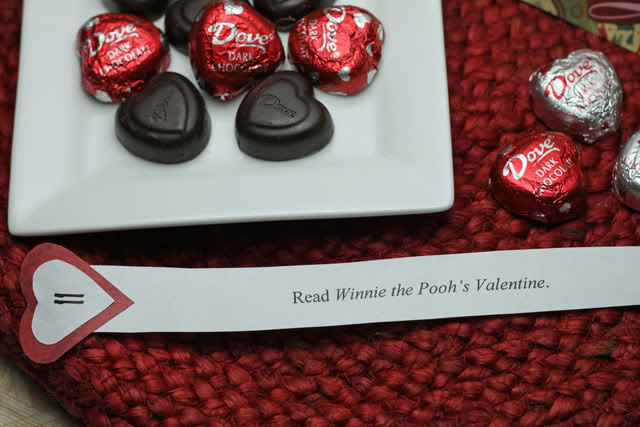 February 5 – Eat a heart-shaped piece of Dove dark chocolate. I might already have this on hand. c-;
February 6 – Send homemade valentines to grandparents.
Ideas: Stick of Gum Valentine, Stained-Glass Hearts

February 7 – Drink hot chocolate with heart-shaped marshmallows.
Carrie has a great video on how to make homemade marshmallows. Use a heart cookie cutter to make them a little more festive.
February 8 – Watch Be My Valentine, Charlie Brown from the library.
February 9 – Make heart-shaped eggs and toast for breakfast with strawberries.
Or make Heart-Shaped Pancakes. Tip: You can use a condiment bottle to make different shapes. Just thin the batter a bit with milk.
February 10 – Sing a Valentine's Day song, like "Just for You."
February 11 – Color a Valentine's Day coloring sheet.
February 12 – Make a Valentine's Day craft: Hand Valentines
February 14 – Play a Valentine's Day memory match game.
BONUS IDEAS: You can also make a list of why you love your children, take them on a winter picnic, or write a silly Valentine's Day poem together. Be sure to include lots of snuggles and kisses throughout!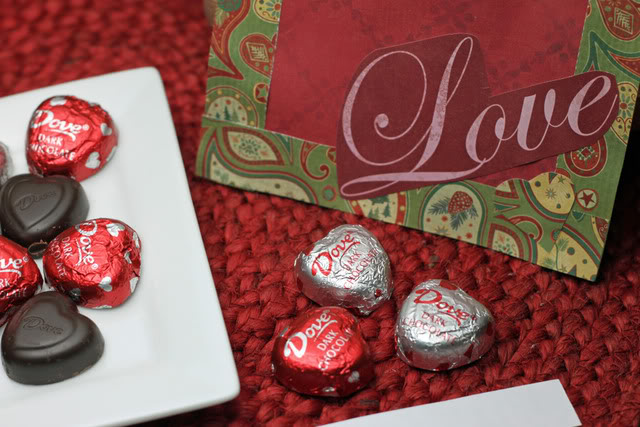 Katie is a mom to Bradley, licensed RN, and lover of all things domestic.  
On the hunt for more Fun Crafts and Gift Ideas?  Check out these fun ideas…
Put some love into your craft time with this BIG List of Valentine's Day Crafts!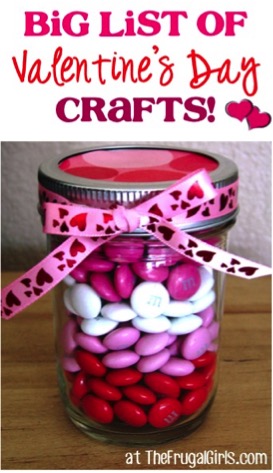 Be ready for Valentine's Day gift giving greatness with help from this BIG List of Creative Valentine's Day Gift Ideas!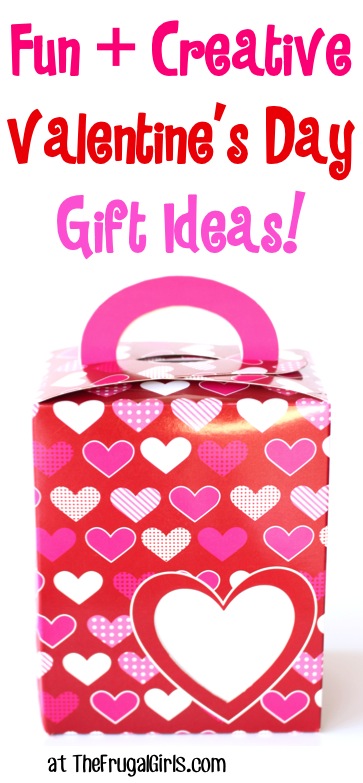 Load up on inspiration with this HUGE List of Unique Gifts in a Jar Recipes!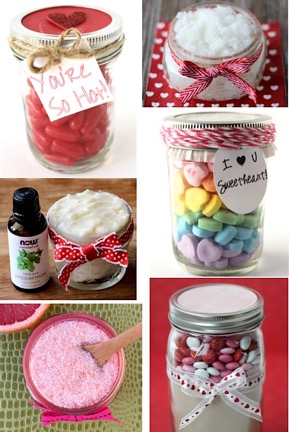 Are you ready for some fun and frugal Romantic Date Night Ideas?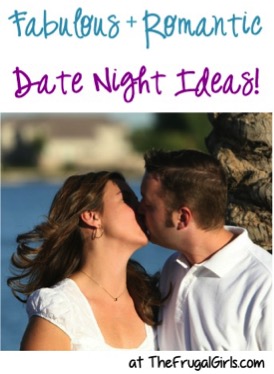 One of the best ways to celebrate Valentine's Day is with fun food.  These Valentine's Day Recipes are sure to inspire some yumminess!

Give your guy some love with these fun and creative Valentine's Day Gifts for Him!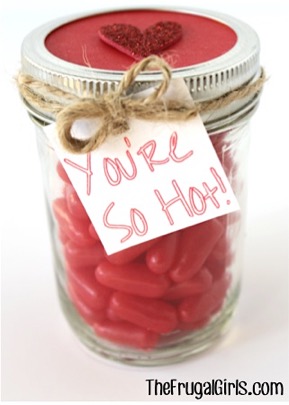 Score frugal gift ideas for the Kiddos, Teens, Mom, Dad, Grandma, Grandpa, Co Workers, Your Dogs, Your Cats, and more!