Crockpot Peach Butter Recipe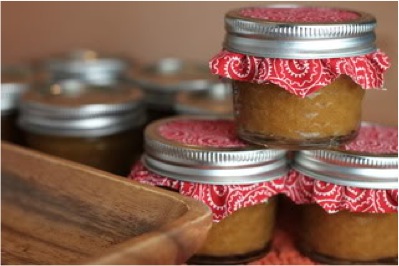 15 Ripe Peaches {I like Freestone}
1 tablespoon Cinnamon
½ teaspoon Cloves
¼ teaspoon Allspice
1.5 cups Granulated Sugar
Bring a pot of water to a boil, and place peaches in the water for 1 minute. This works better if you're using ripe peaches that are ready to eat.
Using a slotted spoon, place the peaches into a bowl of ice water for 2 minutes. Then, slide the skins right off! I do this with tomatoes as well. Or you can use a regular peeler and skip the boiling/ice method. Whatever strikes your fancy. :)
Cut the peaches into slices, and place in blender. Blend until smooth.
Place the pureed peaches into your Crock Pot, and top with cinnamon, cloves, allspice, and sugar.
Cook on LOW until it reaches the thickness you want. Anywhere from 3-6 hours is good.
I used half-pint jars, and left about ¼ – ½ an inch at the top. Then I wiped the top edge of the jars to make sure it was nice and clean. I want those lids to seal well!
I keep the lids in hot water until I'm ready to use them. So once the jars are filled with peach butter, I put the hot lids on them and place them in a hot water bath. I make sure the jars are covered by an inch or two of boiling water, and and let them cook for 15 minutes.
Next, you'll lift the jars out of the boiling water, preferably with one of these nifty gadgets, and let them cool overnight so the jars aren't touching. You can make sure they sealed correctly by pressing your fingers on the lid. If it doesn't pop up and down, you're golden!
Now, if you're giving your jars away as gifts, you can place a sticker on the front, or loosen the lid and put some pretty fabric underneath. If you're keeping them for yourself, get ready to bake some homemade biscuits and eat up! Or if you're like my son, you'll eat right out of the jar with a spoon. :) Enjoy!
Recipe by
The Frugal Girls
at http://thefrugalgirls.com/2010/09/how-to-make-homemade-peach-butter.html