Crockpot Ranch Onion Whole Chicken Recipe!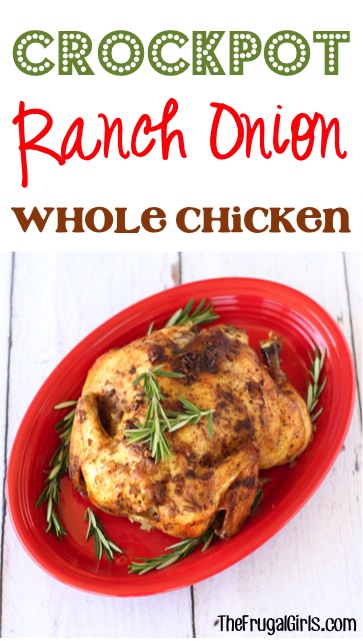 5 Pounds Whole Chicken
1 ounce Lipton Recipe Secrets Onion Soup packet
1 ounce Hidden Valley Ranch Mix packet or 3 tablespoons Buttermilk Ranch Dressing Mix
3 Garlic Cloves, crushed, then peeled
1 teaspoon Paprika
Add dry ingredients to small bowl and mix together for rub.
Rinse chicken, remove innards and pat dry with paper towels.
Generously add rub to inside and outside of chicken.
Place three peeled garlic cloves inside of chicken.
Place chicken in resealable bag overnight to marinate. (optional)
Carefully place chicken into 6 - 7 quart Crockpot.
Cook on HIGH for 4 hours or LOW for 8 hours, or until done.
Use meat thermometer in thick portion of breast to verify if chicken is done at 165 degrees. Enjoy!!
Recipe by
The Frugal Girls
at http://thefrugalgirls.com/2014/09/crockpot-ranch-onion-whole-chicken-recipe.html