Homemade Hot Sweet Salsa Recipe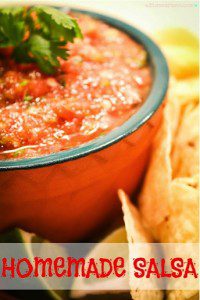 1 habanero pepper
6 jalapeno peppers
6 serrano peppers
1 medium white onion
1 bundle green onions
2 cloves of garlic
1 bundle cilantro
7 medium tomatoes
29 ounces Hunts tomato sauce
2 limes
¼ teaspoon Salt
⅛ teaspoon Pepper
In a small pot of lightly salted water boil: 1 habanero, 3 jalapenos, and 2 seranno peppers.
After they are soft, drain the water and blend until smooth. Then you can just set aside to let cool. While all of that is cooling, chop: (this is when you can determine how chunky you want your salsa to be) 1 medium white onion, some green onion, 1 bunch of cilantro, 3 fresh jalapenos, 3 fresh serrano peppers, 1 - 2 cloves of garlic, and 6-8 medium sized tomatoes
In a large bowl, mix chopped ingredients with cooled mixture from the blender.
Add tomato sauce and the juice from your limes, and add salt and pepper to taste, and eat with your favorite tortilla chips!
Recipe by
The Frugal Girls
at http://thefrugalgirls.com/2013/06/hot-n-sweet-homemade-salsa.html