Category Archives:
Dessert Recipes
Hands down, raspberries are one of my very favorite treats!  They're so delicious, aren't they?? You'll love these yummy Fresh Raspberry Popsicles… the perfect refreshing treat on a hot day! I grew up in Washington State and we had loads … Continue reading →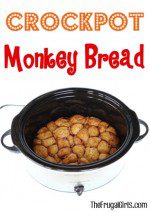 There's nothing quite as delicious as Crockpot Monkey Bread!  It's cinnamon-sugar-ooey-gooey-goodness at its best! Well, okay… these Monkey Bread Muffins are amazing, too! Now if you're on the hunt for the perfect breakfast, crockpot dessert, or holiday brunch recipe… this … Continue reading →
If your gonna make a cake, why not have a little fun?? See How to Make an Adorable Butterfly Cake in just a few easy steps!