This Candy Bar Cookies Recipe infused with 3 Musketeers makes for a brand new addiction not worth resisting!
It's high time you satisfied those long repressed 3 Musketeers cravings and this Easy Candy Bar Cookies Recipe is going to get the job done.
Cookie cravings and 3 Musketeer cravings both get conquered with this one insanely delicious cake mix cookie.
With just 4 easy ingredients, this crowd pleasing cookie recipe is a sure fire way to make lots and lots of people very happy!  Let's get started baking some cookie happiness…
Related:
Candy Bar Cookies Recipe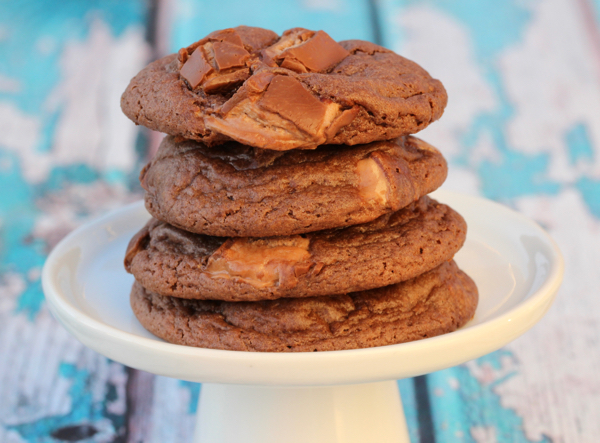 Ready for more amazing 
Cake Mix Cookie Recipes
?  Feed every cookie monster craving with these borderline genius cookie recipes…
You are going to have grabby fingers all over the cookie plate when you make this delicious Butterfinger Cookies Recipe!
These Milky Way Cookies are out-of-this-galaxy-good! 😉  Even better… they're just 4 ingredients!!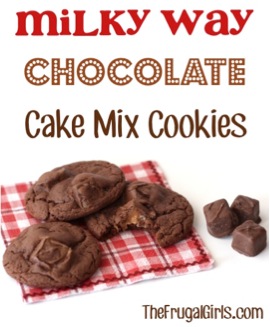 Grab the Reese's Pieces, grab the Cake Mix… and get ready for chocolate peanut butter bliss!

If you like Heath bars, you'll LOVE these Heath Toffee Cookies Made From Cake Mix!

Watch out and don't even think about blinking, or these addicting cookies will simply vanish!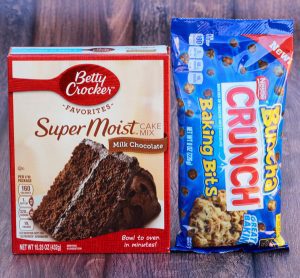 These cookies are rich, decadent, and oh-so-moist!  They're a Choc-O-Holic's dream come true! 😉

Warning: these cookies are addictive!  If you're a fan of Butterscotch, you're going to love these delicious Butterscotch Cake Mix Cookies!

If you've got Cookie Monsters lurking around your house like I do, it's time for some Cake Mix Cookies Recipes to the rescue!

Don't miss out on anything!  Find more Fun Recipe Inspiration, Frugal Tips + more with The Frugal Girls right here…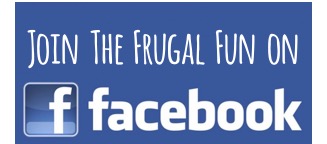 Have you ever made Candy Bar Cookies?
Share with us in the comments below!