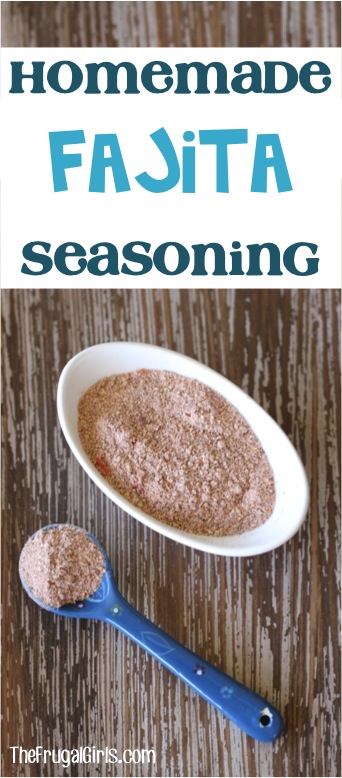 Ever wonder why fajita seasoning is so expensive?  So did I… and I could not think of one good reason! 😉
Skip the expense of store bought fajita seasoning, and make this delicious and Easy Homemade Fajita Seasoning Recipe instead!

Easy Homemade Fajita Seasoning Recipe!
Ingredients
2 tsp Chili Powder
1 tsp Paprika
1 tsp Garlic Salt
1 tsp Onion Powder
2 tsp Corn Starch
1½ tsp Sugar
¼ tsp Cumin
¼ tsp Crushed Red Pepper
⅛ tsp Cayenne Pepper
Instructions
Mix ingredients thoroughly
Store in a mason jar or use immediately
To make Fajita's, use 3 tbsp of Fajita Seasoning Mix and add in ⅓ cup of water. Stir thoroughly.
Cook 1 lb. of thinly sliced chicken in 1 tbsp of olive oil.
Stir in fajita seasoning mix with water, and bring to gentle boil, stirring occasionally.
Serve with grilled onions and peppers on soft flour tortillas. Enjoy!
Yum
Spice up your dinner meals with more delicious Mexican Recipes below!