Use your cute mason jars as a frugal budget tool with this tip for creating Save, Give, Spend Mason Jars!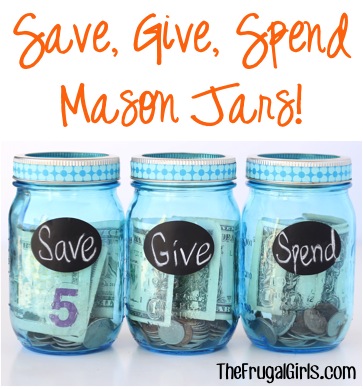 Start stashing money away today with this sweet and simple little system… Save, Give, Spend Mason Jars!
Who would have guessed that we could use our cute mason jars as a fun budgeting tool!
These jars are great for both kids and adults!
Save, Give, Spend Mason Jars
What You'll Need:
What You'll Do:
Remove the silver flat lid piece from your jars… I left the external silver lid screwed on.
Tie a pretty bow or ribbon around the lid.
Using Chalkboard Labels or Chalkboard Contact Paper, create 3 small labels: Save, Give, Spend
Attach labels to jars, and start stashing away your loose change and bills.
You'll be amazed at just how fast those jars fill up! 😉  You'll never regret having a little stash!
Ready for some more fun and frugal tips?  Here are more fun ideas I know you'll love…
You can do surveys on your iPhone, Android, Tablet or Laptop.  Which means you can do these surveys virtually anywhere, anytime!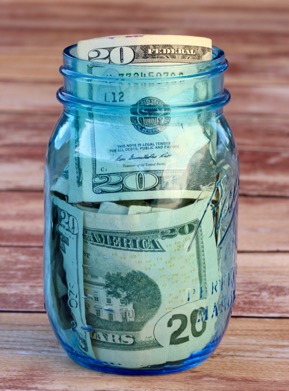 Check out these affordable ideas and frugal hacks for your home.  Saving money is about to get really fun!!

It will help you save money, find your target price for each item, find sale cycles for your favorite stores, and feel great!

These 5 Simple Tips to Avoid Overspending and Save Money are helpful no matter the time of year.  But they seem particularly meaningful in January!
Don't miss out!  Catch all the latest fun new frugal girls money saving tips right here…