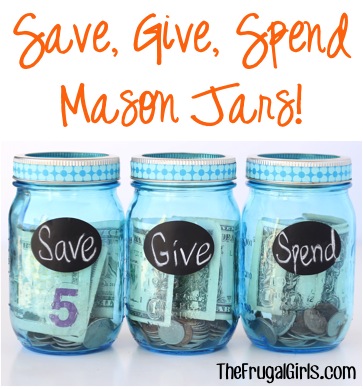 Start stashing money away today with this sweet and simple little system… Save, Give, Spend Mason Jars!
These are great for kids and adults!
What You'll Need:
What You'll Do:
Remove the silver flat lid piece from your jars… I left the external silver lid screwed on.
Tie a pretty bow or ribbon around the lid.
Using Chalkboard Labels or Chalkboard Contact Paper, create 3 small labels: Save, Give, Spend
Attach labels to jars, and start stashing away your loose change and bills.
You'll be amazed at just how fast those jars fill up! 😉  You'll never regret having a little stash!
Thanks for supporting The Frugal Girls!

See Also: